November 2018. California.
Most of our mileage comes from the daily work commute, but we've also taken a few trips in our region: to San Francisco for work and family trips, to Montgomery Woods State Reserve to see Redwood trees, to Lassen Volcanic National Park for camping, and to the Mammoth Lakes area to take in the scenery.
Last week we expanded our horizons a bit more by combining work and pleasure. Instead of flying to a conference we attend every fall, we drove there in the Model 3 since the conference was in San Diego, about 600 miles away. We often bring our children to conferences since Grandma does not live in California. Yet. (You reading this Grandma?) So this was a 1400 mile (2250 km) family road trip.
The Trip
I'd been wanting to make this journey for quite some time and the scenery did not disappoint. I especially enjoyed seeing the farmland and agriculture operations in the Central Valley and the mountains along our route. On the trip down to San Diego we started with the battery at 80% and stopped at the Fresno, Tejon Ranch, and Lake Elsinore Superchargers for 30-40 minutes each. Our destination in San Diego had Level 2 chargers in the parking garage, but at 49¢ / kWh for members of that network, it was cheaper to Supercharge.
Work before play: the Society for Neuroscience meeting was busy as usual with over 28,000 people in attendance. After talks, posters, and meetings, we had a chance to meet up with friends and colleagues.
In the San Diego area we went on a few excursions for the family including an afternoon in LEGOland and a trip to Cross Border Express on the Mexican border.
After visiting LEGOland we checked out the nearby urban Superchargers in Carlsbad, CA. I guess I hadn't been keeping up with the news and was surprised to discover that the 72 kW urban Superchargers were cheaper than full power 120 kW superchargers (20¢ versus 26¢ / kWh in CA).
To the Mountains
Our route home included a stop in Kings Canyon National Park. After leaving San Diego we stopped at the Lake Elsinore supercharger and found a second hand bookstore where the kids picked up some good books that kept them occupied for the next leg of the trip.
We next stopped in Bakersfield after driving 185 miles (300 km), and ate a leisurely lunch while adding 207 miles to the pack and charging the Model 3 up to 301 miles (485 km) – which was the highest we had charged our Model 3 at that time. From there we drove up to King's Canyon to stay the night.
The trip from Bakersfield to Kings Canyon was about 145 miles and included a 6600 ft climb. This is not an issue when you can tap into Tesla's extensive supercharging network and put over 250 miles (400 km) in the pack. There are currently two 120V outlets listed on Plugshare in the part of Kings Canyon we visited, but we didn't need the charge.
The next morning after breakfast we went to General Grant Grove and walked among trees over 1000 years old, over 200 feet tall, and with trunks up to 40 feet in diameter. These trees count among some of the largest living things on the planet. Pictures don't capture and words barely do justice to the immense size of the Giant Sequoias. But if I had to choose one word: Majestic. If you haven't done so yet, visit a grove of these giants when possible.
Note: Transportation generates almost 1/3 of carbon emissions in the United States. It's on us to create and use cleaner sources of energy to meet our transportation needs and protect our planet. Driving an EV is one way to reduce pollution and carbon emissions.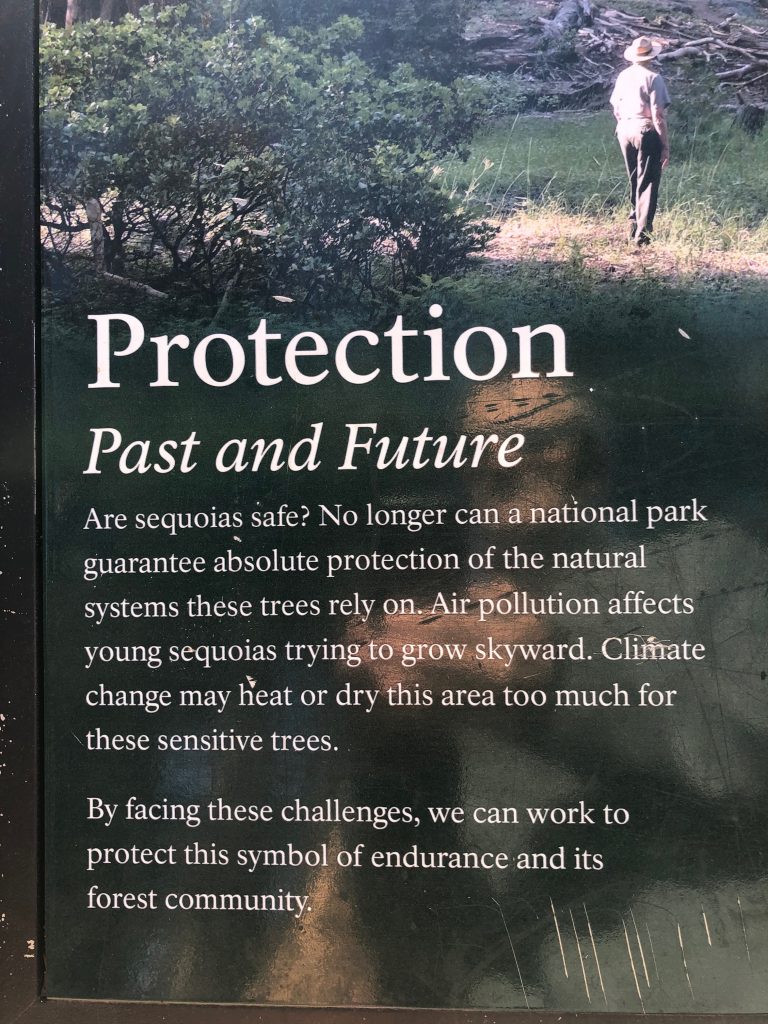 Energy Use and Emissions
If we had flown, the round-trip flight to San Diego would have produced a combined 1820 lbs of CO2 for our family of four. Instead we used 274 kWh of electricity, which at 0.54 lbs* of CO2 per kWh of electricity (generated and delivered in California) produced 147 lbs of CO2. I am not the fastest driver, I'm usually content to hang out in the right lane, and the weather was ideal so keep that in mind.
The EPA's range estimate for the long range RWD Model 3 was 310 miles when we got the car, and that's based on using about 240 Wh per mile. At that rate of energy usage you would have produced 180 lbs of CO2 for this trip. If you had a heavy foot and used 400 Wh/mile, you would have consumed 554 kWh and produced about 300 lbs of CO2. Still far less than that produced by flying, and much less than that produced by driving a car that gets 25 MPG (1086 lbs CO2), or even a 50 MPG Prius (543 lbs of CO2). Click here to read up on how much CO2 is produced by burning various types of gasoline and Diesel. Note: That CO2 goes into our atmosphere, which is not a limitless reservoir. Also Note: CO2 is just one of the pollutants generated by exhaust, but it is a major component of green house gases.
*This is an average. Sources of energy used to produce electricity, and therefore emissions from production vary throughout the day and change throughout the year.
FYI: Don't fall prey to non-sense that keeps popping up about how EVs run on coal or that long distance trips in an EV burn thousands of pounds of coal. Websites publishing that stuff may be looking for clicks, trying to mislead you, or simply bad at basic research. Reminder: there are multiple sources of electricity and as of 2017 cleaner burning natural gas is the majority source for electricity in the US (32%), and nearly 20% of the US electrical grid is powered by renewables. Furthermore, as the grid gets cleaner EVs produce less pollution and carbon emissions every year.
The Charging
On the highway we stopped every 150 – 185 miles at a Tesla Supercharger. With traffic that worked out to charging stops for every 2½ to 3 hours of driving. Our longest drive between charging stops was 215 miles (350 km) when we drove from Bakersfield up to King's Canyon, and back down to Fresno the next day. Even though we burned extra electrons on the uphill portion of that leg, we gained back quite a few coming downhill: after 215 miles of driving we arrived at the Fresno Supercharger with 118 miles remaining in the pack.
Cost
Using Tesla Superchargers our trip of 1386 miles cost $63. Gas is $3.50 in my area. For comparison, driving a 25 MPG car would have cost me $194 at that price, and a 50 MPG Prius would have cost $97. If gas was only $2.50 a gallon, the 50 MPG Prius would have cost $69. Not only does driving electric produce far less pollution and carbon emissions, it has the added benefit that it's cheaper.
Driving the Model 3
There are many, many reviews on the Model 3, and I've written briefly about this before. But after driving this car for 7 months, and now after this trip let me add that the Model 3 is an extremely comfortable car to drive. The seats, driver controls, navigation, the whole shebang, it's been thought out very well. Is it perfect? Well, no car is really perfect. For example I'd like a list of favorites for quick dialing friends and family. But, it is pretty damn good and with the almost monthly, free, over the air software updates my Model 3 just keeps getting better.
In summary: Driving an EV immediately reduces pollution and carbon emissions compared to gasoline powered cars. The Model 3 functions perfectly as a commuter and also allows you to go to many of the places you'd want to visit. Learn about EVs any way you can. Check out a friend's EV, visit a dealership or showroom, take an EV for a test drive. You'll be glad you did.