May 2020. California.
Our Rav4 EV is 7 years old now, has 88,000 miles / 140,000 km on the odometer, and continues to serve us well. Nowadays we use it most for commuting back and forth to work (35 miles / 55 km per day), for shopping, and running errands. But we've also gone on lots of family trips in our Rav4 EV over the years.
Camping is a great way to escape the heat in California's Central Valley. Even when it gets hot in the Central Valley, it stays nice and cool along the coast and up in the Sierras. On one of our trips it was 106°F when we left home, and 3 hours later we were chilling at 61°F in a campground on the Pacific Ocean.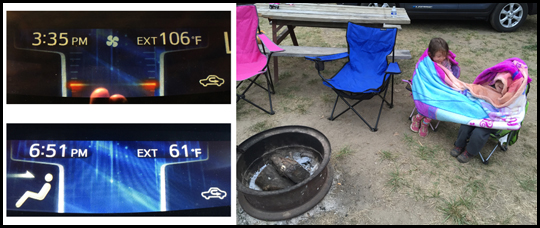 The Rav4 EV has a good storage space in the cargo area behind the rear seats – 37 cubic feet or 1 cubic meter. That leaves plenty of room for our family of four up front, and room to store our tent, 10′ x 10′ shade, sleeping bags and pads, coolers, dry goods, essential drinks, clothes, and more in the cargo space.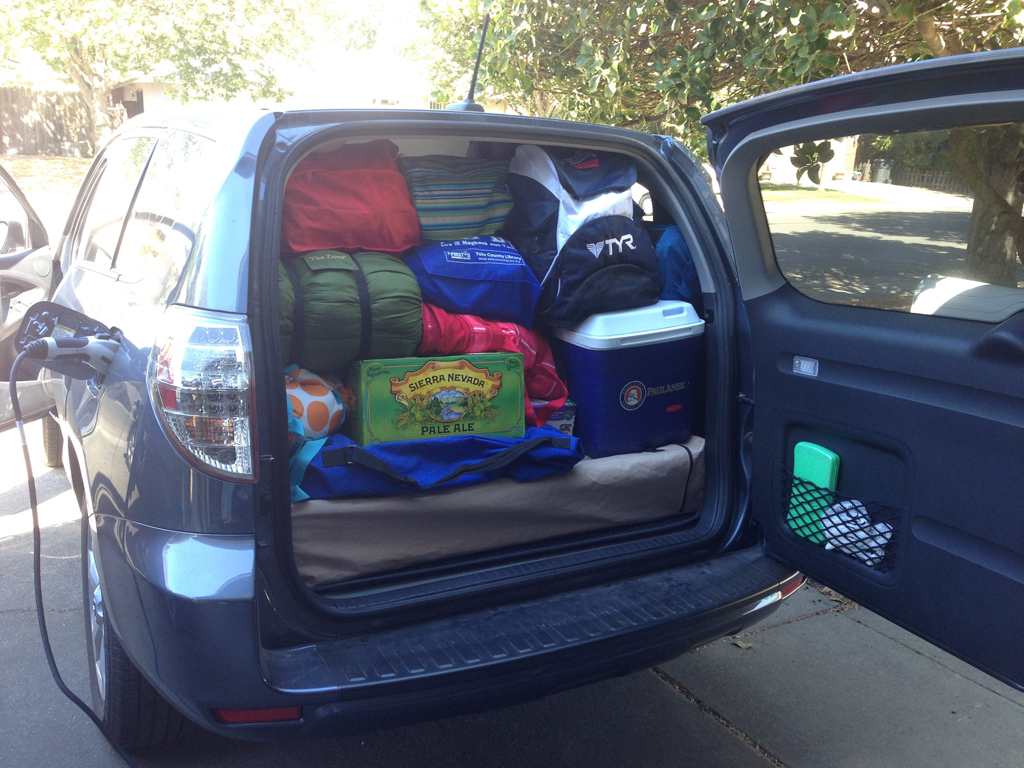 A successful trip is getting there and getting home. So in the beginning we choose campgrounds that were within range of a single charge, and were near Level 2 charging stations. The EPA rating of the 2012-21014 Rav4 EV was 113 miles / 180 km on a full charge, but in warm weather with careful driving it was easy to go further.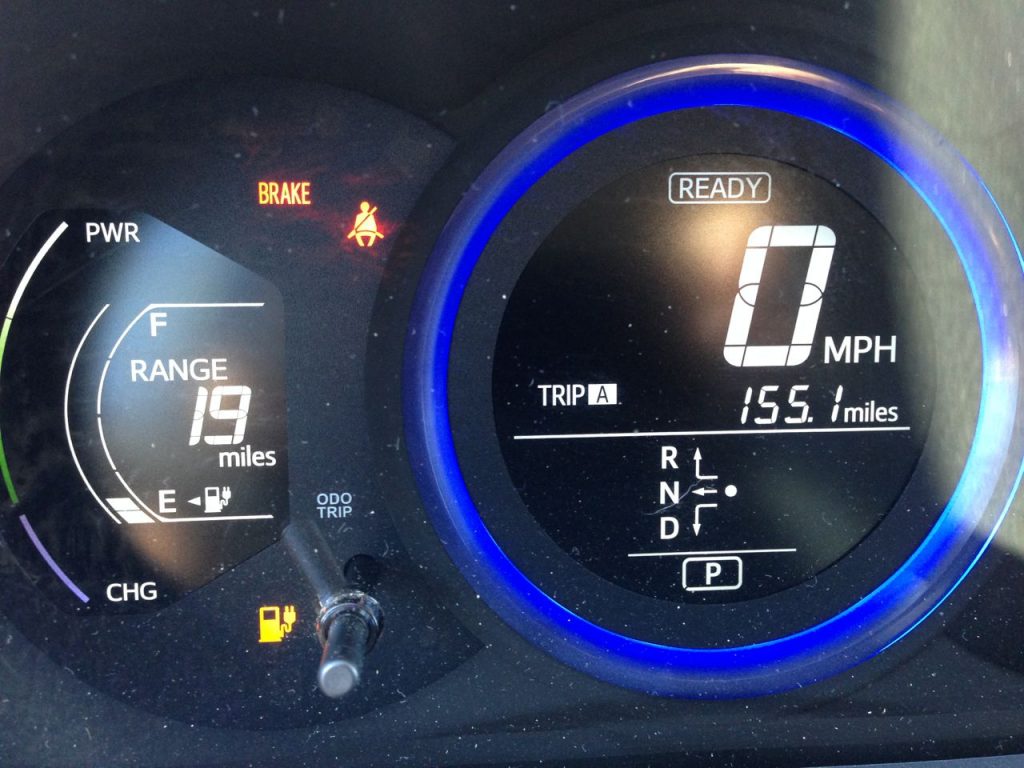 We camped at a number of places that were 100 – 120 miles from home, like Bodega Bay and Point Reyes. These locations had public Level 2 charging stations we used to charge our car for driving around the area and for the trip home.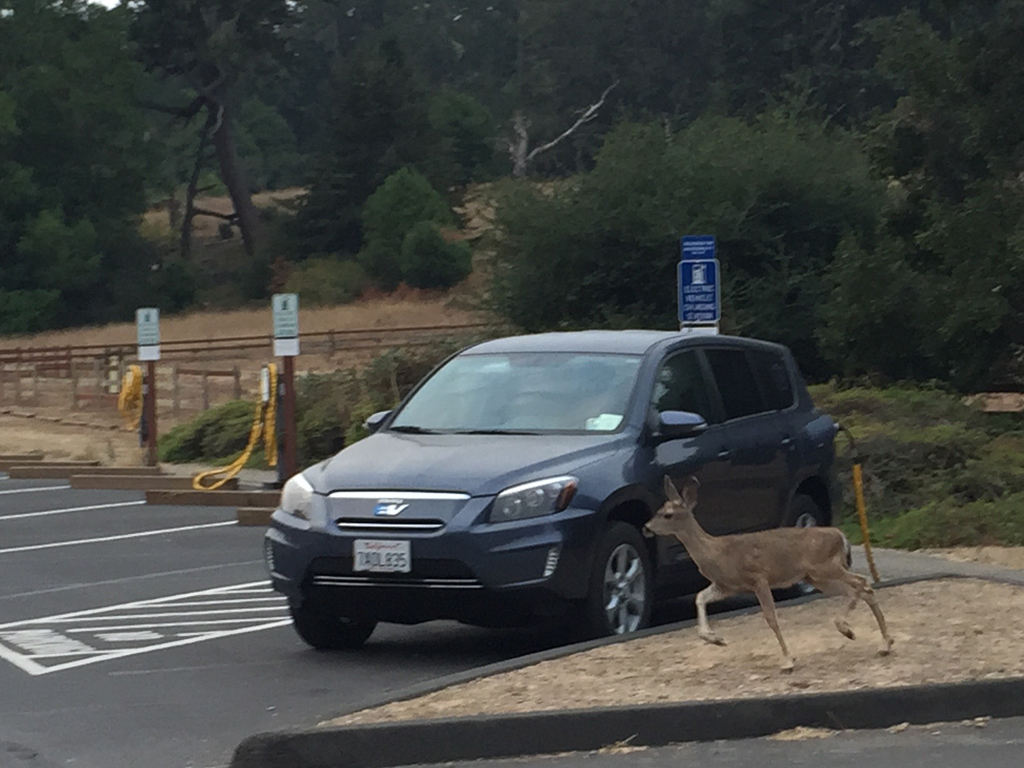 We also camped at the Stillwater Cove Regional Park, which was 2 miles from a hotel that had a 50 amp outlet they gave me permission to use. Find charging stations near your points of interest using the Plugshare.com website or phone app.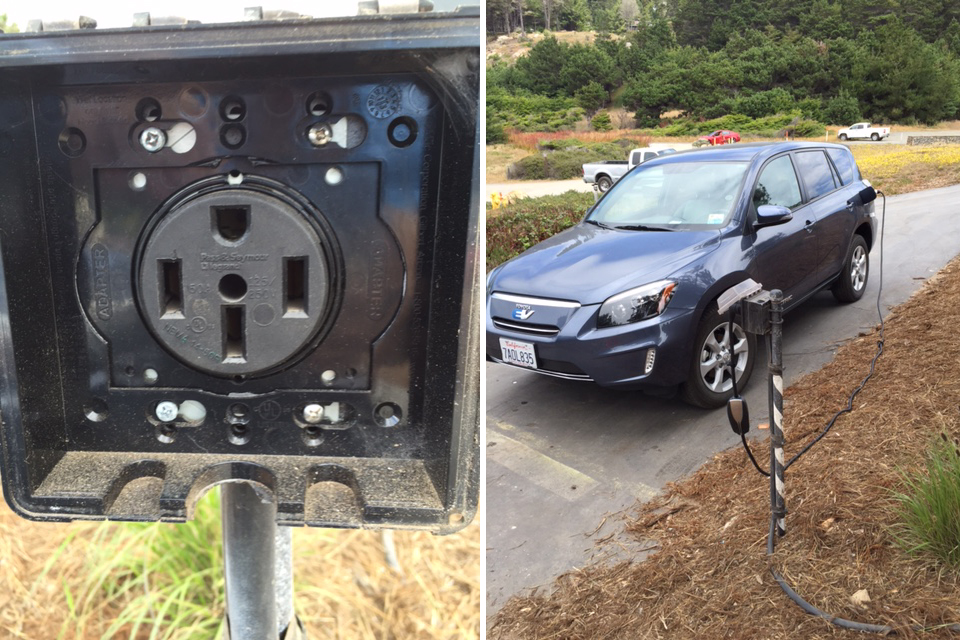 Another time we camped at an RV campground up in the Sierra Nevadas and charged our car on an RV electric hookup that had a TT-30 outlet. Charging at the campground allowed us to visit the nearby Calaveras Big Trees State Park, Mercer Caverns, neighboring towns, and filled the pack for our trip home. Stating the obvious here, but if you plan a trip like this be sure to call ahead for a reservation and to get permission to use the RV hookup for charging your EV. And of course make sure you have the correct adapters.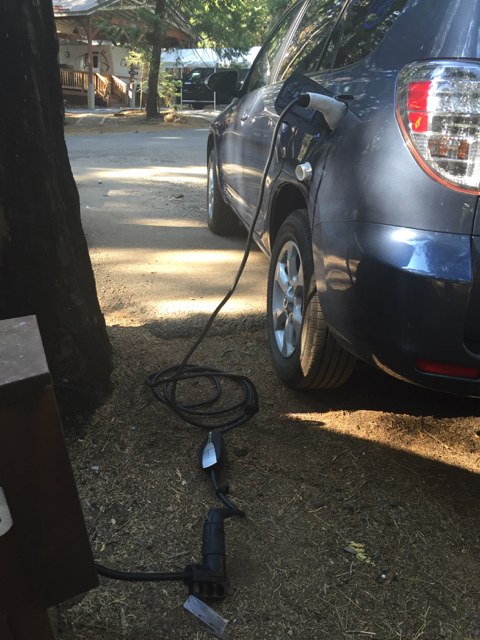 We were very fortunate that in 2015 a company in San Diego began selling a rapid DC charging port for the Rav4 EV. This system, called JdeMO, cut the time required to add 80 miles to the battery pack from 4 hours down to 30 minutes. The JdeMO port allowed us to use DC quick charging stations to travel farther in our region of California. Read about our JdeMO installation here, and a review of how I've used the JdeMO charging port to extend our travels.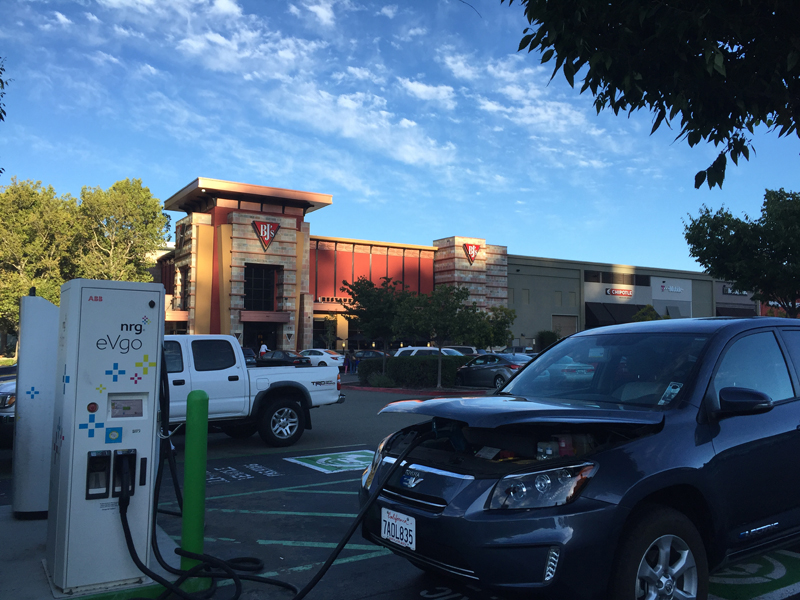 With the JdeMO port installed we were able to travel further by including a DC charging stop on the way to our destination. Many DC charging stations are located in shopping plazas, so we planned our trips to charge the car while taking a 30-40 minute lunch break. This allowed us to go to places 200 miles away without much trouble.
Once our Rav4 EV got us where we wanted to go, we got down to the fun part of hiking, exploring, cooking out, making S'mores, and eating.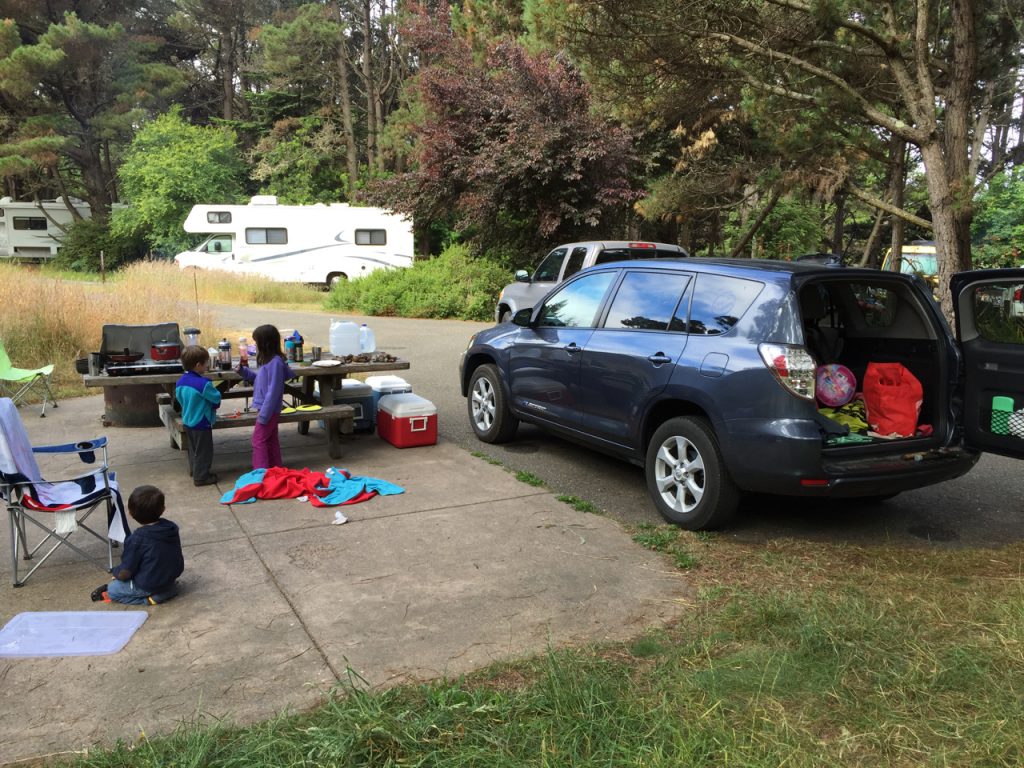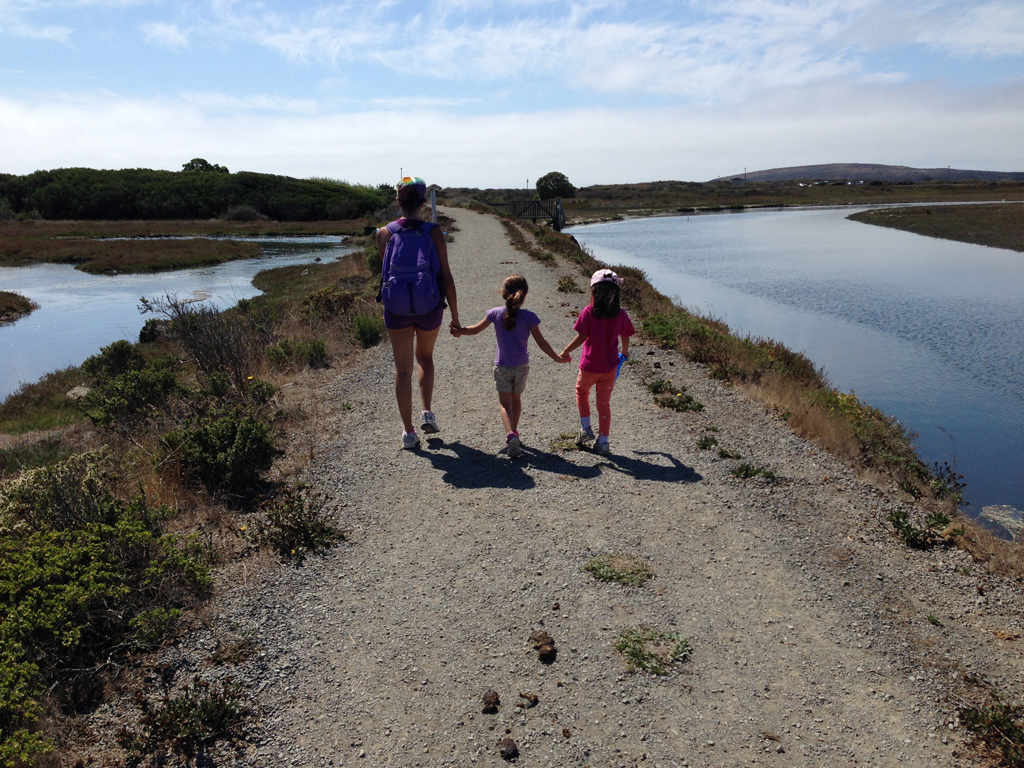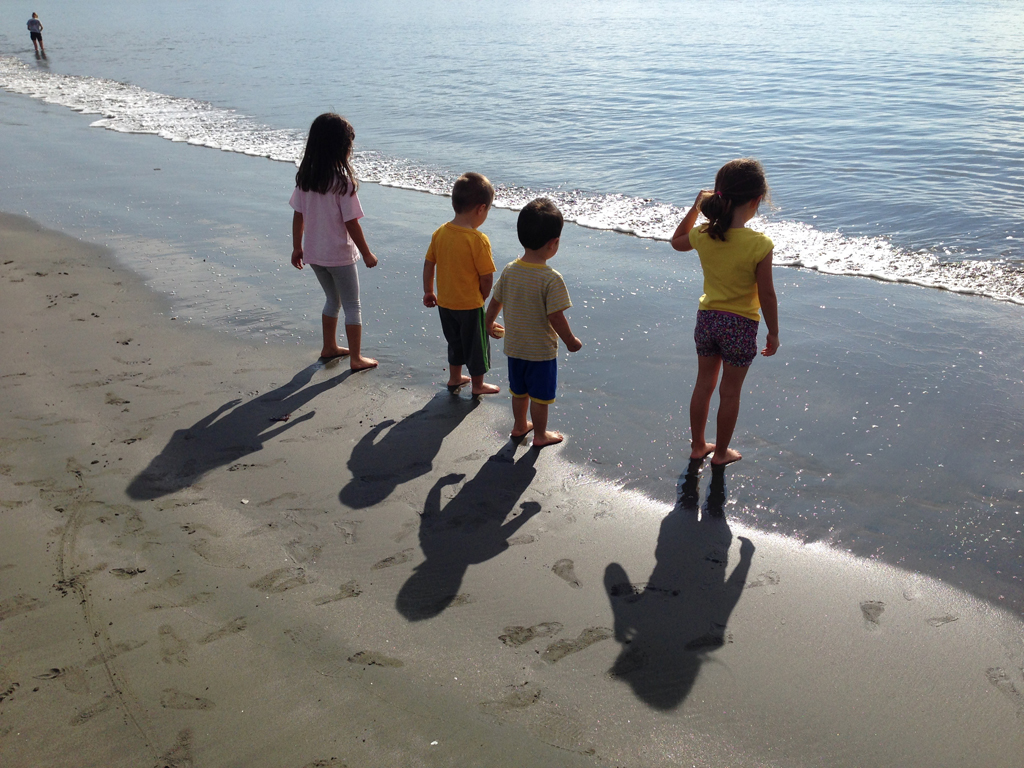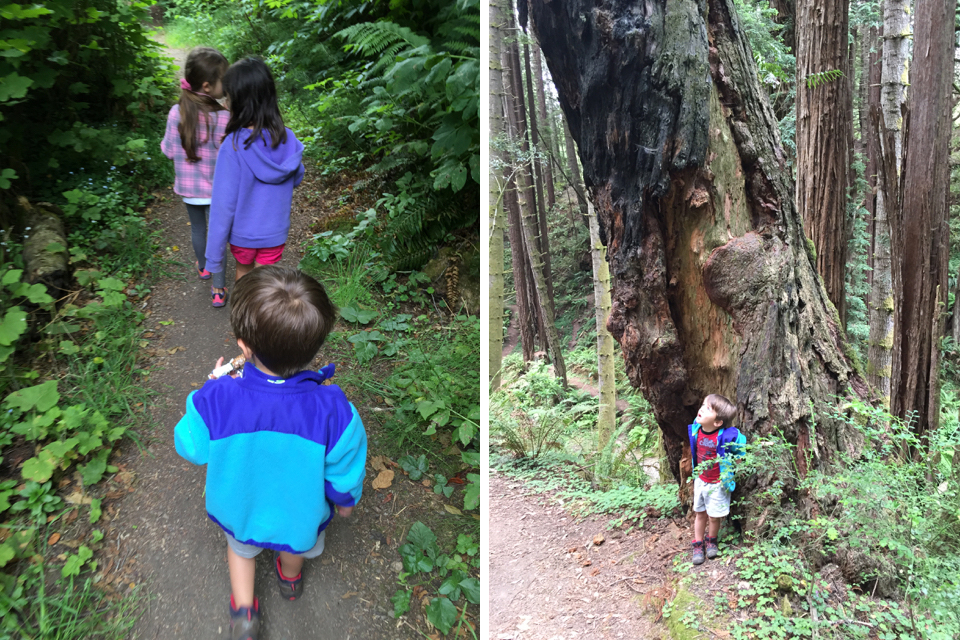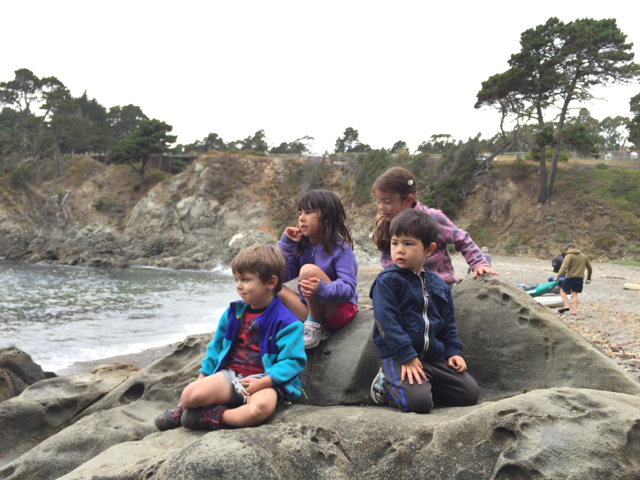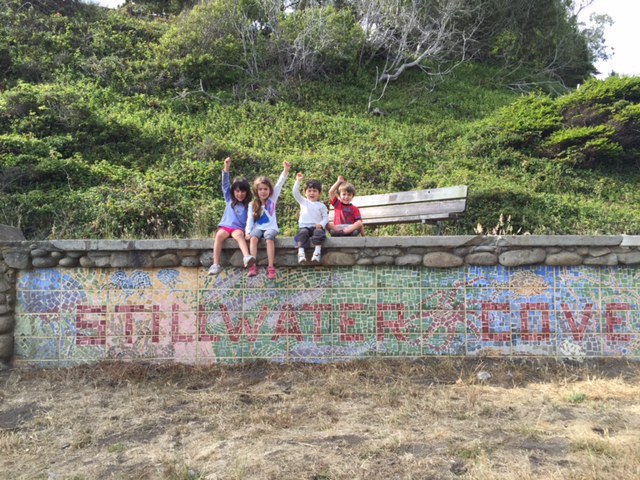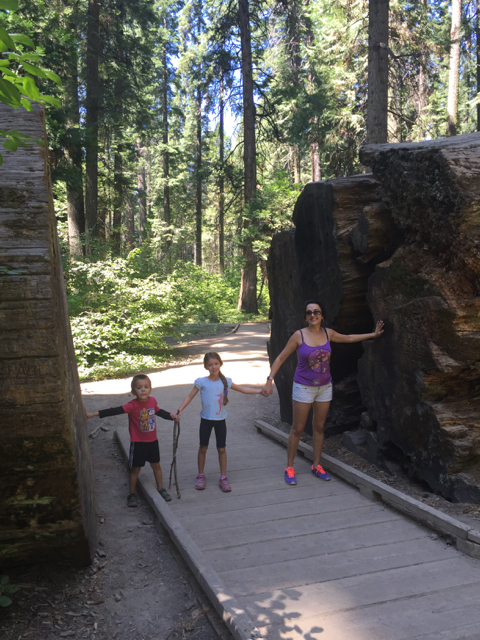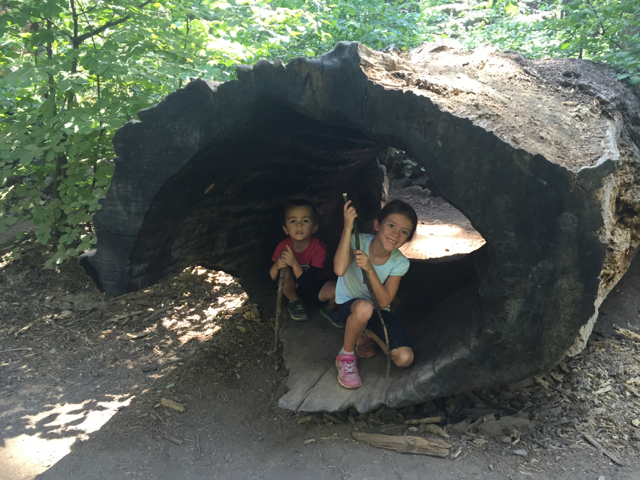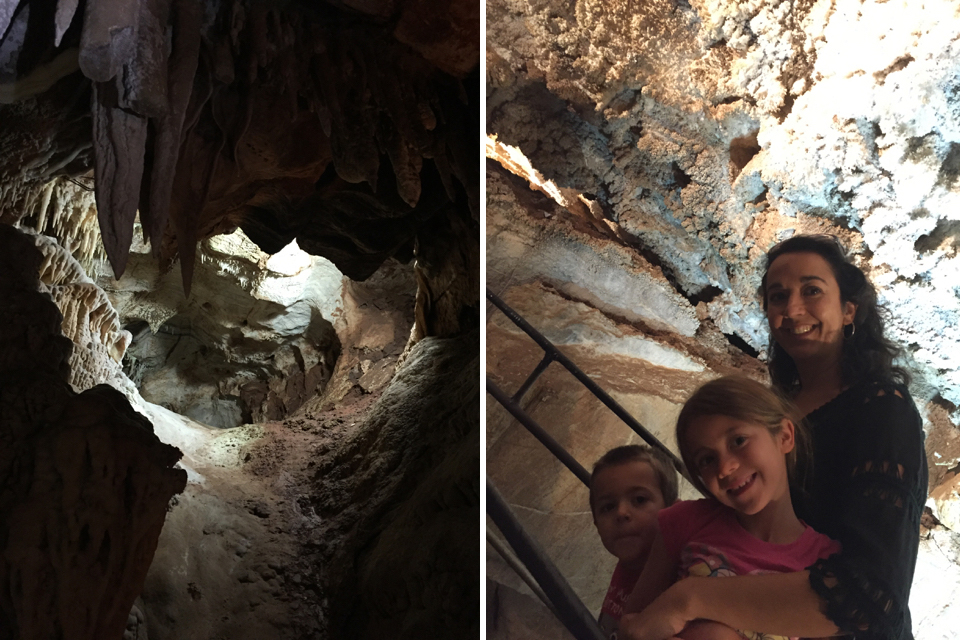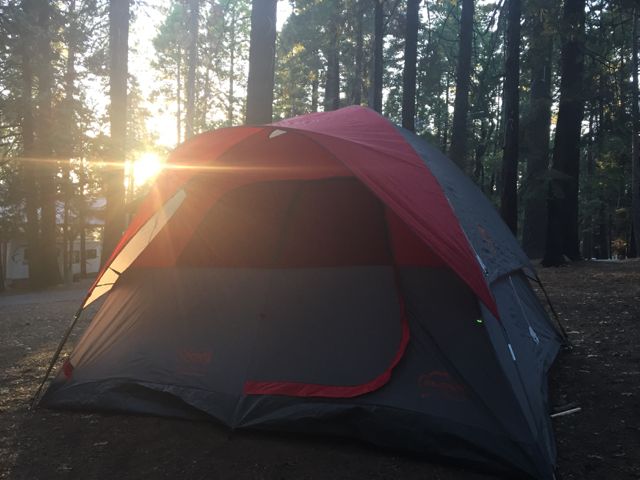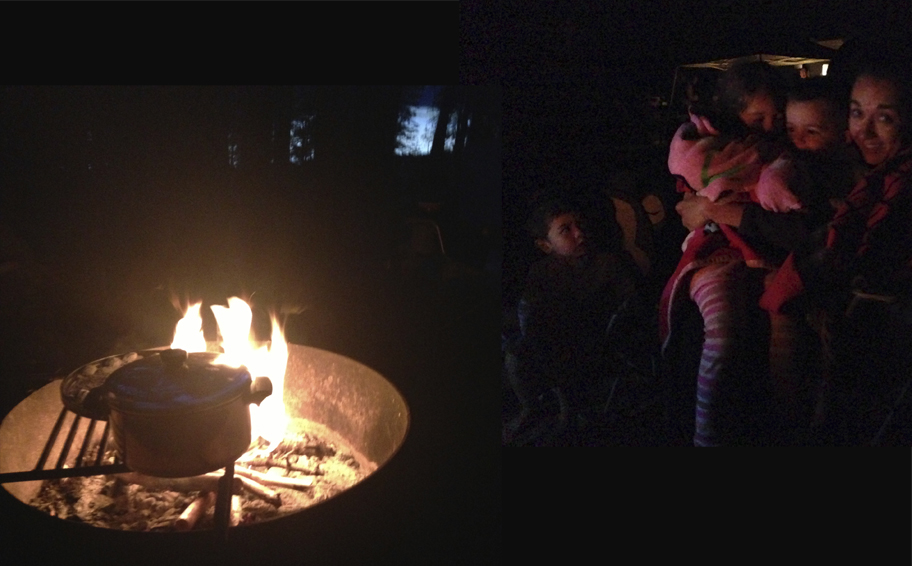 The Rav4 EV checks a lot of boxes: It's an efficient commuter compared to gas-powered cars; the 113 miles of EPA-rated range will meet the daily needs of many drivers; with a DC charging port it can quickly go farther; the cabin is comfortable; the 'U' in utility – this car has plenty of the storage space for a family of 4. We love the Rav and hope that some day Toyota gets back in the game.