September 2015. California
This article was published on the Transport Evolved website in 2015 after we added a DC Quick charging port to our 2012 Toyota Rav4 EV.
While market share of electric cars still has a way to go, the number of electric cars on the road today has reached the point where companies are springing up to serve the needs of electric car drivers. Third party companies sell aftermarket accessories, home charging stations, mobile charging cords and more.
Now, we can add to that list a DC quick charging port for the 2012-2014 Toyota Rav4 EV.
Toyota should have, but did not, offer a DC quick charging option for the 2012-2014 Rav4 EV. With a battery pack, drivetrain and power electronics built by Tesla for the '12-'14 Toyota Rav4 EV, the car itself is more than capable of rapid charging its battery pack.
It just doesn't have the right connector to make it happen.
To address this shortcoming, Tony Williams of Quick Charge Power designed an aftermarket CHAdeMO charge inlet for the Rav4 EV, complete with a box of electronics that interface perfectly with the Tesla-engineered components on the car.
His product is called JdeMO and he recently began installing production units in the cars of customers.
Terms to know:
DCQC: Direct Current Quick Charging. A large, powerful external electric vehicle charging station that provides electricity directly to a car's high-voltage traction battery.
CHAdeMO: One of many different DCQC charging standards used around the world and favored by most Asian automakers.
JdeMO: A new, third-party, aftermarket CHAdeMO package to bring DCQC to the 2012- 2014 Toyota RAV4 EV.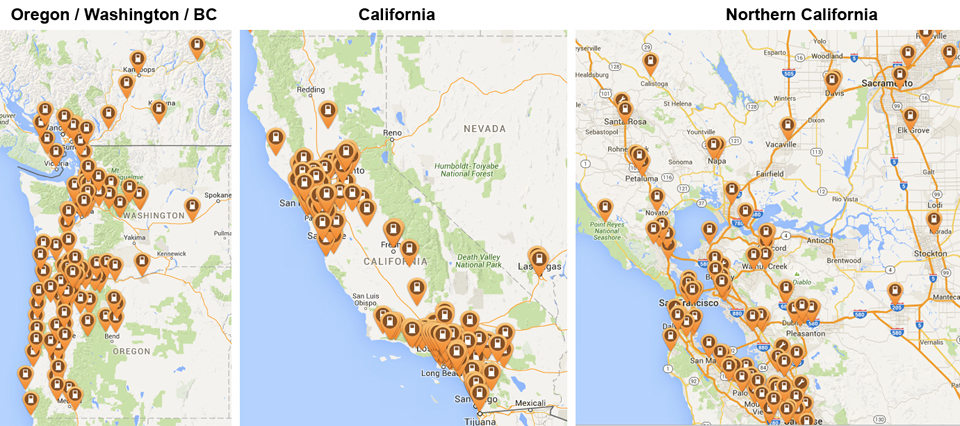 For those unfamiliar with the term, CHAdeMO is the Level 3 charging standard that was developed in Japan and adopted by Asian automakers like Nissan, Mitsubishi, and Kia. (While there are no electric cars from Honda and Toyota that use the standard, CHAdeMO can also be found on Honda and Toyota hydrogen fuel cell cars for vehicle-to-grid emergency backup power applications.)
You might be wondering, what does 'Level 3 charging' mean? In the U.S., there are three basic types, or levels, of charging an electric car. Level 1 is charging from a 120 volt outlet in the United States, it provides about 1.5 kW of power, and slowly adds about 3 miles per hour to your car's battery pack. Level 2 is charging from 208/240 volts, it usually provides about 6 or 7 kW of power, and adds about 20 miles an hour to your EV. Both Level 1 and Level 2 charging send alternating current (AC) electricity to an onboard charger in your EV that converts the AC to direct current (DC), which is stored in your battery.
In contrast, Level 3 charging bypasses the onboard charger, sending high- voltage, high-amperage DC straight to the battery. Level 3 CHAdeMO chargers can provide over 400 volts and about 120 amps for a maximum 62.5 kW of power. In practice, a CHAdeMO station charging a Nissan Leaf reaches a maximum of about 45 kW and can add over 60 miles to the Leaf battery in 30 minutes.
DC charging extends the range of electric cars by greatly reducing the time needed to charge. For several years now those with a Nissan Leaf or Mitsubishi i-MiEV in the Pacific Northwest have been using CHAdeMO chargers to drive along the West Coast Electric Highway in Oregon, Washington and into British Columbia. In addition, there are more than 250 CHAdeMO stations in use by electric car drivers in California. Now thanks to the JdeMO, the Rav4 EV can join the DCQC circuit.
I purchased the JdeMO from Quick Charge Power , and Tony Williams installed it on my Rav4 EV at my house. Tony arrived in his Model S, unpacked his gear and tools, set up a portable work station in my garage and got right to work.

It was an impressive operation.
For those of you who don't know Tony, he is one of the people who is seriously promoting and advancing EVs. Few people have the vision to conceive of useful products, and the know-how and motivation to make it happen. Who else was going to put a DC quick charge port on my Rav4 EV? Not Toyota.

The JdeMO is constructed from aircraft grade aluminum that has been precision machined, powder coated, and laser etched. So the finished product is light, strong, and looks great. Since Toyota did not leave enough space to add a CHAdeMO inlet within the existing charge port, the best solution was placing the JdeMO port under the hood. Future options may include a kit to install the JdeMO port in the front fascia of the Rav4 EV.
After the installation was complete we drove to the nearest CHAdeMO in my town to christen the JdeMO. The charging protocol is slightly different in the Rav4 EV than in other EVs, but most importantly, how did it work? I plugged in and after 3 minutes I was charging at 40 kW… I got that EV grin all over again.

The JdeMO worked flawlessly, and Tony demonstrated a nice feature he included in the design: an option to limit charging to 60 amps at the push of a button. This will be useful for those charging on a Nissan branded CHAdeMO charger on hot days, since the Nissan CHAdeMO chargers are infamous for overheating when the temperature nears 100oF.
Depending on several variables, the Rav4 EV will reach a maximum charge rate of about 45 kW on CHAdeMO. For a more in depth explanation of how long it takes to charge on JdeMO, and how volts, amps and power change during a charge session, read this informative post by Tony.
The next morning I ran a longer test. I got some coffee and food, strapped in the kids, drove to Sacramento, and plugged into another CHAdeMO station.
We ate breakfast and played soccer for 40 minutes while the JdeMO directed 27.7 kWh of electricity into my battery pack.
Next I put the JdeMO to use on a short day trip to Chico, CA. I drove a total distance of 205 miles with one charging stop. I only needed 30 minutes to charge but spent almost an hour talking with a Nissan Leaf owner who wanted to know what the heck kind of car I was driving and why he never heard of it before. During that time DC charger sent 28.5 kWh of electricity to my car through the JdeMO port.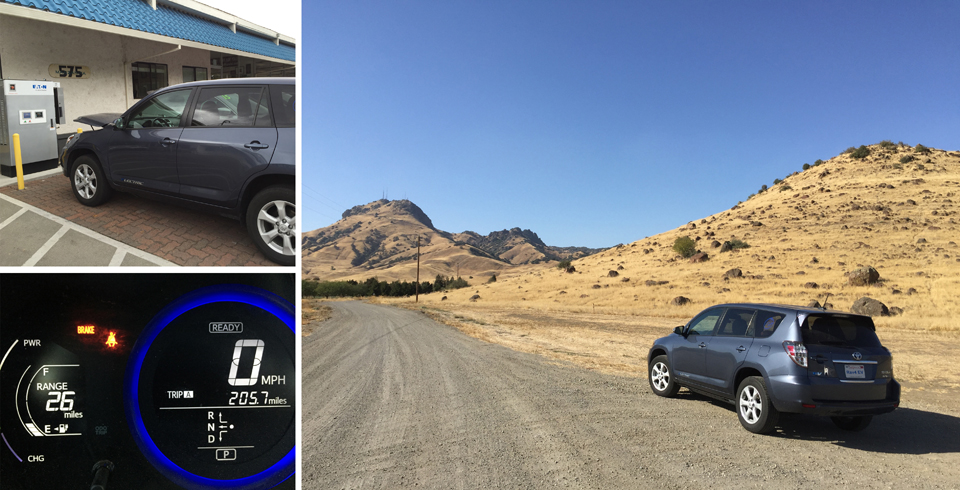 Level 2 charging will serve the bulk of my driving. For commuting and typical weekend driving I can fully charge my EV at work during the day, or at home during the night. And there are many public Level 2 chargers across California. Thousands.
But for those longer trips I want to take, I can't realistically ask my 4 and 6 year old children to occupy themselves for 4 or 5 hours while charging on Level 2. Better put – I don't want to, for the sake of my own sanity. But 30 or 40 minutes? You bet.
The next trip I'm planning is to the Monterey Bay Aquarium, a distance of 180 miles each way. There are 19 CHAdeMO stations between my town and Monterey, so I'll have my pick of chargers to use for one 30 or 40 minute stop on the way. And it's not a bad idea to take a break during a 180 mile drive.
CHAdeMO stations are run by different companies and organizations, and each may have different prices. Some, like EVgo stations , have options for paying a set monthly fee for frequent users, or paying a fee for each charging session. Other payment options I've encountered include a pay by-the-minute fee. In the past week I've paid rates of 16¢, 23¢, and 75¢ per kWh at different locations. Monthly payment plans for frequent users will likely provide charging at rates similar to residential rates.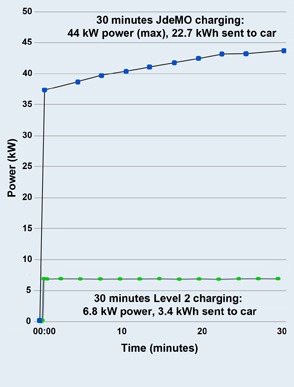 The number of CHAdeMO stations is increasing, but work remains to finish the West Coast Electric Highway in California. The network is well established in Oregon and Washington. But there is a 201 mile gap between Northern California and Oregon, and a 209 mile gap between Northern and Southern California along the coast. And other regions of California remain underserved by Level 3 chargers. Authors edit in 2020: Thankfully this is no longer the case.
The distinctions and key advantages of Level 2 and Level 3 charging remain unclear to some drivers. After only a handful of CHAdeMO charging sessions I've been asked "What's CHAdeMO?" by someone charging their car
on CHAdeMO; been told by GM sales staff that a Spark EV can't handle Level 3 charging, even though it has a DC port; and one kind soul stopped, looked puzzled by the CHAdeMO cable attached to my Rav and asked if I needed a jump – I just smiled and said "No, we're good Ma'am." Like I said, work remains to be done.
DC quick charging is a game changer. After getting the JdeMO installed on my Rav4 EV, it's like I have a new car. My horizons have expanded. So what's
my take home message? I've had a taste of DC quick charging, and I like it. A lot.
Disclaimer: The author has no financial interest or ties to companies mentioned in this post.