October 2015. Sacramento, CA.
This article was originally posted on the Transport Evolved website in 2015.
Have you ever wondered what it would be like to ride a solar-powered electric bicycle? Wonder no more. A couple weeks ago I saw a unique bike pedal down the street past my office. It really caught my attention and since the name "ELF" was visibly painted on the side a quick search led me to the manufacturer website. Better yet, soon afterwards I met the owner who was kind enough to let me take her bike for a spin.
The ELF is a 3-wheeled bicycle that was manufactured in North Carolina by Organic Transit . It consisted of an aluminum alloy frame enclosed within an aerodynamic teardrop shell that constructed of a composite plastic called Trylon.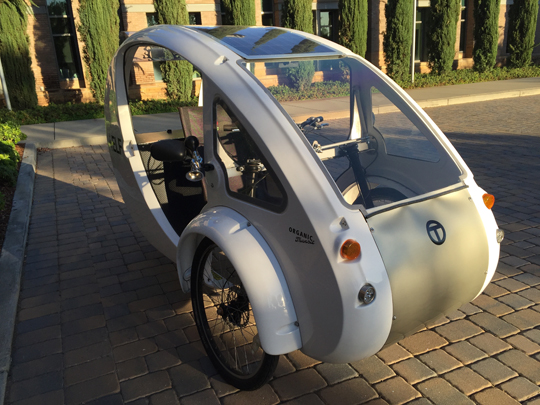 The ELF has basic amenities and safety features you'd expect on a car: windshield, roof, lockable storage, rear view and side mirrors, LED headlights, direction signals, brake lights, and an electric horn. The shell is highly visible, and protects passengers from rain, wind and elements. Doors are optional. The frame and shell together were designed to absorb impact, making the ELF safer than most bicycles.
The ELF has front disc brakes, and rear friction pads. The bike came standard with a 3-speed internal gear hub, with an option to upgrade to an 8- speed hub.

Like some hybrid automobiles on the road today, the ELF also has a separate electric drive train, but the ELF is unique in that it can be powered directly by the sun. The roof of the ELF is a 100 Watt solar panel that charges a 48 volt, 11 amp hour battery (~ 0.5 kWh storage). An optional 15 amp hour battery (~ 0.7 kWh) is available.
The electric drive train is powered by a 750 Watt electric motor. The 11 amp battery is rated for about 15 – 20 all-electric miles at 15+ MPH, with no pedaling, and the 15 amp battery is rated at about 20 – 25 miles. Of course by pedaling as you ride along you can increase the range of the ELF, and increase the speed up to about 30 MPH. There is an option to purchase a second battery pack to double the range of the ELF.
The battery pack is made from 18650 cells similar to those used by Tesla in the Model S and Model X, and is contained within a small 'suitcase' that sits in the frame under the rider's seat. The 15 amp hour battery weighs 10 pounds and can be easily removed for recharging indoors on a standard 120 V outlet in 2.5 hours. OR, you can park the ELF in the sun and the battery will fully recharge in 7 or 8 hours.
The ELF solo was made for one person, but there were also 2 and 3 passenger versions. A lockable storage compartment in the back can be used to store work items, a backpack, groceries, bike gear, etc. All versions of the ELF include the storage compartment.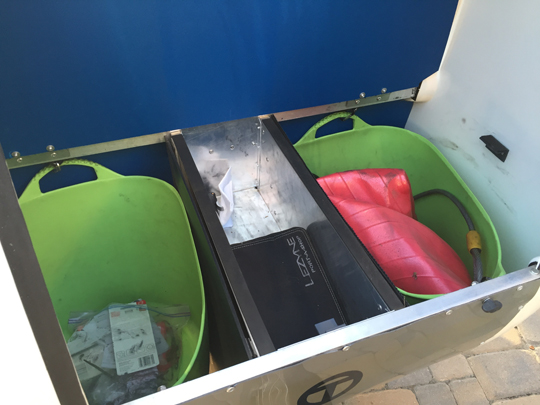 Inside, the cockpit was well designed. The seat has back support and the driver space is comfortable. All the controls: parking brake, gear shifter, electric drive, brakes, blinkers, lights, horn, etc, are well laid out and easily accessed on the handlebar, just as you'd find them on a regular bicycle.
To ride the ELF you put the key in the ignition and switch on the bike. But I decided that first I'd try out the ELF only pedaling. What's it like? Easy, I just sat down and started pedaling. The ELF weighs in at 160 pounds, so more than my mountain bike. But the ELF is properly geared so you start off easily in first gear and then shift up the gears to pedal comfortably. After one circuit I realized it'd been a while since I rode my bike!

Next I rode the same circuit fully electric, no pedaling. To ride in electric mode you simply depress the accelerator with your right thumb. I was surprised. As I drove around corners and accelerated down straightaways I was stroke by how responsive the bike was. And next I was thinking how unusual to have that impression with a bike… but the ELF is not your average bike. I kept having that sensation of responsiveness, quickly followed by the thought that this bike wants to race.
Driving the ELF all electric is simple, but it is probably at it's best when you pedal along with the electric motor. You get exercise, and with the electric motor assist you can quite easily ride over 25 MPH.
So, what can you compare the ELF to? To me, even though I was pedaling around, it was nothing like riding a bike. First of all the shell will protect you from direct rain. While in college, I rode my bike about 10 miles a day between classes, and later commuted to work on bike for a while in Washington DC and in NYC. I love bikes, it's great exercise, but I also remember that when it rained I'd have a wet…. seat. So no, I wouldn't compare the ELF to other bikes.

In fact, what the ELF brought to mind was the Renault Twizy, an electric quadricycle / urban vehicle that I test drove two months ago. Yes, this is perhaps comparing apples and oranges. But surprisingly, both vehicles are similar in size: 4 feet wide and just over 5 feet tall. The Twizy is listed as 7 feet 7 inches long, and the ELF is actually longer at about 9 feet. The Twizy has an electric range of about 50 miles, compared to the 15 – 25 mile electric range of the ELF. But the Twizy weighs in at nearly 1000 pounds while the ELF weighs 160 pounds. Robert Llewellyn test drove the Twizy and described it as brilliant fun . After one hour of driving the Twizy, I agreed.
Both vehicles have their points, but perhaps I'm partial to bikes. I enjoyed riding the ELF so much more, and love the practicality of direct solar charging. The owner of this ELF has been using it to commute to work, 10 miles per day, for nearly a year and a half. She parks it in the sun, which provides enough charge so that she hasn't needed to plug in the battery at home for recharging.
If you are looking for an efficient city commuter to meet your everyday needs, one that doesn't make very much – or any – pollution, is fun to drive, AND delivers your daily workout, the ELF might meet your needs. To give you an even better idea of what it's like to ride the ELF day in and day out, check out this short video put together by the guys at FallenLeafFilms after a fun day of filming the ELF.
Author Edit: Organic Transit produced a great ebike, but did not survive. As of April 2020 Organic Transit's assets are now being sold via bankruptcy to qualified buyer(s).