September 2014. California's Coast.
This article was originally posted on the Transport Evolved website in September 2014…. yes, things have changed!
This year we celebrated the National Drive Electric Week by taking
our electric car on a road trip. We drove our 2012 Toyota Rav4 EV on
a camping trip with friends to Bodega Bay on the California coast. What better way to celebrate this national event than by using domestic energy to power our trip?
The Rav4 EV is roomy and the large storage area behind the rear seats easily fit our tent, sleeping bags, 2 coolers, a 10×10ʹ sun shade, firewood, food, some important drinks, and more clothes and things than we'd really need for a weekend trip. The passenger compartment comfortably seats our family of 4, with plenty of room to store snacks, knick-knacks, and games to keep the kids occupied.

The campground we choose was about 95 miles from our town, a distance we knew we'd easily make since we've driven over 150 miles on single charge in our electric car. As a bonus, the campground was in a state park that has a public Level 2 charger so we could charge up for the trip home. We used the plugshare.com website to plan our route and noted that there were 26 Level 2 public charging stations along the route. Level 2 stations charge at approximately 20 miles an hour. There were also six Level 3 stations along the route. Level 3 quick charging stations charge EVs much faster, but Toyota did not include a quick charge port on the Rav4 EV so we couldn't use them for this year's trip.
Our route took us along major highways, country roads and
through California's coastal mountains. In other words normal driving. It was 100 degrees when we left home so we used AC the whole trip. In addition, we got stuck in traffic along the way and had to detour from our planned route because of a traffic accident. This added about 15 miles and nearly an hour of driving time to our trip. But the Rav4 EV has the range for the job at hand. We arrived at the campground after driving 112 miles miles with about 10 kWh remaining in the battery pack – enough to drive another 30 to 40 miles. Other EVs with the CHAdeMO quick charge port could also make this trip by including a stop to use a Level 3 charging stations along the route.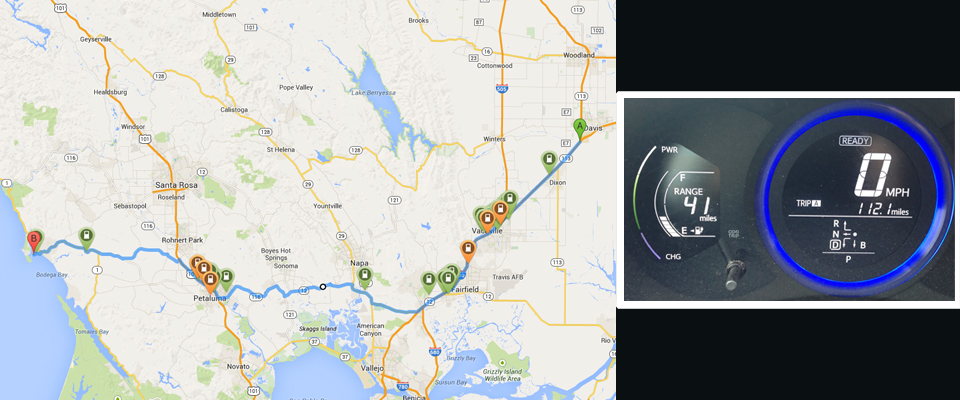 Our route to Bodega Bay passed through beautiful wine country in Sonoma and Napa valleys. California may be ahead of some states in the number of public charging stations that have been installed. But, one thing we saw on our road trip you will see just about anywhere you drive: infrastructure. The powerlines that course along most roads deliver electricity to your home, place of work, shops, restaurants and anywhere else you might go. This infrastructure is already here. It is waiting to be used for charging EVs. Today.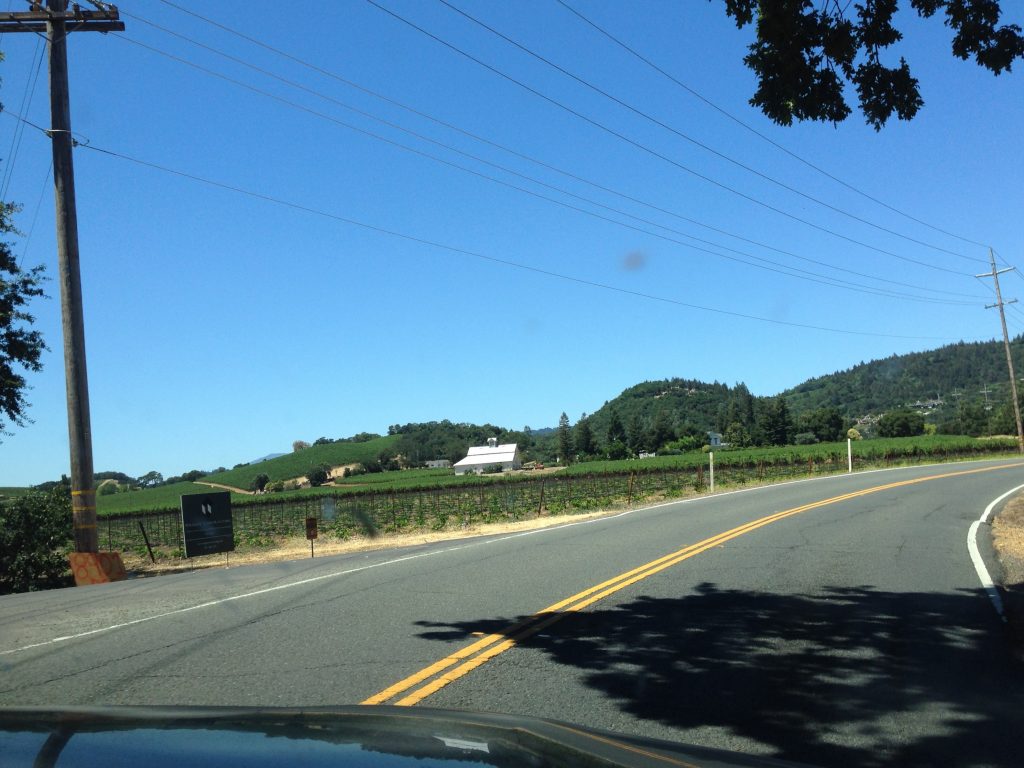 With the exception of Tesla's Model S and Roadster, most pure electric cars on the market today have been designed as commuter cars that have 80 to 100 miles of driving range per charge. These EVs are excellent for their task. The Rav4 EV's slightly larger battery pack and large storage area provide utility, more options for the EV market, and make weekend trips like this possible. We did not have to stop at chargers along the way and our children had a blast at the campground and on the beach. Trips in our electric car have become a normal part of their lives.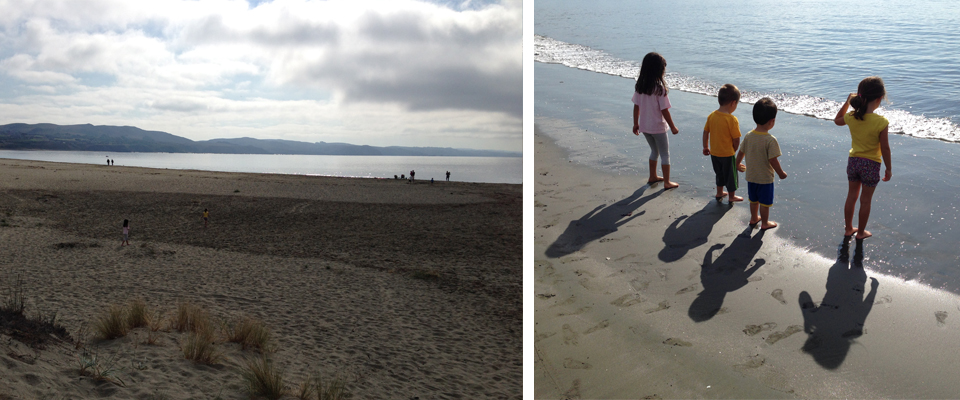 This trip was made possible by public charging infrastructure. Sonoma County installed a ChargePoint charging station right on the beach. This allowed us to fully charge our car at the campground for the trip home. It should be noted though, that many RV campgrounds have hookups that electric cars can use for charging. EV owners have been using this approach for almost 10 years to travel through parts of the country that lack public EV charging infrastructure. Third party companies sell the adapters you need to plug into an RV electric hookup to charge your car.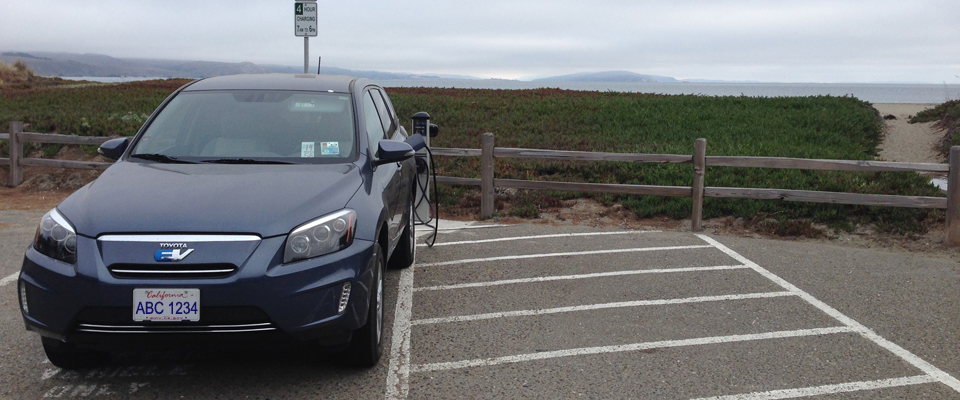 I love this car more than any I've ever driven and would recommend it to anyone. The Rav4 EV provides the range, space, and utility that make it a great electric car. Our trip was nothing extraordinary in this day and age when a Tesla Model S can drive up and down the coast and across the country. But our trip is an example of the routine trips you can make in an EV today. Unfortunately, from day one Toyota planned to produce only 2600 Rav4 EVs to meet California requirements, and sad to say, Rav4 EV production has come to an end. Only 200 or 300 remain to be sold. For those who are interested, a tight-knit group of knowledgable Rav4 EV drivers post useful information on the MyRav4EV forum and other forums. It's a shame Toyota walked away from this project but hopefully other companies will step in to fill the void and provide the market with more EV options.