October 2019. American Southwest.
In October 2019 I went to New Mexico for 5 days of work. The trip to Albuquerque would have been about 1200 miles as the crow flies, but rather than fly I drove there in our Model 3. The full trip was 2,700 miles through 6 states. I used 17 Superchargers and paid $92.66. Driving electric reduced my emissions by over 70% compared to driving a car that gets 25 MPG (or burns 9.7L / 100km).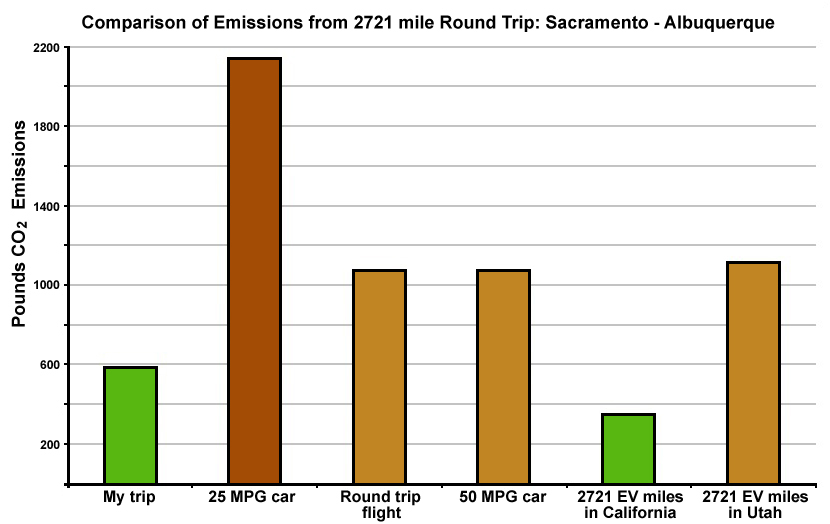 This post includes basic data on driving time, charging time, energy used, and emissions. Emissions are described in detail below, but as the graph above shows, driving electric greatly reduced emissions compared to other ways of getting to Albuquerque.
Read along or use the Index below to jump down to specific sections. At the end of each section you'll find an "Index" link to jump back to the top. A shorter post that covers just the Supercharging can be read here.


Basic Driving Info
ROUTE: I used ABetterRoutePlanner to plan my route and Supercharging stops along the way. Briefly: from my home I drove down Rt. 5, over the Tehachapi pass, and along Rt. 40 out to Albuquerque, with stops at the Grand Canyon and Meteor Crater along the way. After completing work I made a left in Albuquerque, like you should, and drove north towards the Four Corners region and in to Monument Valley. After that I drove through Page AZ, the Tehachapi Pass and up Rt. 99 to get back home. Our 2018 Model 3 (Long Range RWD) was 18 months old and had 24,600 miles on the odometer at the start of the trip.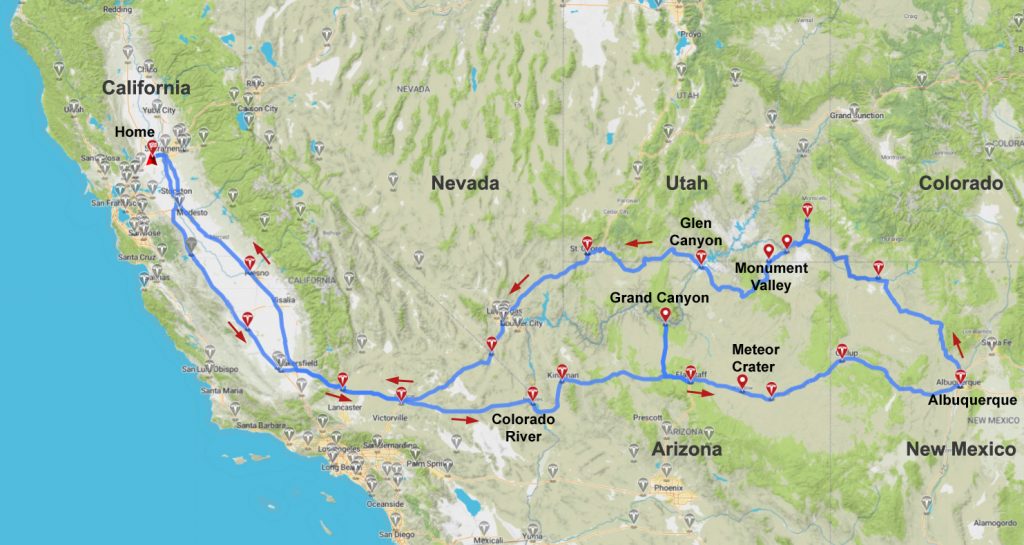 I drove about 1300 miles to Albuquerque and 1400 miles on the way home. The 'Basic Driving Stats' Excel chart below includes driving data for each leg of the trip.
A big chunk of my driving was within the Colorado Plateau, which is the basin for the Colorado River and a unique geological region. The spectacular landscape of this region was produced by a combination of geological forces, sediment deposition, and erosion over hundreds of millions of years. Landmarks such as the Grand Canyon, Zion, Bryce Canyon, Arches National Park, Natural Bridges, Monument Valley, Antelope Canyon, and much more are located throughout this region.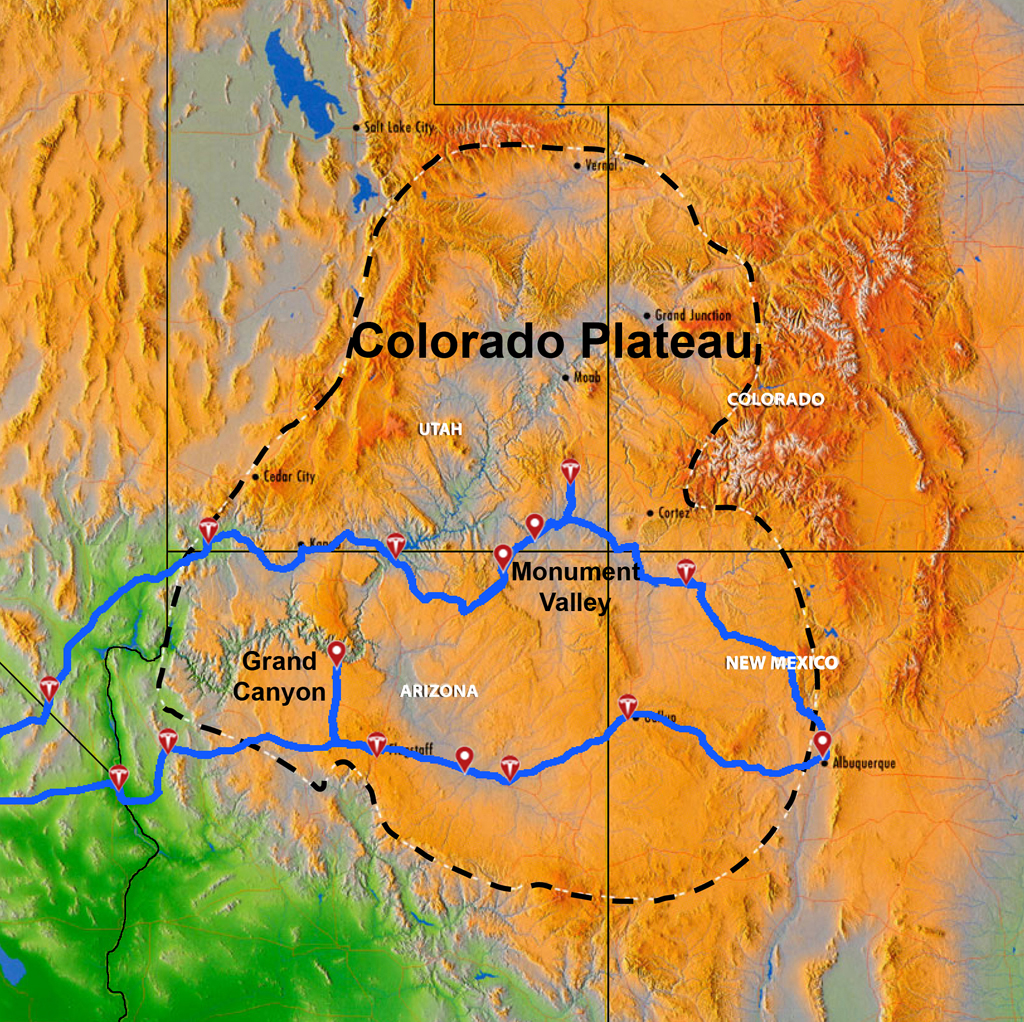 I recorded and saved driving and charging data on this trip so it could serve as a guide for those wondering how longer trips work in an electric car. For each leg of the trip I recorded the rated range of the car at the start of that leg; the number of miles driven and the driving time for each leg; the range of the car when I arrived at a Supercharger or destination; how long I spent charging the car; and the range of the car after charging. The chart also notes miles driven per day.
Total driving time was 47 hours, and total Supercharging time was 7h:10m. The average distance between Superchargers was 150 miles, and average driving time between Superchargers was 2 hour 35 minutes. The average charging time at a Supercharger was 23 minutes (range 13 to 40 minutes). Note: I used charging time as meal breaks and if I wasn't hungry I used the time to stretch my legs or check out the area. 2700 miles of the trip were driven over 6 days on the road, so I averaged ~450 miles a day.
I used a Level 2 charging station (240 volts / 30 amps) in the Grand Canyon and in Albuquerque – designated 'L2′ in the chart below – and a 120 volt outlet in Monument Valley – designated 'L1'. (Read up on L1, L2 and rapid DC charging here if you are not familiar with these terms). I started the trip with a fully charged battery (325 miles), and rarely went below a 30% SOC (~100 miles of range) during the trip. My lowest range was 81 miles when I arrived at the Mojave Supercharger on the way home.
NOTE: This post includes several screen captures of Excel Spread sheets, like the one below, that are best viewed on a desktop or larger screen if you like looking over numbers.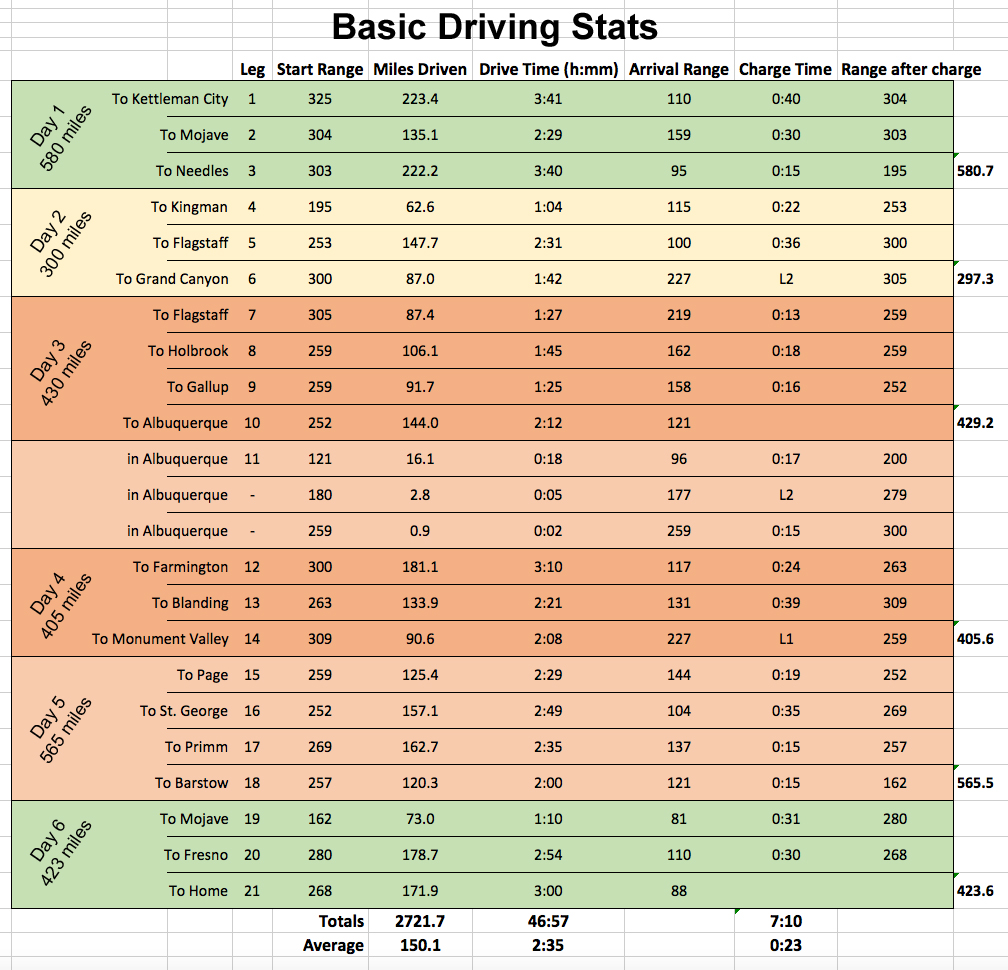 Travelogue: Sights Seen Along the Way
On the first day I left home at 5AM to avoid morning traffic in my area, and made my first stop 223 miles and 3½ hours later at the Kettleman City Supercharger. Next I stopped in Mojave, CA near the huge Tehachapi Pass Wind Farm, and from there drove another 222 miles in ~3½ hours to reach Needles. It was an uneventful 580 miles on the first day. That worked out to 9h:50m of driving and 1h:10m of Supercharging: 40 minutes charging in Kettleman City while I got coffee, a snack, and walked a bit; and 30 minutes charging in Mojave while I ate lunch.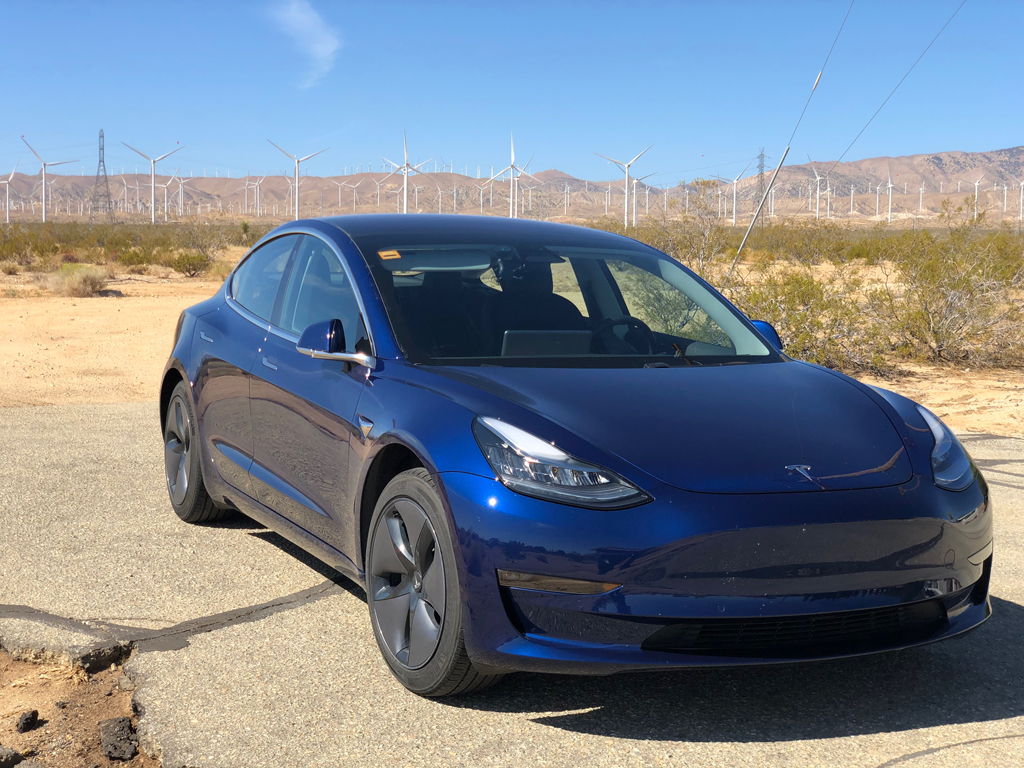 I had never seen the Colorado River before, so once I got to Needles I found the River Front Cafe on the California side and ate dinner while watching the sun go down and the Colorado roll by. After dinner I walked down a boat ramp to see the river up close. Water flowing by Needles in the Colorado had already seen a lot – it'd been through the Grand Canyon, many other canyons, and man-made structures like the Hoover Dam.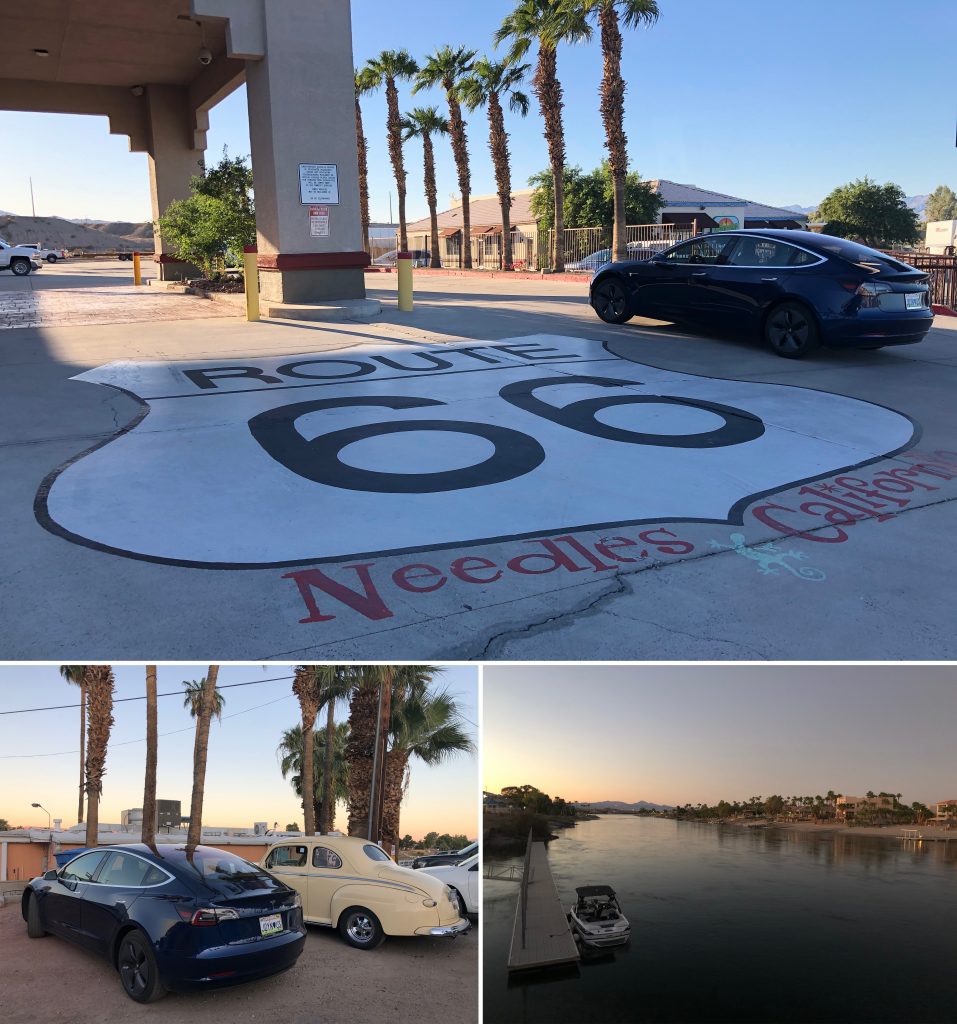 The next morning I added 100 miles to the pack at the Needles Supercharger (3 of 4 stalls were blocked by a tractor trailer) and got on the road by 5:30. I crossed into Arizona and stopped briefly on Rt. 66 in Kingman for a quick charging break, watched the sunrise, and then headed off to Flagstaff.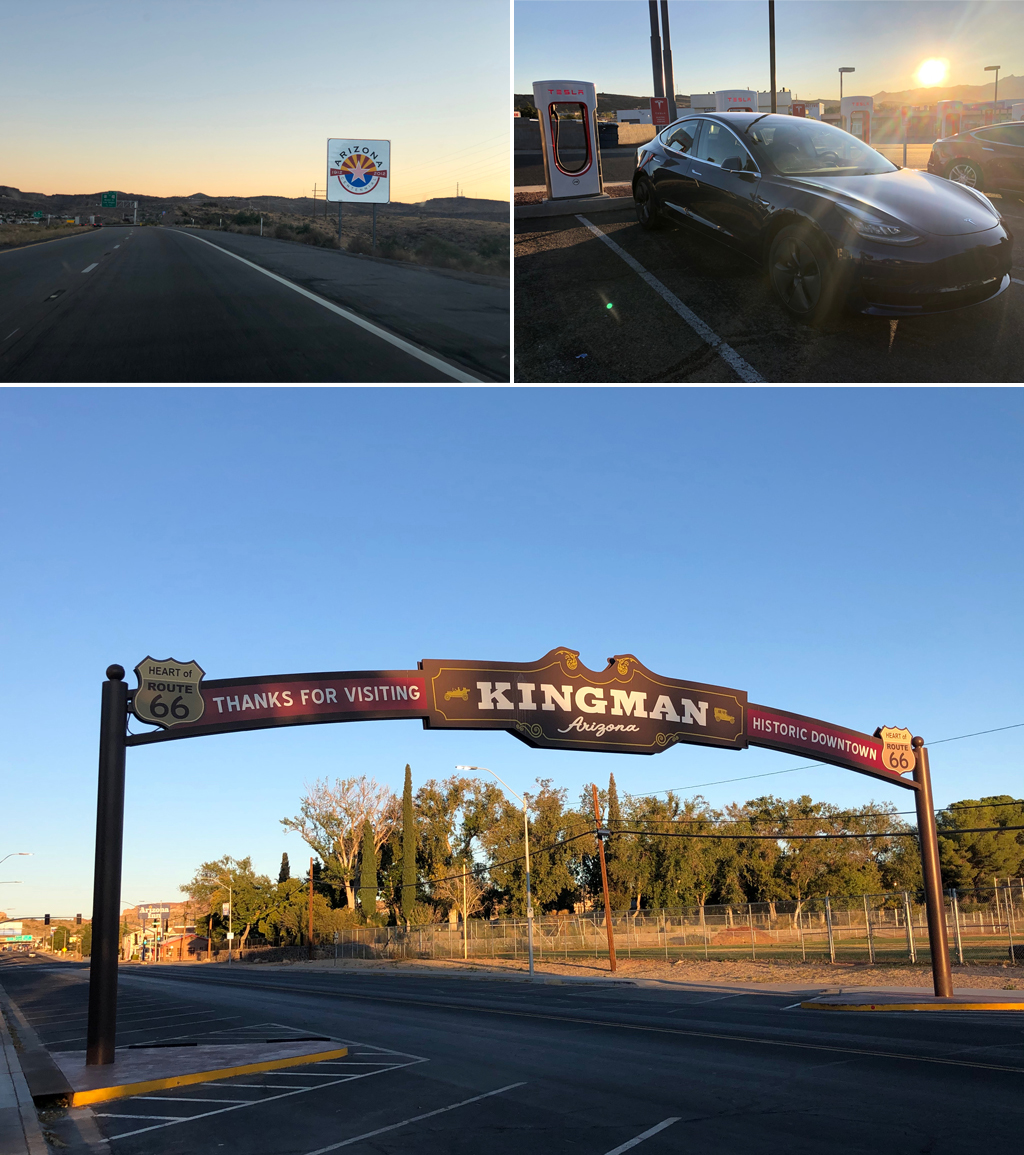 From Kingman it took 2½ hours to drive 150 miles to the Flagstaff Supercharger, largely because of a tractor trailer accident on Rt. 40 that completely stopped traffic for a bit while the spilled cargo was cleared off the road. As I drove along Rt. 40 I passed many signs inviting me to visit the heart of the old Rt. 66, which criss-crosses back and forth under 40 while passing through countless towns along the way.
In Flagstaff I charged for 35 minutes. I grabbed a coffee and mid-morning snack until the battery pack reached 300 miles. I could have driven straight into the Grand Canyon from Kingman – where the new Tusayan Supercharger has opened – but at that time reports on whether that Supercharger was open did not agree – so I stopped in Flagstaff just to be safe.
I arrived at the Maswik Lodge in the Grand Canyon at 12:30 after driving 300 miles that day. I had a local beer, a bite to eat, and asked the info desk to point me to the closest hiking trail.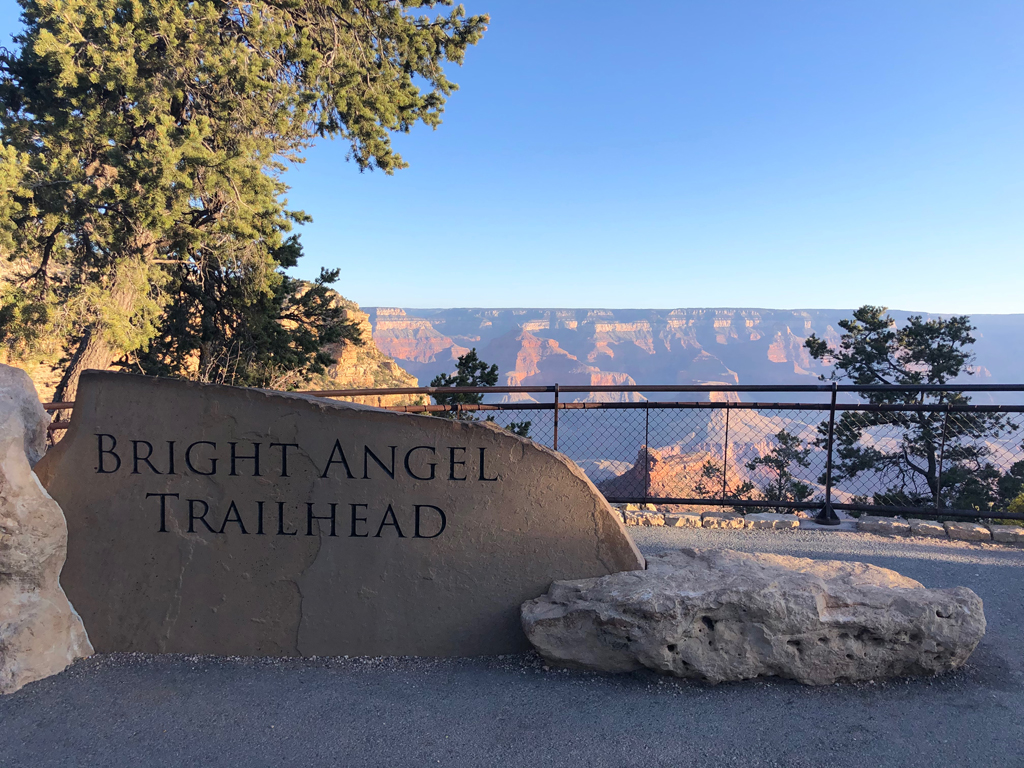 This was my first time at the south rim of the Grand Canyon and, stating the obvious, the views are incredible. Photos taken with my phone do not do justice. At all. The Grand Canyon is the crown jewel not just of the Colorado Plateau region, but of the entire National Park Service. At over 200 miles long and a mile deep, the immense scale is breathtaking. This is must-visit. If you haven't made it to the Grand Canyon yet, put it on your list of things to do. At the top.
The hike down Bright Angel trail was spectacular…. and a hell of a workout. I saw Bighorn Sheep, chatted with folks from all over the world at rest stops, and took in the view. I was glad I added an extra day to the journey so I could make this stop, but one afternoon in the Grand Canyon is not enough. I'll be back again with the whole family.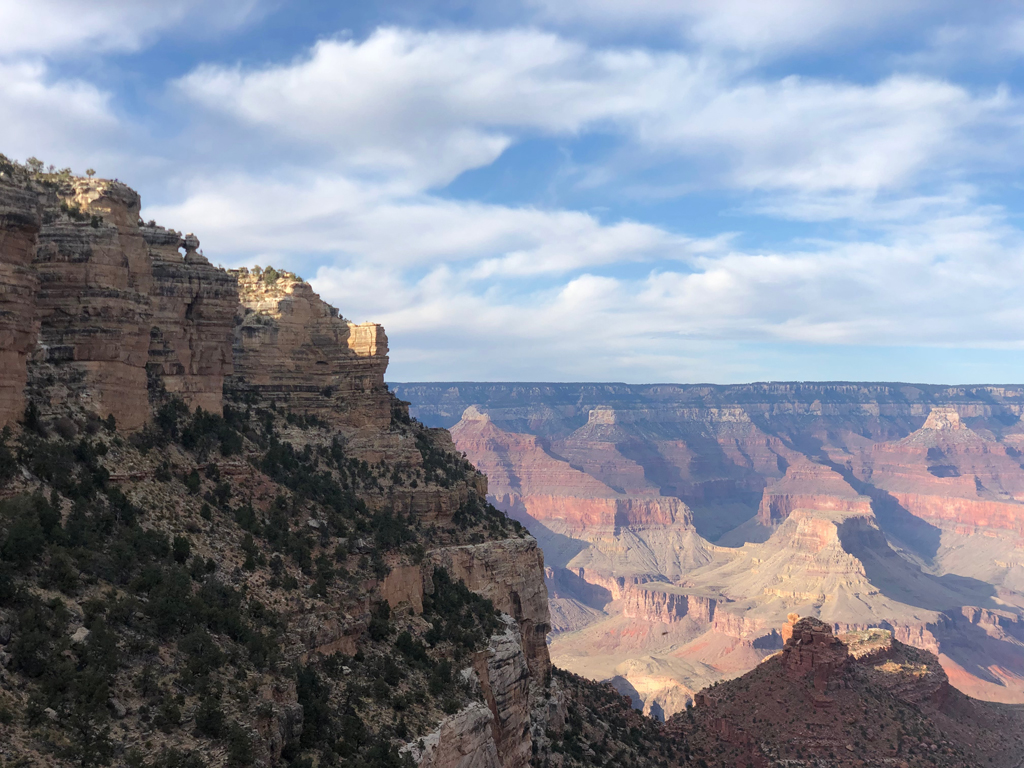 I stayed in the Maswik Lodge that night. Plugshare lists a Level 2 charging station at that location but I did not want to depend on this destination charger being available for my journey so I went to Flagstaff first, which added 60 miles to my total trip. In the end both Level 2 ports were available and I didn't see any other EVs in that area of the park. Since the temperature went down to 30 degrees that night I plugged in, added a few miles to the pack and warmed the car for morning departure. The new Supercharger station in the park is going to be very, very useful for Tesla owners.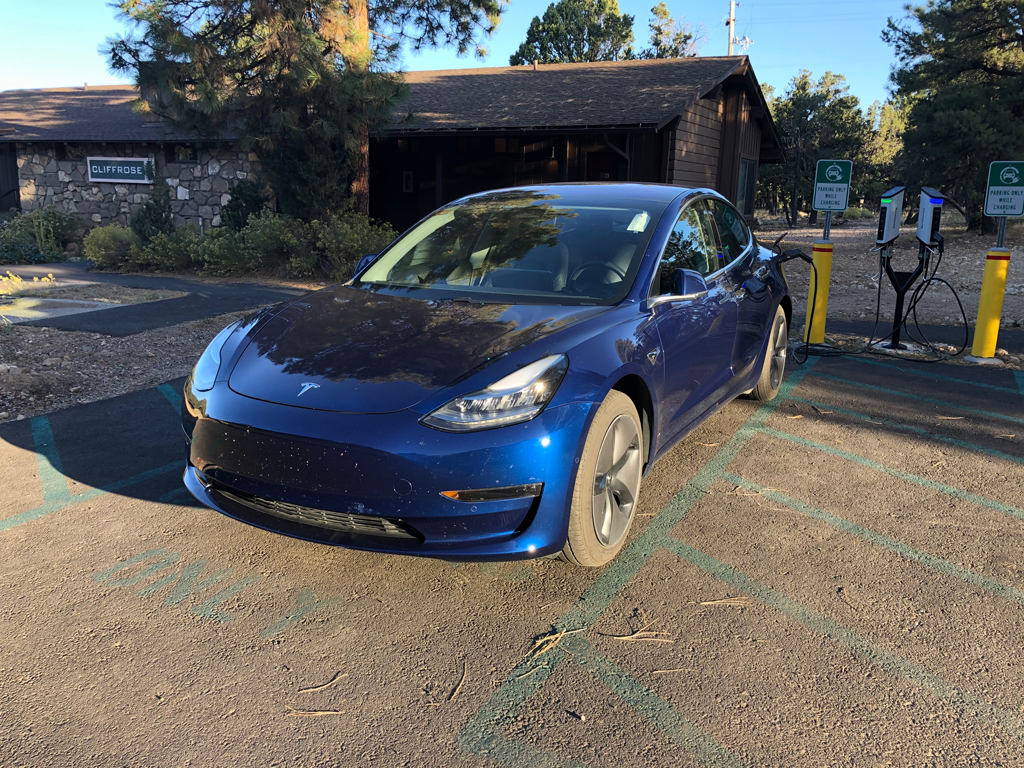 Before getting on the road the next morning I watched sunrise over the Grand Canyon and met a camping group getting ready for a 10-mile trek down Bright Angel trail. They brought along Barry, who carries gear for the 20-mile round-trip 2 or 3 times a week. They hike down, camp over night and return the next day. That's a job I wouldn't mind taking.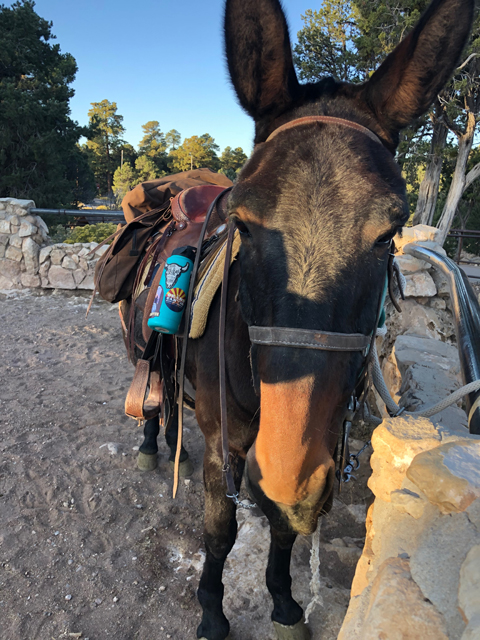 I continued my trip heading east on Rt. 40, stopping for 15 minutes in Flagstaff again to grab a bagel and some electrons. My next destination: Meteor Crater. 50,000 years ago a meteorite estimated at 150 feet wide smashed into the Arizona desert leaving a mile-wide crater. This site is the best preserved impact crater on Earth, and it's just a short drive off Rt. 40.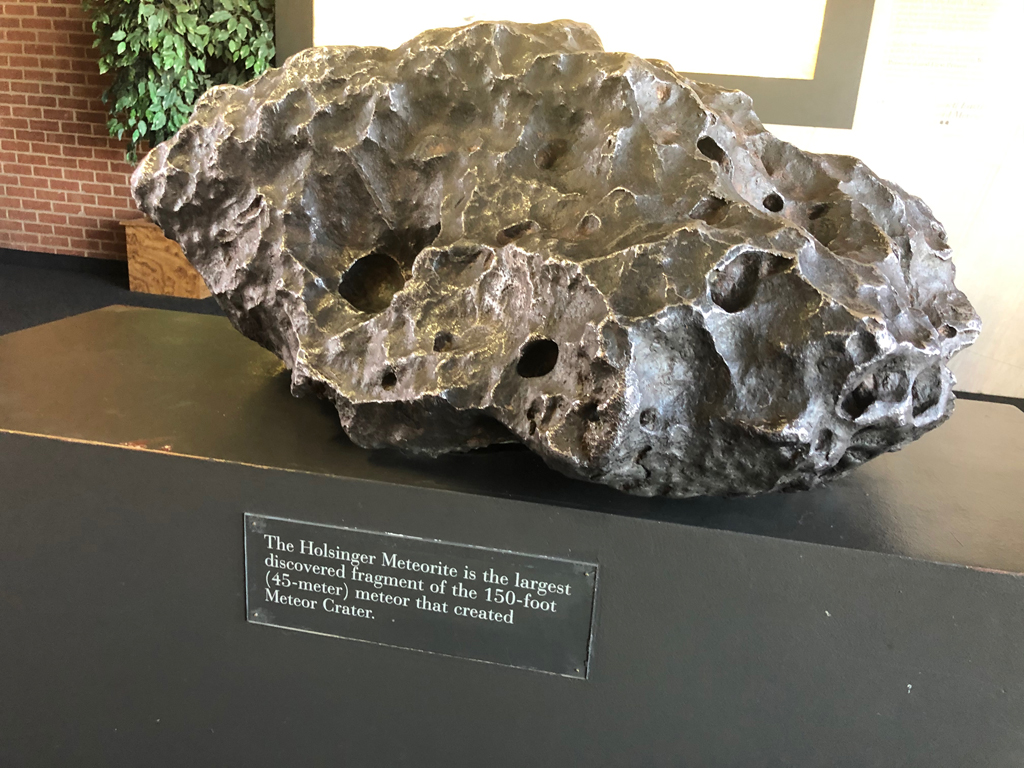 The Meteor Crater visitor center has the largest fragment that has been discovered. This 'fragment' weighs 1400 pounds and was likely blasted from the impact to where it was found 4 miles away. Meteor Crater is a beautifully stark reminder that our planet travels along a path that intersects countless meteors, comets, and asteroids. And occasionally they leave a mark.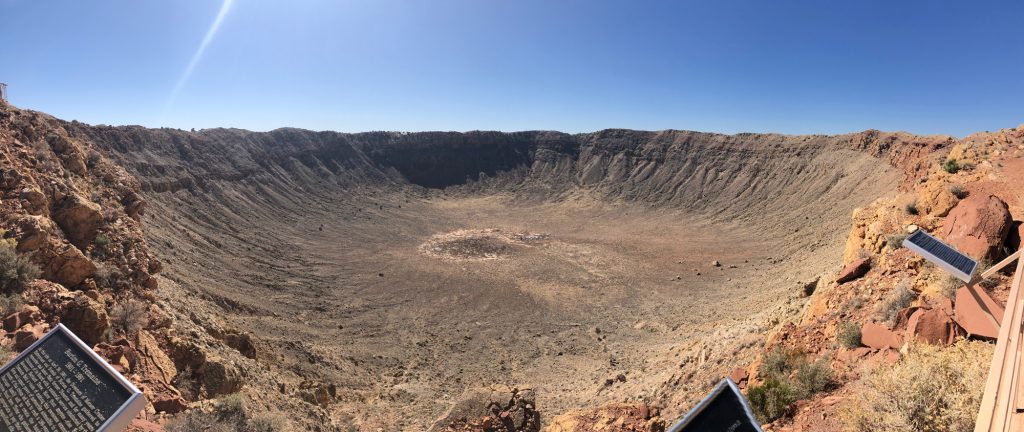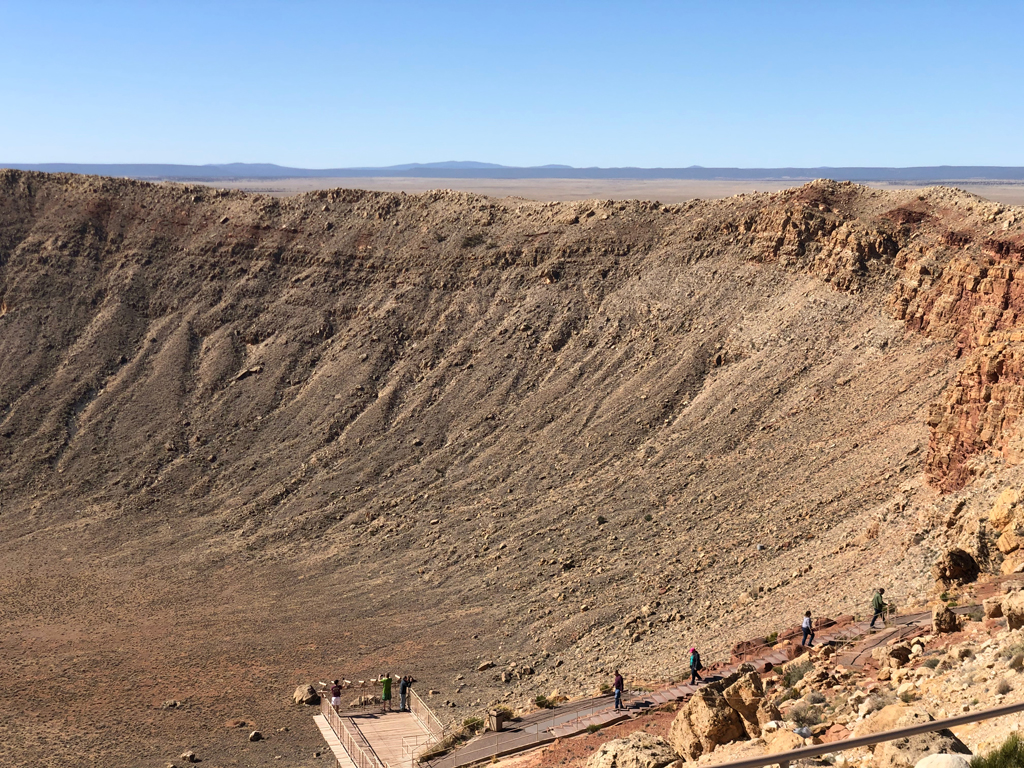 After an hour at the crater I got back on the road toward Albuquerque. I only needed to stop once, but stopped at both the Holbrook and Gallup Superchargers to check out the local towns. I also stopped whenever something caught my eye: The Continental Divide, a Petrified Forest, and great examples of classic Americana along the old Rt. 66. My favorite was the Wigwam Motel. Still open. And yes you can still reserve a room and stay there overnight.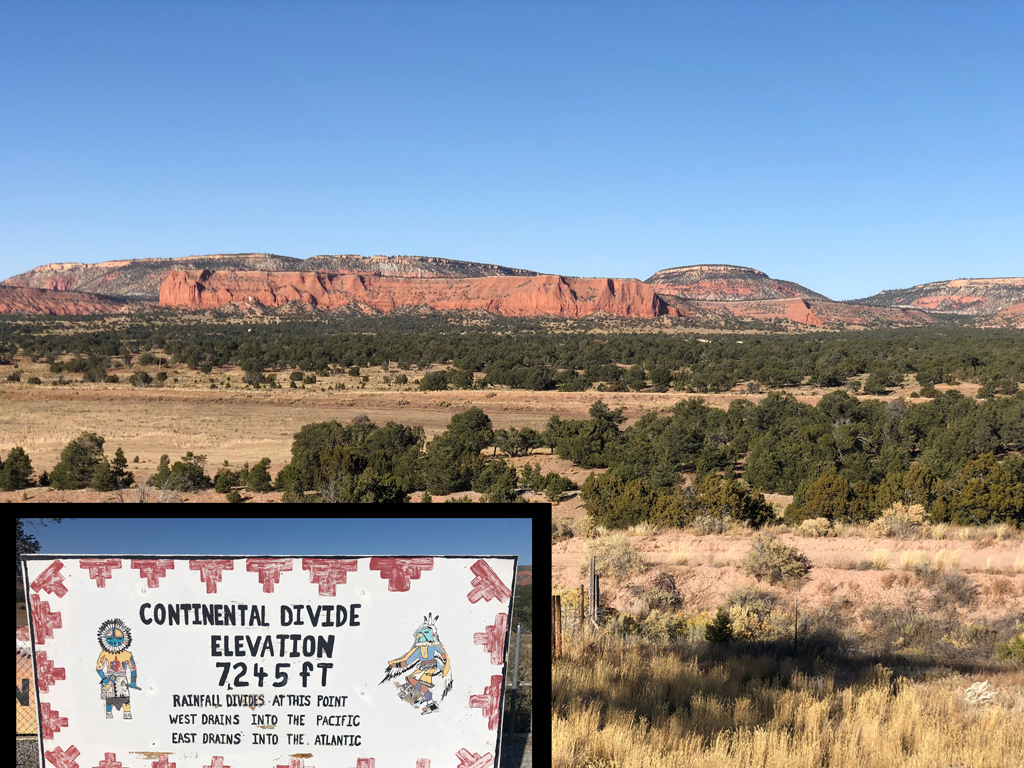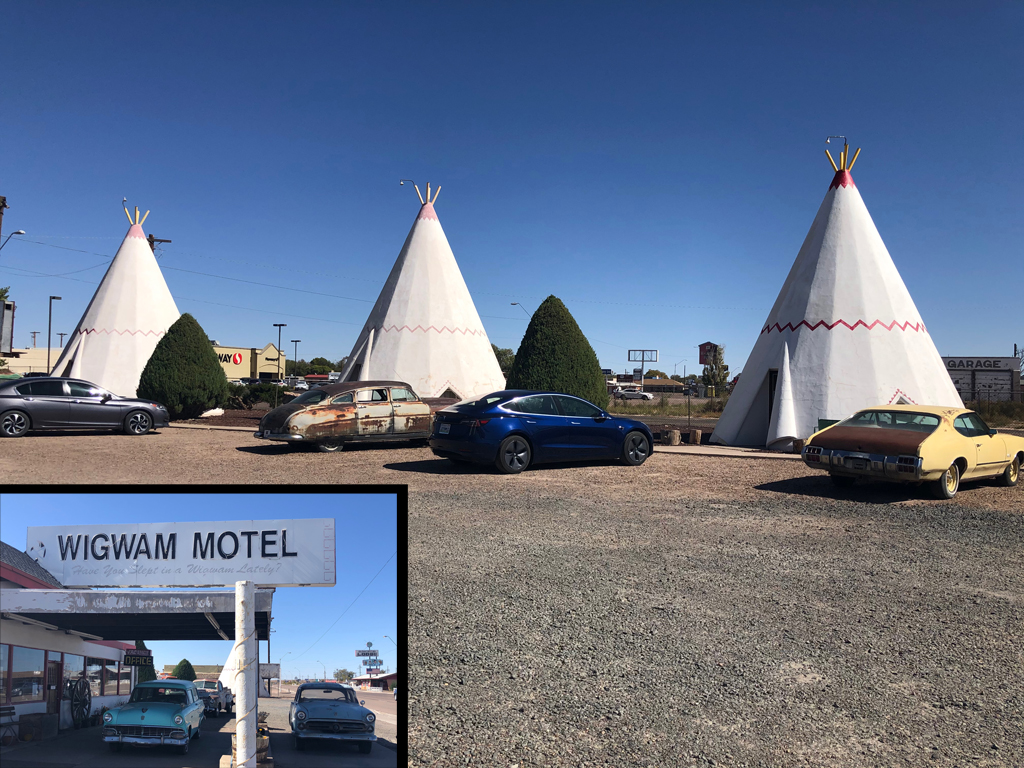 From Gallup it was a straight shot to Albuquerque. I arrived after driving 1300+ miles and having seen amazing sights. I didn't have time to tour Albuquerque because of work, but managed a quick visit to the Rio Grande Nature Center State Park. Unlike the Colorado, the Rio Grande flows to the Gulf of Mexico rather than the Pacific, but like the Colorado, the headwaters of the Rio Grande arise in the Rocky Mountains of western Colorado. And like the Colorado, the Rio Grande is heavily managed and used for irrigation, and some years does not reach its destination.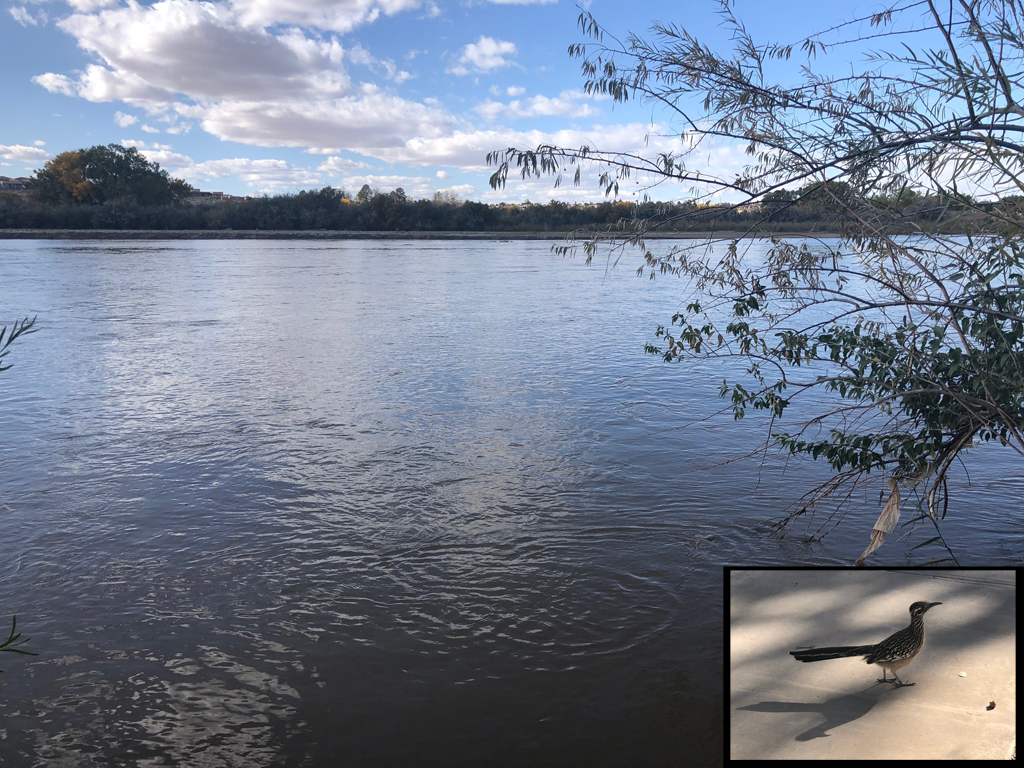 When I finished work at the end of the week, I charged my pack up to 300 miles at the Albuquerque Supercharger while talking with a local Model 3 owner, and got back on the road. This time heading northwest to Farmington – the highway was wide open with beautiful landscape along the way.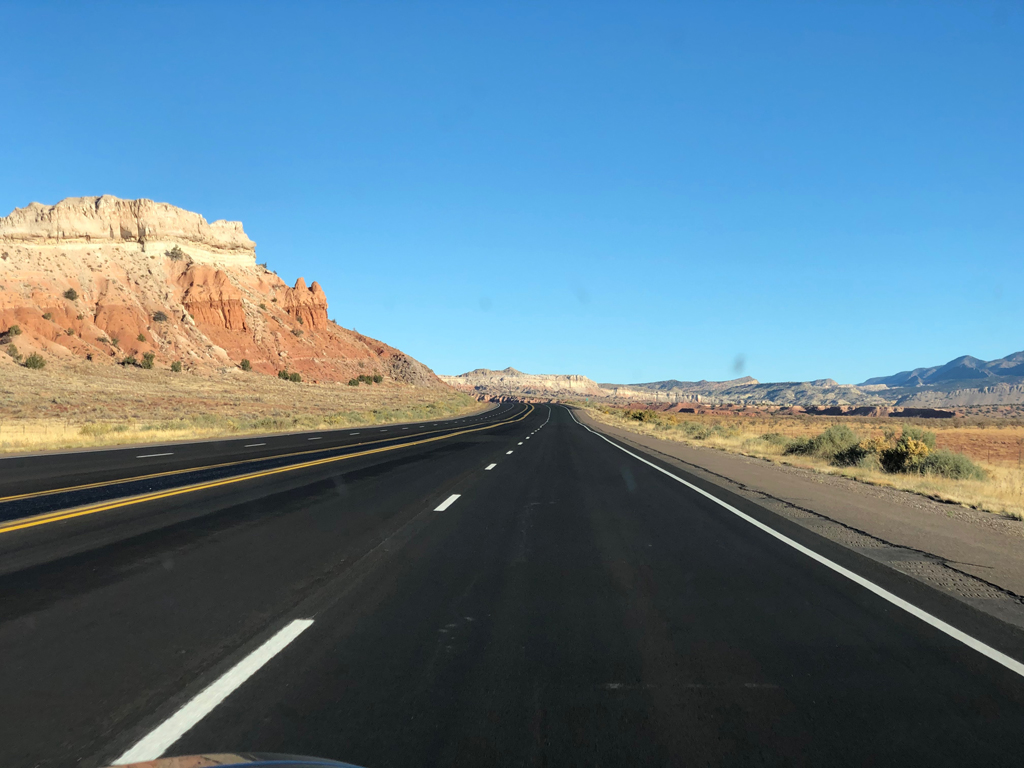 I passed signs for Zia Pueblo along Rt. 550, but wanted to reach Monument Valley before sunset. The Zia Sun symbol is in the center of the New Mexico state flag and some license plates. The Zia symbol has four groups of rays that radiate from the sun's center representing the four points of the compass, the four seasons, obligations each person carries for themselves and the welfare of others, and much more.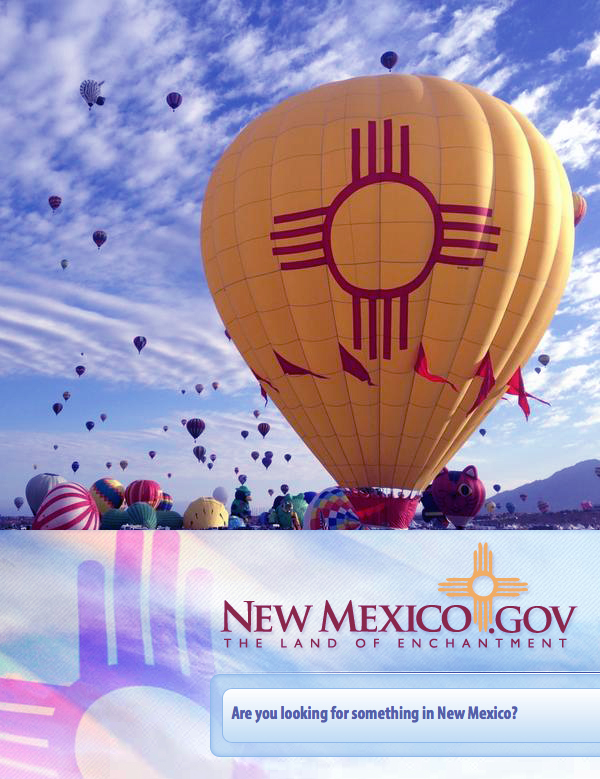 I also missed the opportunity to visit Chaco Culture National Historic Park on this trip. The Ancestral Puebloan people constructed massive stone buildings that were several stories high and had hundreds of rooms. Remnants of these impressive structures up to 1000 years old can be seen throughout the Chaco Canyon region. This is high on my list for my next visit.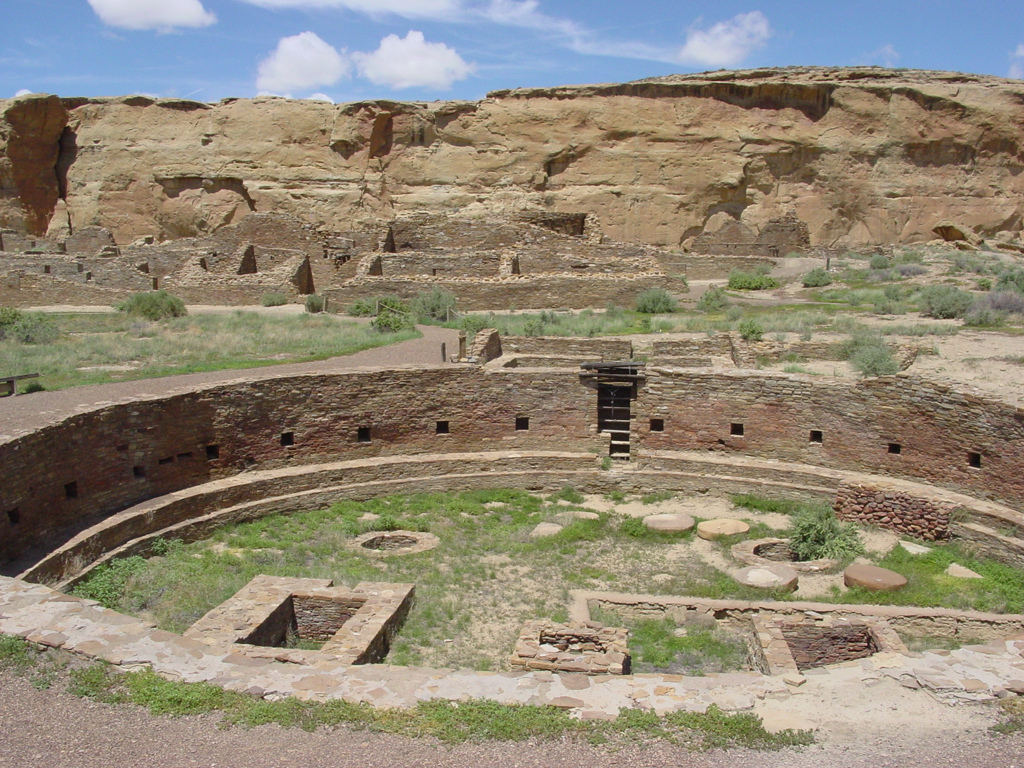 From Albuquerque I drove 180 miles in ~3 hours and charged in Farmington, and after another 135 miles charged at the visitor center in Blanding, Utah. I ate lunch while charging in Blanding and bought a geology book from the Visitor Center to learn more about the other-worldly geology across the Colorado Plateau.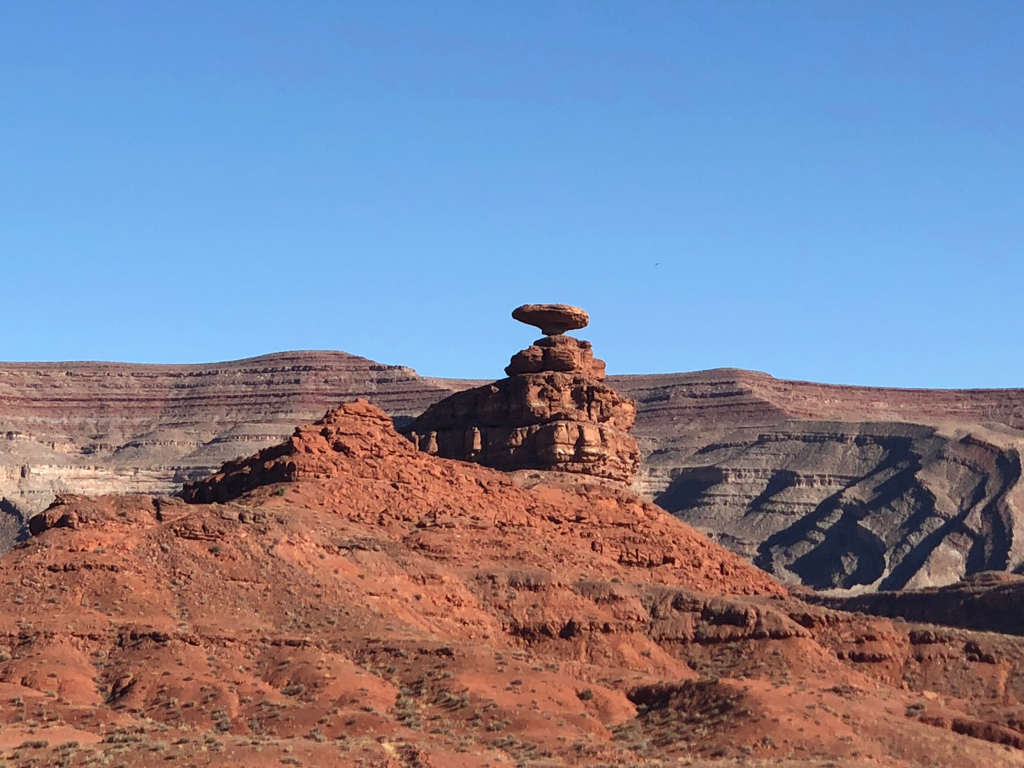 Speaking of which: from Blanding I headed south, got on Rt. 163, passed the Mexican Hat rock formation, crossed the San Juan River, and arrived in Monument Valley.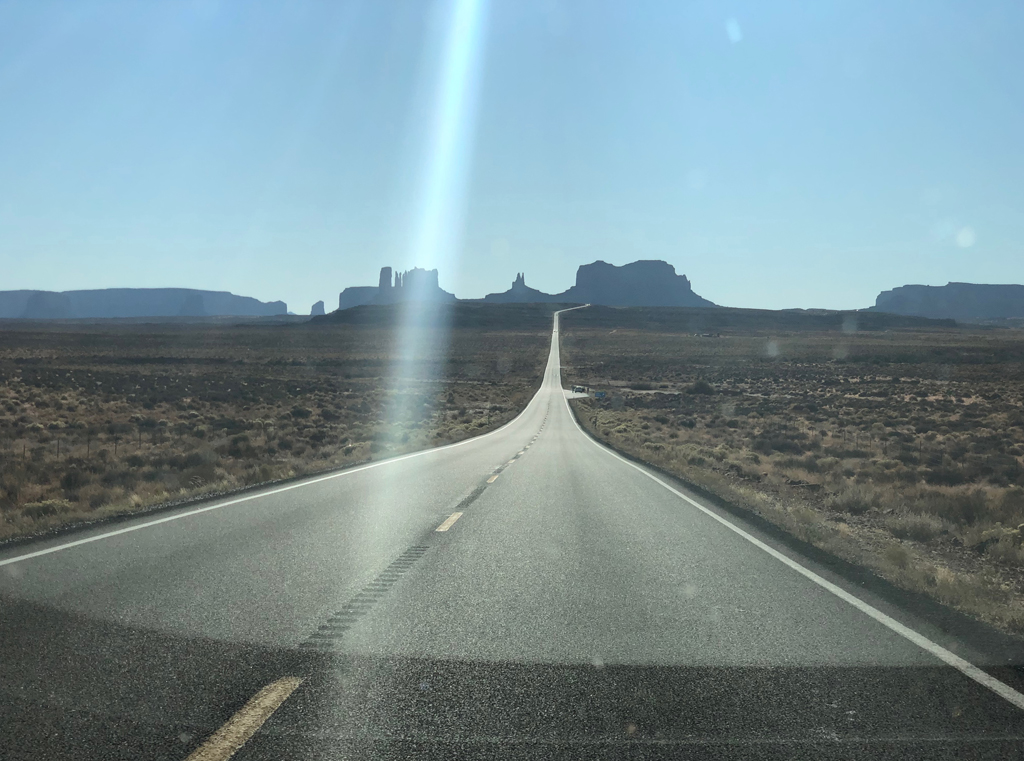 I parked at the Gouldings Lodge, left things in my room, found a short trail to walk along and watched in silence as the buttes and mesas slowly changed color in concert with the setting sun.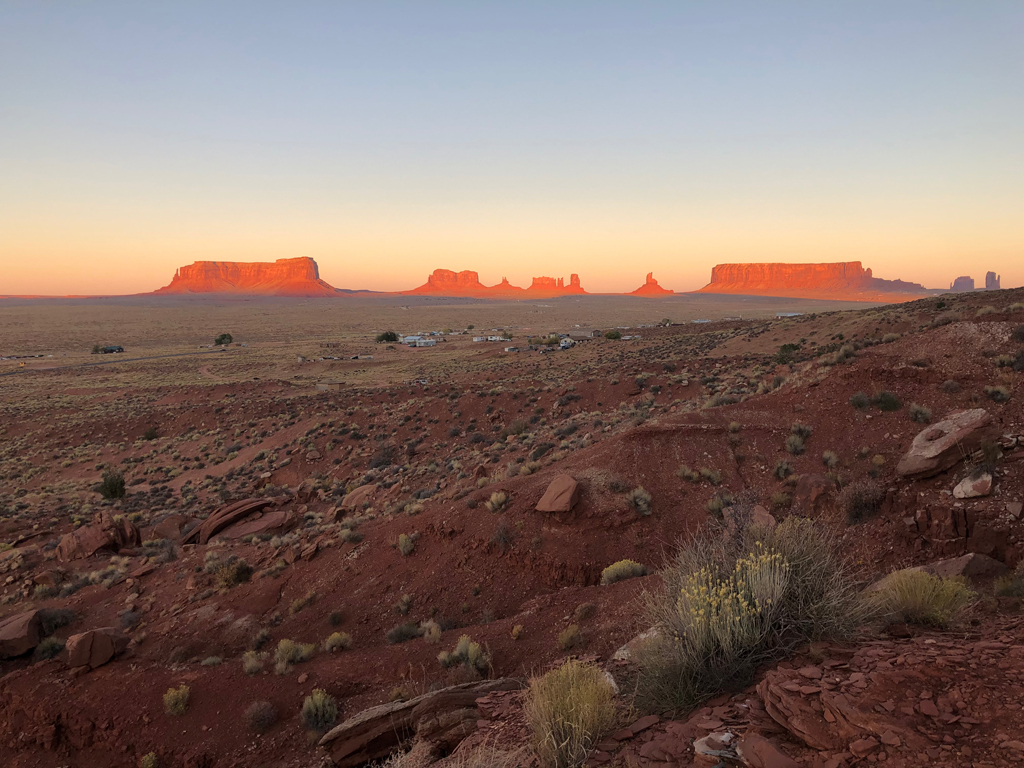 I stayed that night in one of the Gouldings Lodge 'Villas'. These comfortable little units are really designed for an extended stay – each includes a kitchen for preparing your own food. The units also have an exterior grounded plug that can be used for 120V 12 amp charging. I didn't need extra range, but the temperature went below freezing that night so I used the plug to warm up the car in the morning.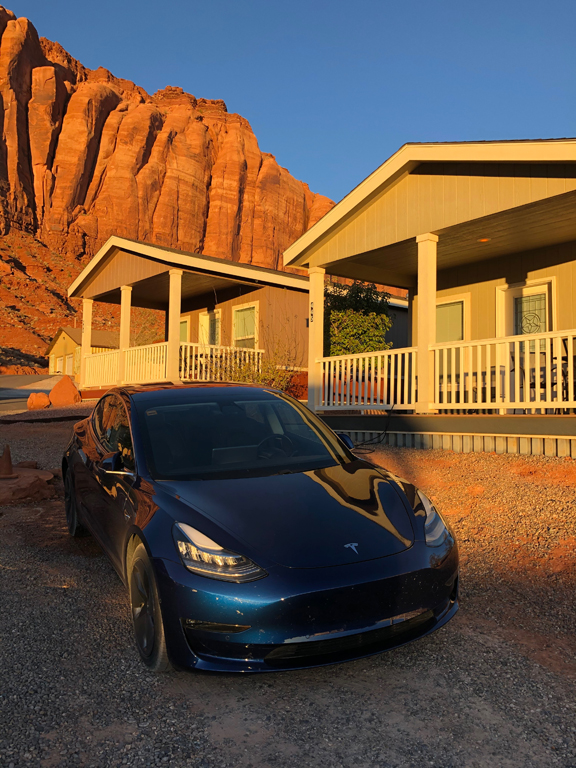 Another option in that area for EV owners to consider is camping at Gouldings RV & Campground. They have 14-50 and TT-30 hookups for RVs (240V/50amp and 120V/30 amp, respectively) that can be used for EV charging if you have the adapter and the circuit is operating. Views are great, check ahead for availability.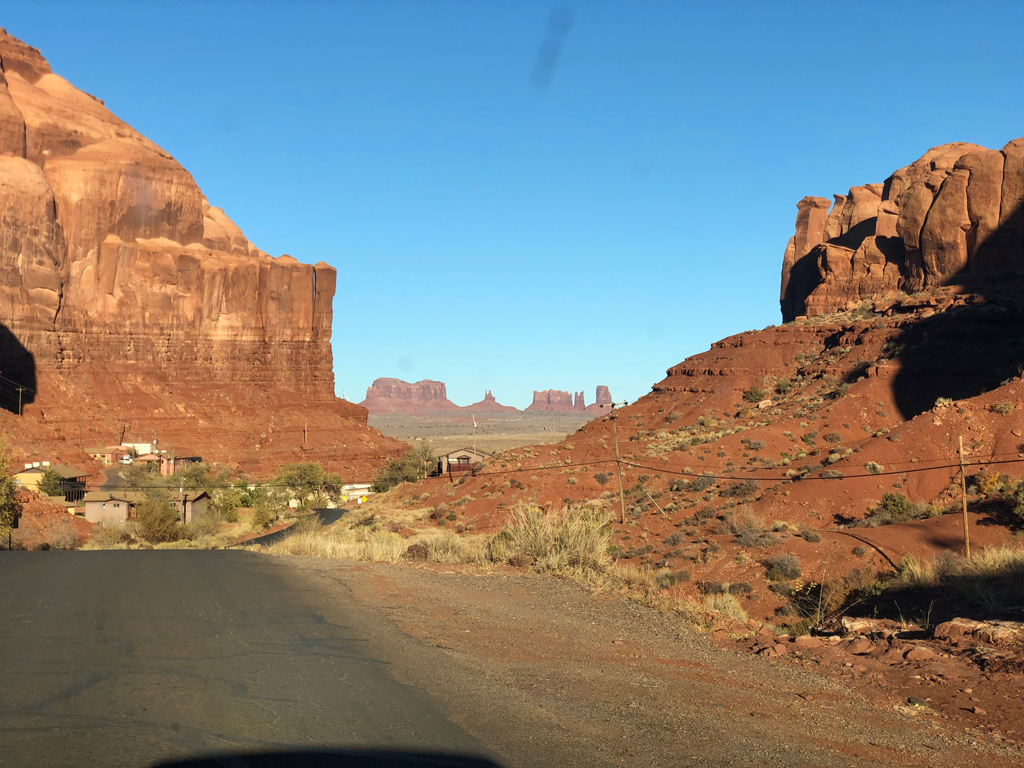 The next morning I parked along Monument Valley Road to watch the sunrise. There was a crescent moon hanging low in the sky over the buttes and mesas (barely visible in the pic below), and I wished I'd brought along a real camera to capture it. But the memory is strong. That sunrise was a treat I will not forget and was probably the highlight of the entire trip.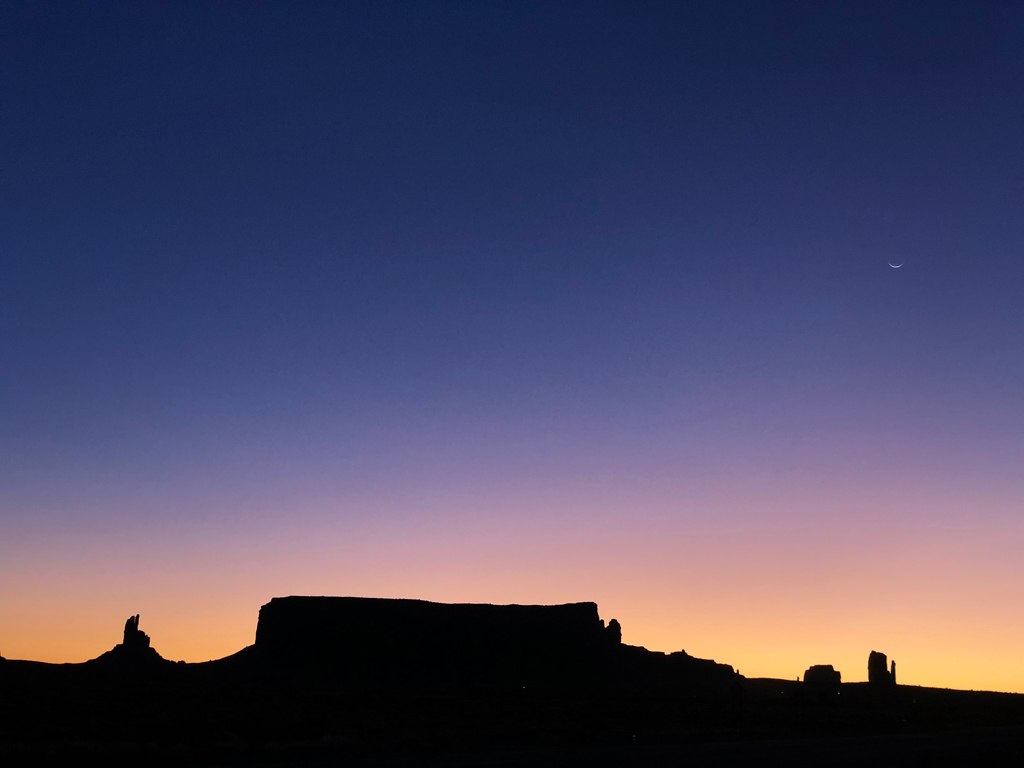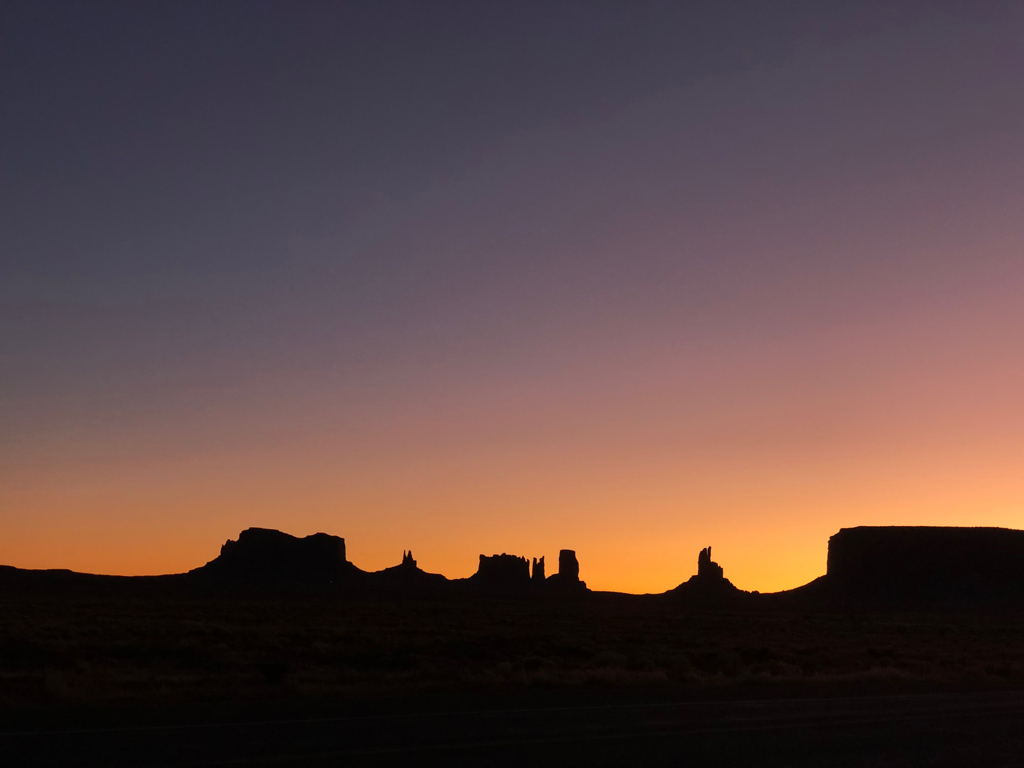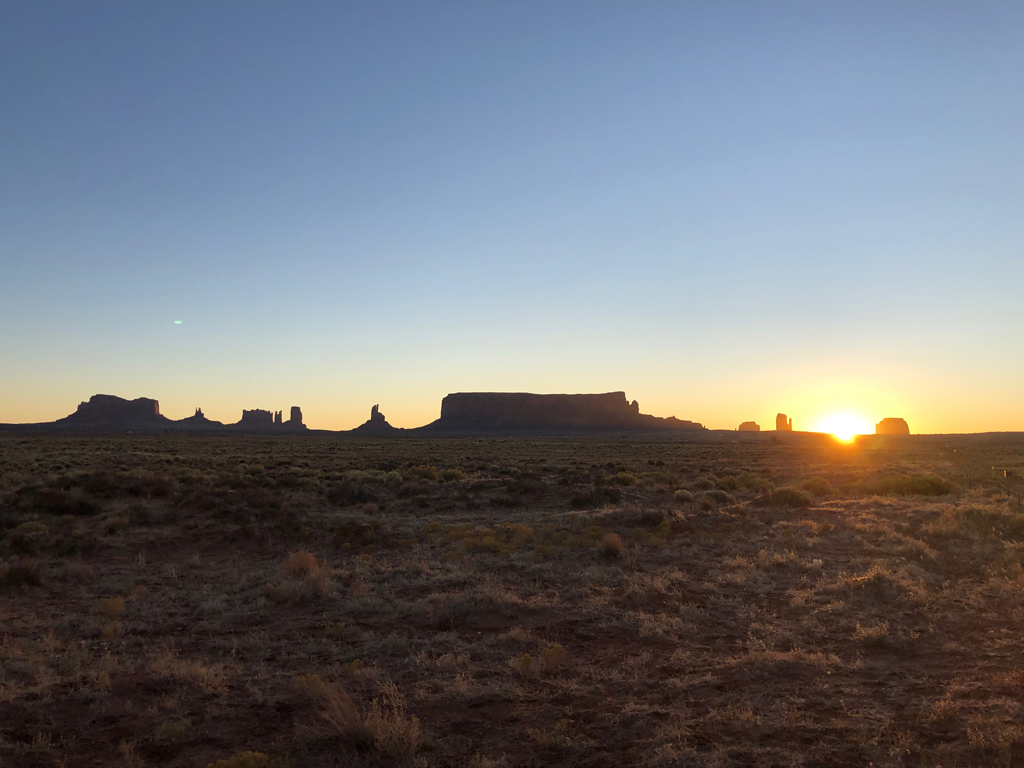 With the sun up, I took in the red, brown, and amber landscape bathing in morning sunlight, got in my car, and drove off toward Page, AZ.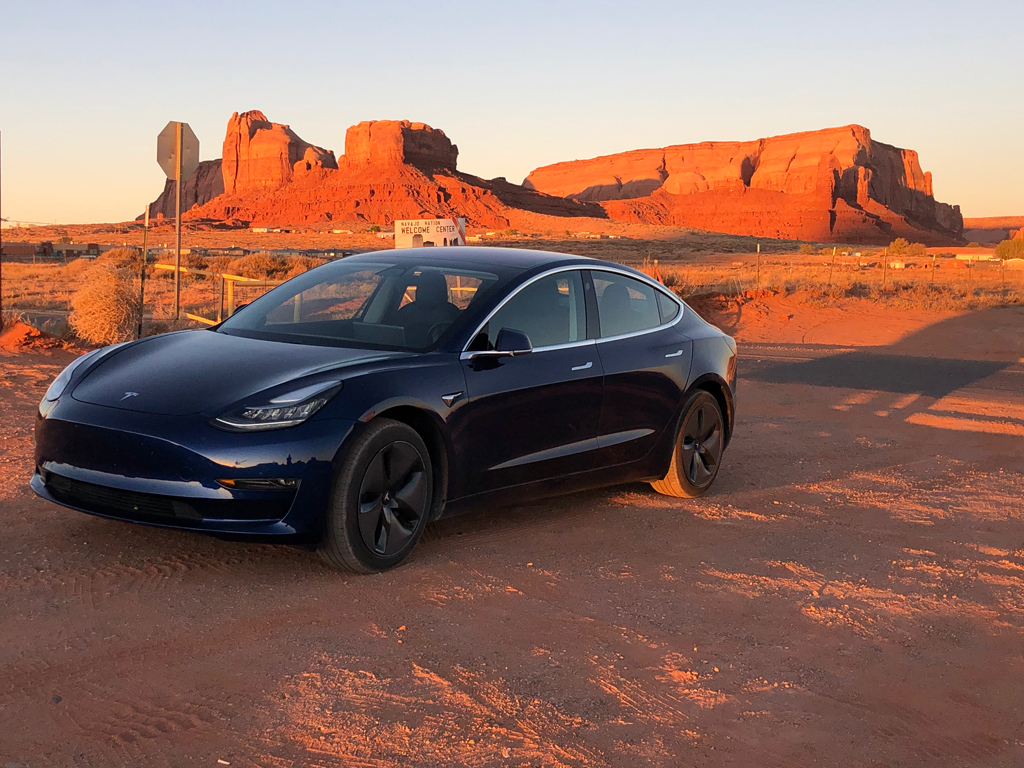 Page was initially a housing community for work crews building the Glen Canyon dam in the 1950s. Today Page is a great base for exploring the iconic slot canyons in that region.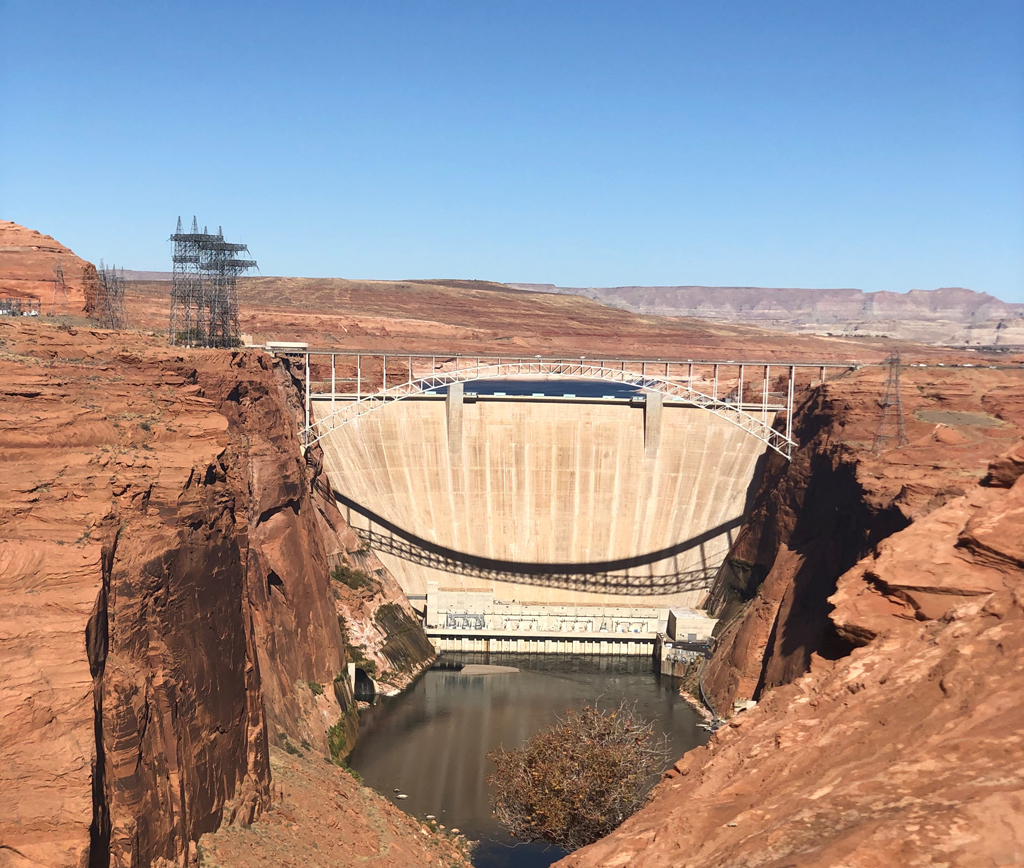 One mile from the Page Supercharger the Glen Canyon Dam overlook is a good place to view the Colorado River and a portion of Glen Canyon, and to appreciate the contours and striated geological formations found across the Colorado Plateau.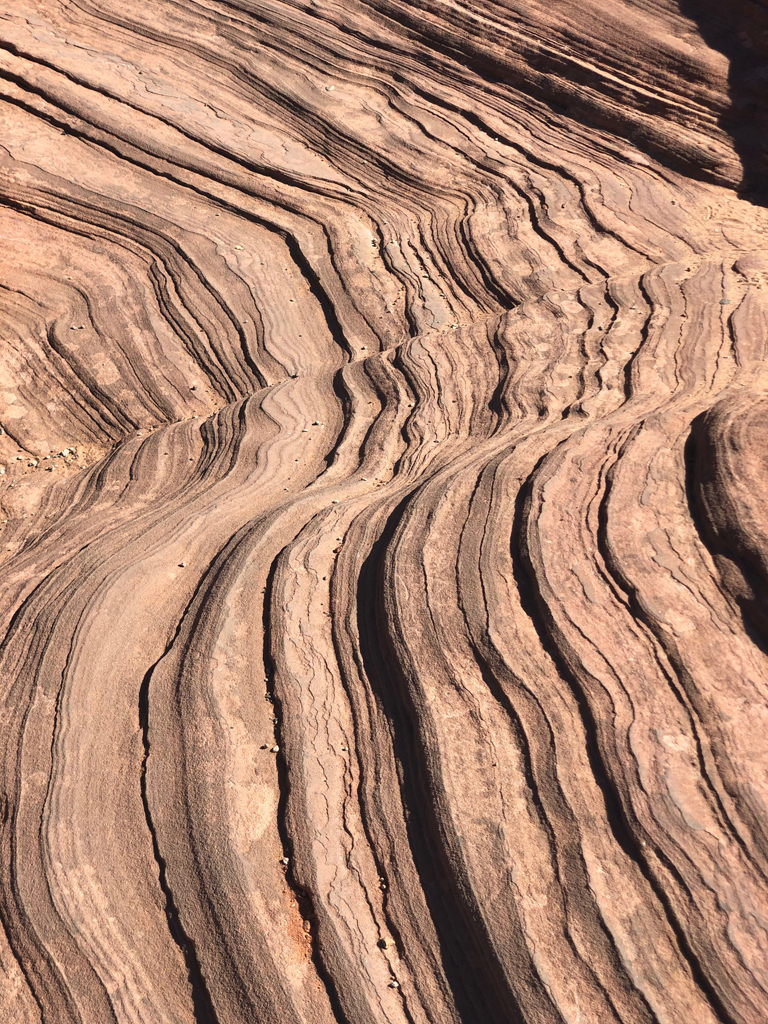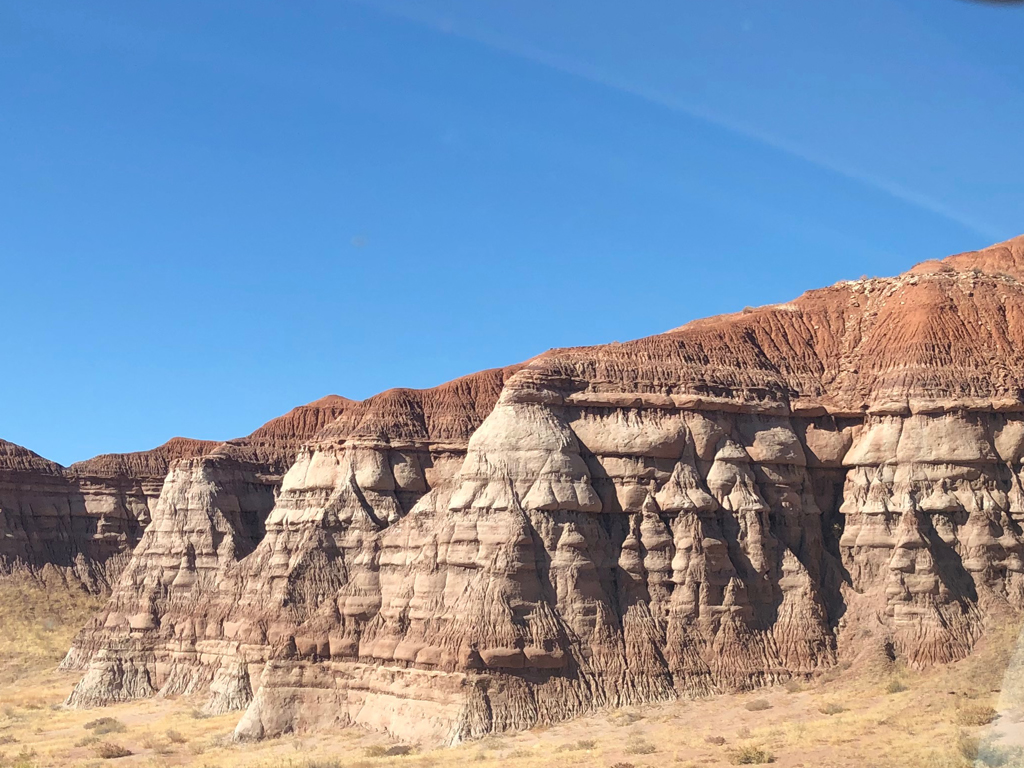 From Page I drove to St. George, and then over the last 700 miles stopped in Primm, NV Barstow, Mojave, and Fresno, CA on the road home. On crossing back into California I noticed the Ivanpah Solar Power plant alongside Rt. 15. A natural gas plant heats up the boiler tanks each morning and then large fields of mirrors concentrate the sun's power on three boiler towers, producing steam to generate electricity. Solar energy contributes 85% of the power for the 800 MWh of electricity produced by this power plant each year.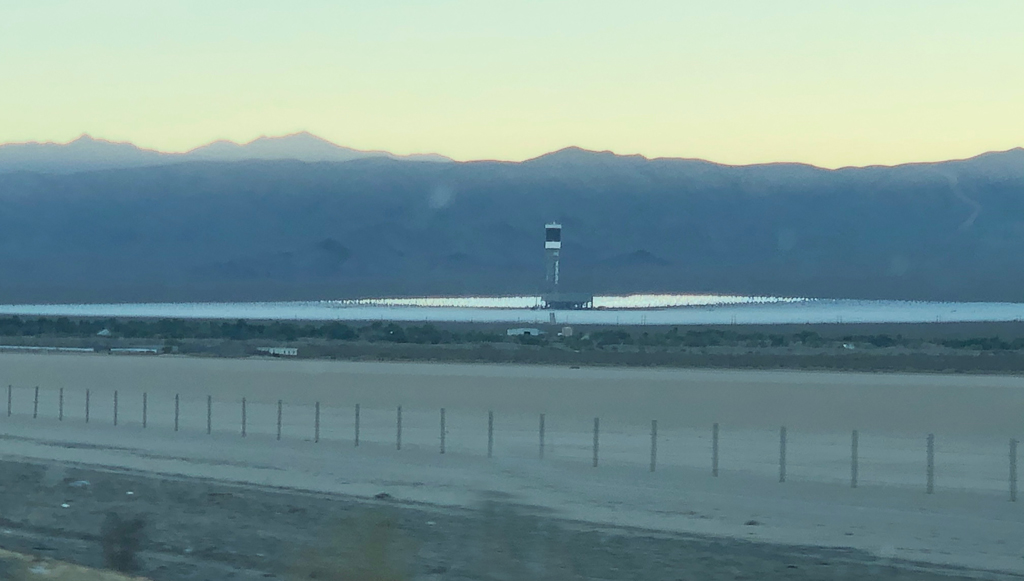 The most notable passage of the last part of the trip was exiting the Colorado Plateau through the Virgin River Gorge and emerging back into a familiar landscape of mountains and valleys. The Colorado Plateau is so different from my east coast roots and other places I've lived even in California. I look forward to going back and exploring the region again.

Supercharging
Tesla's Supercharger network is very easy to use. You park and plug in. The car and Supercharger take care of everything else. I charged at a Supercharger 17 times during the trip. The Excel chart below shows data from each charging session, including miles driven to the charge station, charging time, miles of range added to the battery pack, kWh delivered, and cost.
The average distance between Superchargers on my trip was 150 miles, average driving time between Superchargers was 2 hours 35 minutes, and average Supercharging time was 23 minutes (range 13 to 40 minutes). I paid $92.66 for Supercharging on this 2,721 mile road trip. Tesla did not charge me for 3 charging sessions, which would have added another $30. So the total should have been about $123. That price to drive 2700 miles would be like paying $1.13 a gallon for gas in a 25 MPG car, or $2.26 a gallon if you drove a Prius.
I averaged about 450 miles per day on the road (range 300 – 580 miles per day). The 7 hours 10 minutes of total charging time works out to 1 hour and 10 minutes of Supercharging per day, and those 70 minutes were broken up in 2 or 3 charging sessions depending on the number of miles I drove that day and where I decided to stop. Note: I could have reduced both driving and charging time by driving faster, but I'm a slow lane driver with an eye on efficiency rather than the shortest overall time.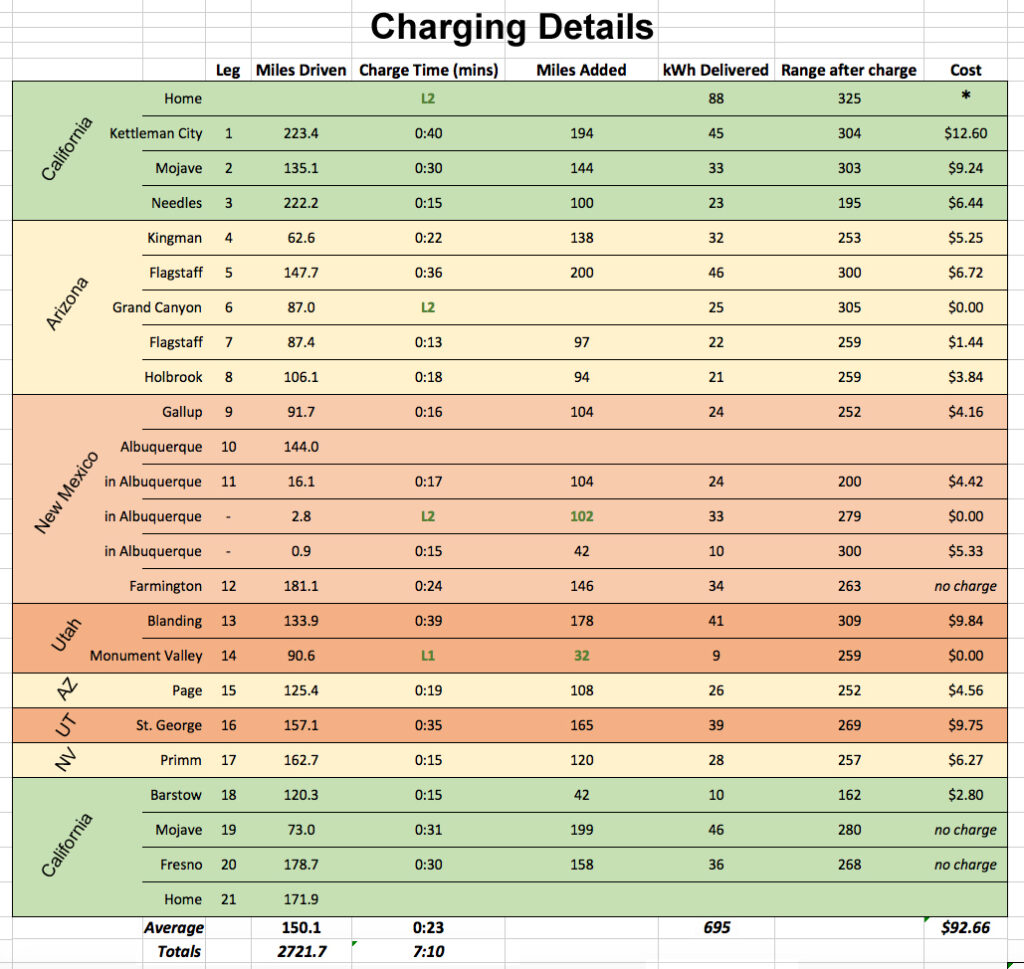 I did not optimize the trip to have the lowest number of charging stops, or the quickest charging time – charging speed is faster when you arrive at a Supercharger with less 100 miles of range. I chose stops based on places I wanted to see, and in some cases just to check out a Supercharger location when I didn't really need a charge. Also, I wanted the flexibility to visit something interesting I noticed along the way, or deal with unexpected road closures, etc.
You never know what might happen on a road trip. Case in point: as I approached Flagstaff on Rt. 40 traffic came to a stand still because a tractor trailer had crashed and dumped it's load on the highway. Eventually police were able to direct traffic around the crash so I got through after a 20 minute delay. Accidents like that can always cause delays and detours, so I kept that in mind. My lowest range during the trip was 81 miles. At three Supercharger stops I arrived with less than 100 miles of range (95, 96, and 81 miles). I never worried about range.
The peak charging power that I noticed was 148 kW in Primm. The most miles of range added to the pack in the shortest time was 199 miles in 31 minutes… not coincidentally that was when I arrived at a Supercharger with 81 miles of range. I did not try any V3 Superchargers.
My favorite Supercharger stops were Kettleman City (obviously), Flagstaff, and Page. I also liked the Blanding Supercharger and several others. Some Superchargers are located in hotel parking lots and the hotels welcome Tesla owners to come in, relax, and get some food at their cafes if they want. Since I was driving a good number of hours per day, at most stops I plugged in and walked for 15-20 minutes, and then picked up something to eat.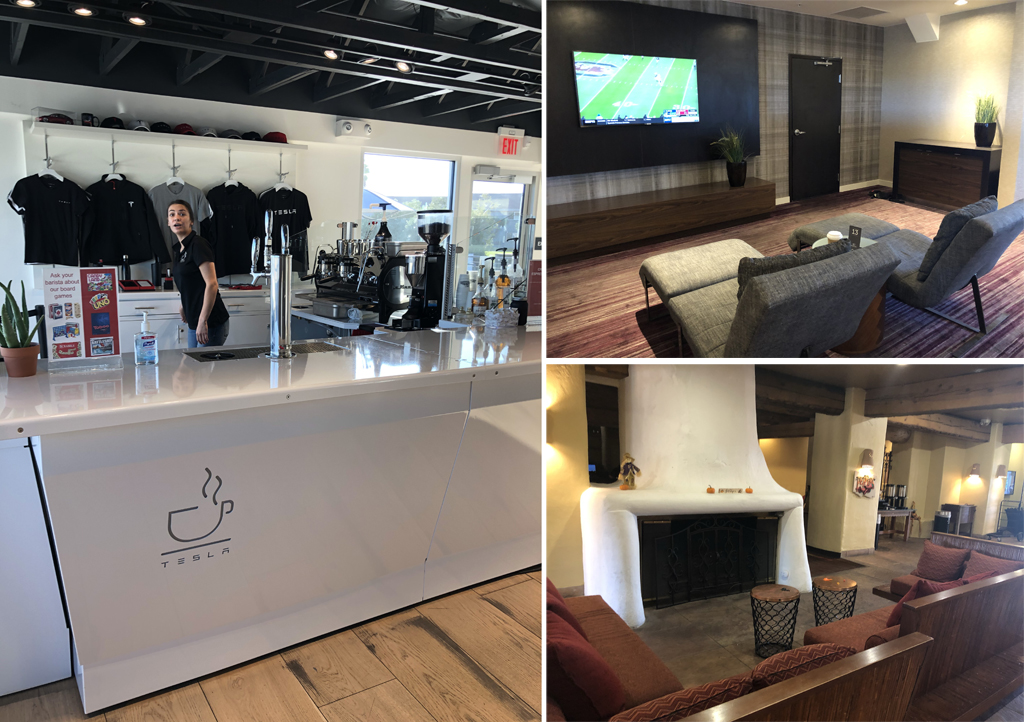 My least favorite Supercharger: The Holbrook, AZ Supercharger is in a Burger King parking lot and there's not much else around… and Burger King is not my favorite place to eat. But Holbrook does have an interesting stretch of Rt. 66 through town.
NOTE: Tesla owners have been going on long trips for many years. The first owner drove cross country in January 2014 after Tesla completed the first cross-country charging corridor. The number of Superchargers has grown significantly since then and Tesla owners have been driving pretty much everywhere. For example, one Model 3 owner drove 18,000 miles through 38 states in 38 days to catch a baseball game in every MLB park. Another Model 3 owner has been traveling all over the U.S., documenting his travels and sharing photos from his journey – Check out his stories here. And that's just a small sampling of the many blogs, posts, and stories from owners driving their EVs all over the world.

325 Miles
FWIW: I fully charged our Long Range RWD Model 3 at home to start the trip and got exactly 325 miles (520 km) as advertised – an earlier software update had boosted the range of our Model 3 from 310 to 325 miles. At that point our car was 18 months old with 24,600 miles on the odometer, and this was only the third time I had fully charged the car. 325 miles of actual driving is achievable in moderate / warm weather. On my first leg I left home with the 325 miles of range, the temperature was 42 degrees and I used the seat warmer. I drove 223 miles to Kettleman City and the car indicated that another 110 miles of range remained in the pack. So far I haven't needed to drive 300 miles between charges: that 223 miles was the furthest I'd driven between charging sessions at the time. The extra potential range gives you more options, removes the idea of range anxiety, and makes the Model 3 a good car for road tripping.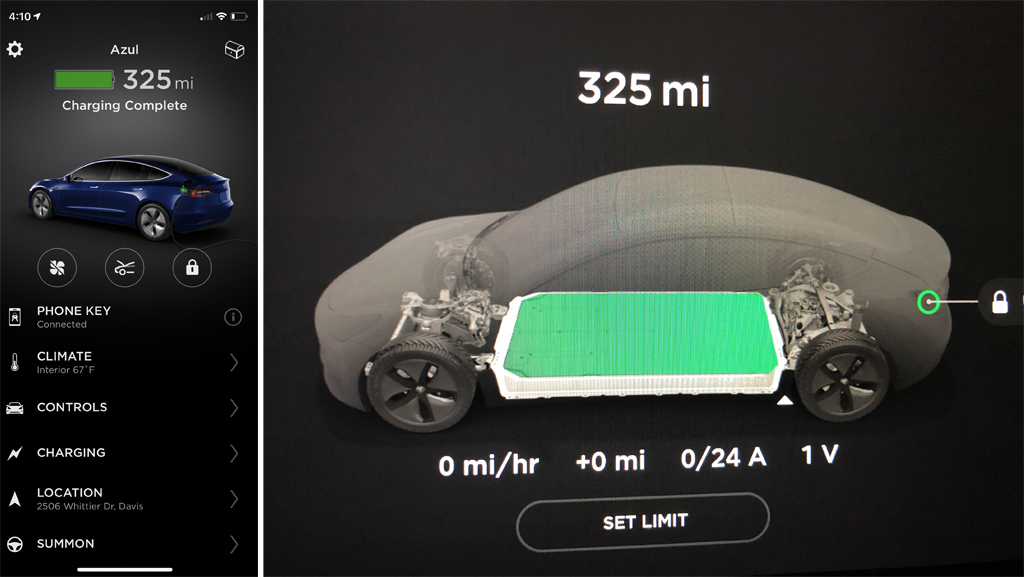 Autopilot
I don't use Autopilot much for daily driving. On my morning and evening commutes the highway is up to 6 lanes wide and I feel more comfortable driving myself. I feel that a good driver, who is paying attention, can see things happening further down the road. But the huge advantage of Tesla's autopilot is that it is always paying attention and never gets distracted. For this road trip – driving 8 to 12 hours per day by myself, over very long stretches of road – Autopilot was a tremendous help. I felt safer knowing there were 8 additional 'eyes' watching the road at all times. I believe that made the trip safer as well as more enjoyable.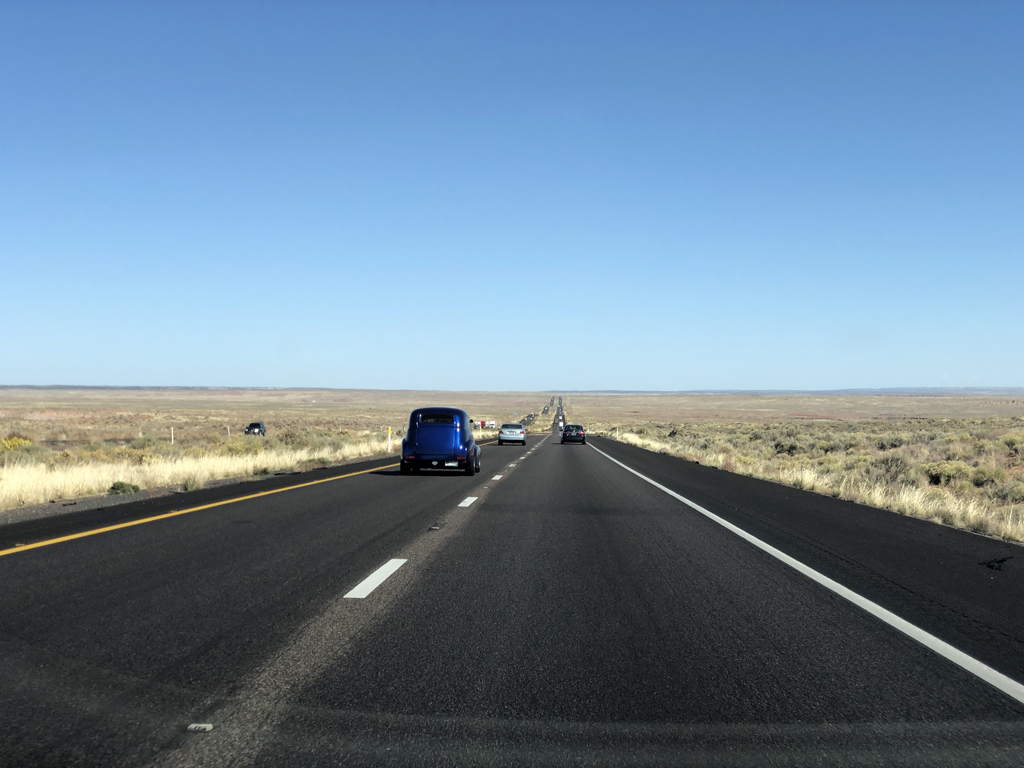 Autopilot is very good, but not yet perfect. There are limitations, the system is still learning the rules of the road. I noticed two things in particular. Navigate on autopilot worked very well passing slower cars in the right lane. I would approach the car in the right lane and when autopilot reached my preset "following distance" it would pass the car in front of me as soon as the left lane was clear. But, Autopilot had a problem passing tractor trailers under certain conditions. If the tractor trailer cast a shadow into the passing lane, the shadow appeared to confuse autopilot at times. I learned that when passing a truck under these conditions I had to manually get in the left lane far in advance and then autopilot worked fine. But if I let the car reach the "following distance" behind the truck, autopilot acted as if the shadow was a vehicle and simply would not pass the truck. In those cases I'd have to take over and drive manually.
The other thing I noticed is that when I'm driving I tend to give myself a little more room when passing large trucks: I don't stay in the middle of the lane but move over a bit to the left while passing. I hadn't realized this before using autopilot. In contrast, autopilot invariably keeps the car right in the center of its lane, and at times I felt like I was too close to the truck I was passing. In those cases I'd take over and move over a bit.
That said, Autopilot functionality is extremely useful, perhaps even more so on long-distance trips. I passed 3 accidents on the trip, 2 of them serious. In each case Autopilot features may have prevented those accidents. On the first morning I saw a driver veer off Rt. 5 and slam full speed into the center median. Two days later I got stuck in traffic on Rt. 40 when a tractor trailer went off the highway, crashed, and spilled it's load. These drivers may have fallen asleep, I don't know, but Autopilot features could have prevented those accidents and hundreds of serious accidents like them that happen every single day. I believe that Autopilot made my trip safer and more enjoyable.

Energy Used and Emissions
The Model 3 reports how much energy is used from the battery pack while driving. My car reported using 601 kWh for the full trip.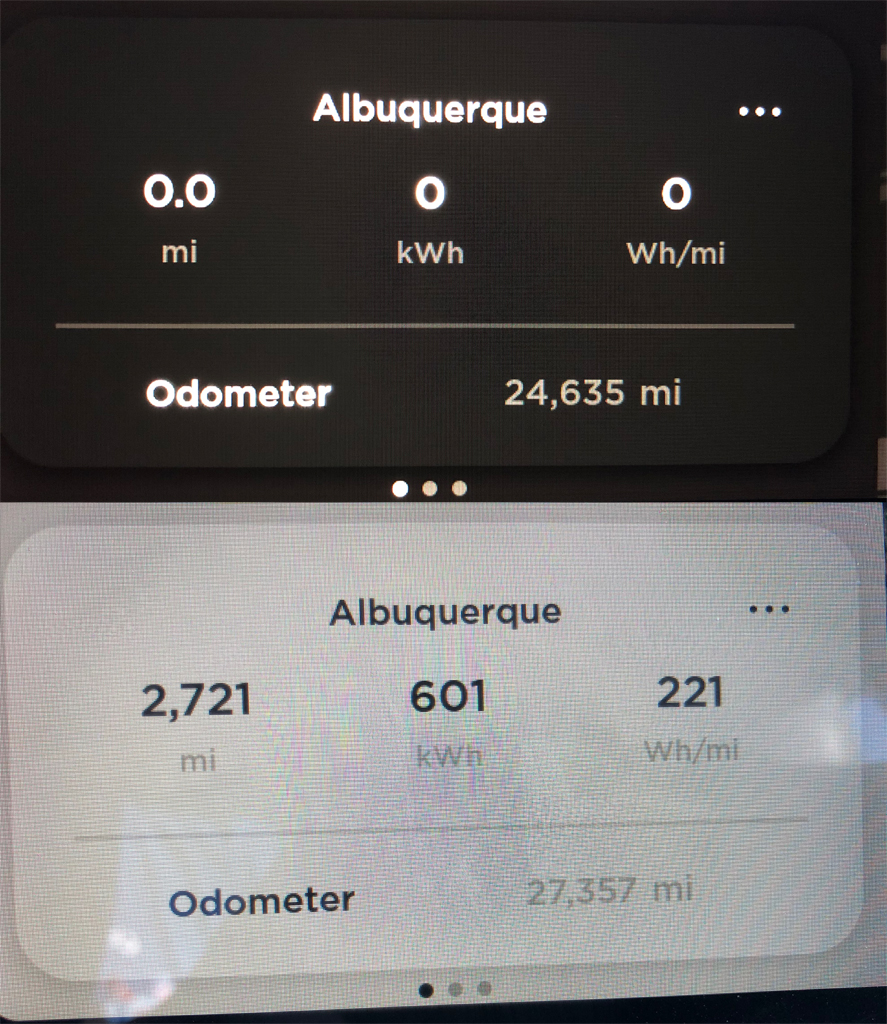 However, additional energy is used to store that electricity in the battery pack. So a bit more energy is sent to the car than is ultimately stored in the battery pack. I estimated the total number of kWh sent to the car for the trip, since that's the number that counts: 695 kWh. See the "kWh Delivered" column in the chart below.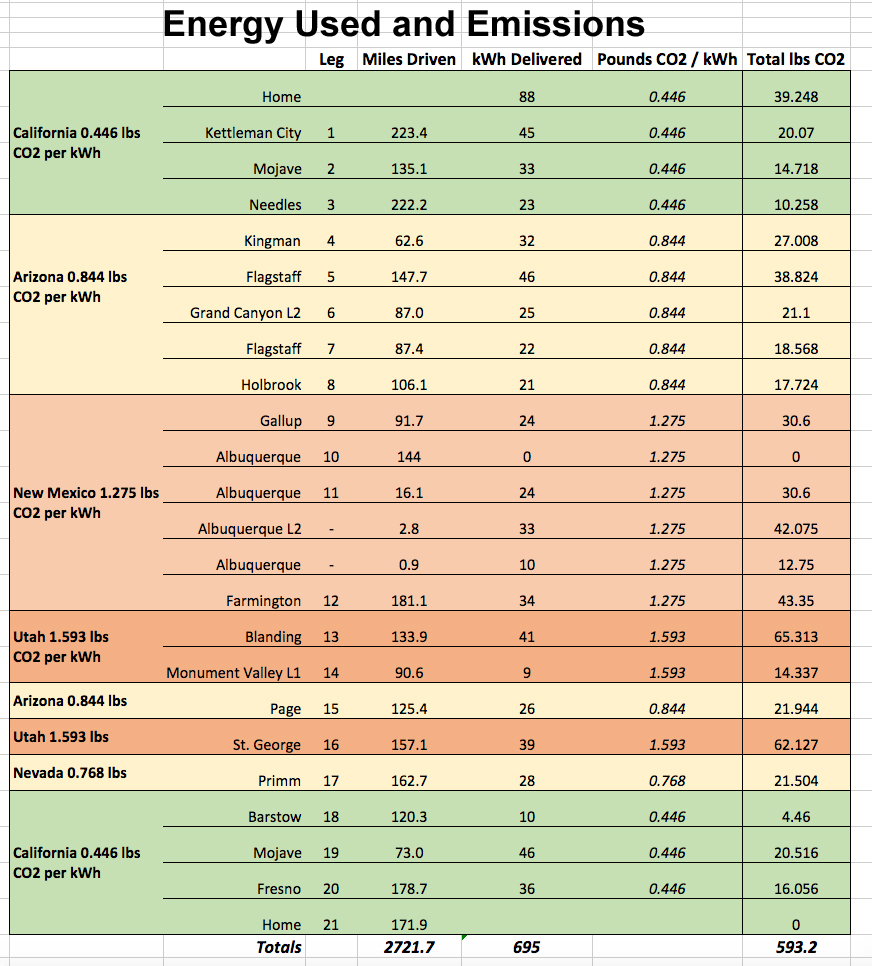 The 695 kWh estimate was derived from the following calculations: 1) I fully charged my battery pack at home to start the trip. Assuming 74 kWh usable in the pack and 85% charging efficiency, 88 kWh were sent to the car from my 240V outlet at home. 2) Tesla Superchargers in California and Utah tell you how many kWh were sent to your car during charging, ChargePoint does the same. So I just recorded the numbers from my Tesla and Chargepoint accounts for those charging sessions. 3) Tesla Superchargers in Arizona, New Mexico, and Nevada tell you how many minutes you charge. I estimated kWh sent to the car at those Superchargers based on miles gained during the charge, and compared that to kWh delivered during similar supercharging sessions in CA. 4) I charged at a non-networked L2 station in the Grand Canyon, and a 120V outlet in Monument Valley. I estimated kWh sent to the car at those locations based on miles gained and assuming 85% efficiency for L2, and 75% efficiency for the 120V outlet.
Emissions
Driving electric cut my emissions 3½ X compared to a 25 MPG car. Based on 695 kWh sent to the car while charging for this trip, where I charged, and the sources of energy used to produced electricity in states where I charged, 595 pounds of CO2 were produced to charge my Model 3 on this trip. How does that compare to other ways of getting to Albuquerque? See the chart below.
The average 25 MPG car would have produced 2133 pounds of CO2 – each gallon of gas burned releases 19.6 pounds of CO2; a 50 MPG Prius would have released 1066 pounds of CO2 ; and a round trip flight to Albuquerque would have produced 1067 pounds of CO2 according to the International Civil Aviation Organization.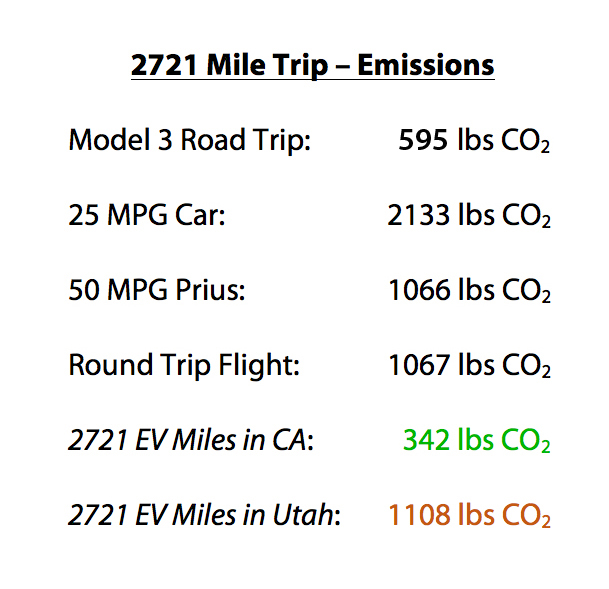 I usually drive in the right lane and enjoy the ride. If I drove faster – averaging 240 Wh/mile instead of the 221 Wh/mile I averaged – my trip would have released another 60 pounds of CO2. And Each additional increase of 20 Wh/mile would have released another 60 pounds of CO2 into the atmosphere for this trip.
Location matters: As another comparison, if I had driven those 2721 miles exclusively in California I'd have produced far fewer emissions: 342 lbs of CO2. Power plants in California do not burn coal and use a sizable mix of renewable sources to generate electricity for the grid, which significantly reduces emissions.
Burning 17.5 gallons of gas would release an equal amount of CO2: 342 pounds. So 2721 miles divided by 17.5 gallons of gas = a hypothetical car getting 155 MPG. Another way of looking at it: If you budget by emissions then how far could you get with 17.5 gallons in a 25 MPG car? About 440 miles instead of the 2700+ miles I drove in an EV. EVs are much more efficient.
Finally, it's important to note that if I had driven the 2721 miles exclusively in Utah, which has over 3X the emissions compared to California (1.593 lbs CO2 per kWh versus 0.446 lbs in CA), I would have produced 1108 lbs of CO2 – the same as driving a car that gets 48 MPG, similar to a Prius. But that will likely improve soon as electric grids gets cleaner year by year.
For example, in 2017 coal fired plants produced 2634 megaWatts of power in New Mexico, accounting for 49% of electricity production in that state. Renewable wind energy produced 497 megaWatts of power in New Mexico for about 9% of total production. However, like elsewhere more clean energy is in the works. The electric grid in New Mexico will get cleaner in the coming years with 2700 megaWatts of wind energy under construction, with 522 megaWatts going online in December 2020.
Coal: The Colorado Plateau is a rich source of coal, and this is still a major source of power in the region. Many parts of the country have been switching over to cleaner burning natural gas plants, and adding renewable sources of electricity production to the mix, which lowers carbon emissions. As noted above for New Mexico, cleaner sources of energy are coming online.
Emission calculations: The US government publishes lots of data, updated every year, on emissions produced by generating electricity. Data on state-by-state sources of energy and emissions can be found on the US Energy Information Administration website. You can select your state to find carbon emissions per MWh by power plants in each state, and scale down to emissions per kWh. For 2019, in California 0.446 lbs of CO2 are released per kWh of electricity generated and delivered; in Nevada it's 0.768 lbs CO2 per kWh; in Arizona it's 0.844 lbs, in New Mexico 1.275 lbs; and Utah is 1.593 lbs CO2 per kWh of electricity. The Excel chart above shows the number of kWh delivered in each state and estimated emissions based on that state's average emissions. Using those numbers to estimate emissions I produced 595 lbs of CO2 on my 2721 mile trip.

Summary
The Model 3 is an extremely comfortable car for long trips. The drive is smooth and the seats are comfortable. I logged 47 hours in the driver's seat, driving over roads that ranged from smooth, newly paved highways to bumpy roads that could be resurfaced, and I was comfortable throughout. In summary: the Model 3 is a pleasure to drive. The long range of the car combined with Tesla's extensive Supercharging network allows you to drive pretty much anywhere you'd want to go in a gas powered car. While charging the car I got a chance to walk, stretch my legs, eat a snack. Stopping every 2½ – 3½ hours kept me fresh for the journey.
Importantly, the Model 3 is efficient, and this reduces the amount of energy used and emissions released from driving and charging your car. It all adds up, quickly, and as I've pointed out before the atmosphere is not a limitless reservoir.
I've had the Model 3 for 18 months now. It was very good when I bought it, and keeps getting better through software updates. A week ago I got the 2019.36.2.1 software update, which boosted drive train power by 5% (for the second time); and introduced one pedal driving – which I immediately liked. This car keeps getting better.
Tesla is just one of several companies producing good, road-worthy EVs. There are more and more electric cars on the market now. A good resource to start your search is Plugstar.com. Check them out, go for a test drive, you won't regret it.