June 2019. Puerto Rico.
Many of my posts are variations on "Yo people, electric cars, they get the job done". This post shows how EVs can work in Puerto Rico.
On a recent work trip to Old San Juan we arrived at our lodgings around 10PM, and I was surprised to see a Model 3 parked on the street near our building. Later I was fortunate enough to meet the owner and talk about his experiences.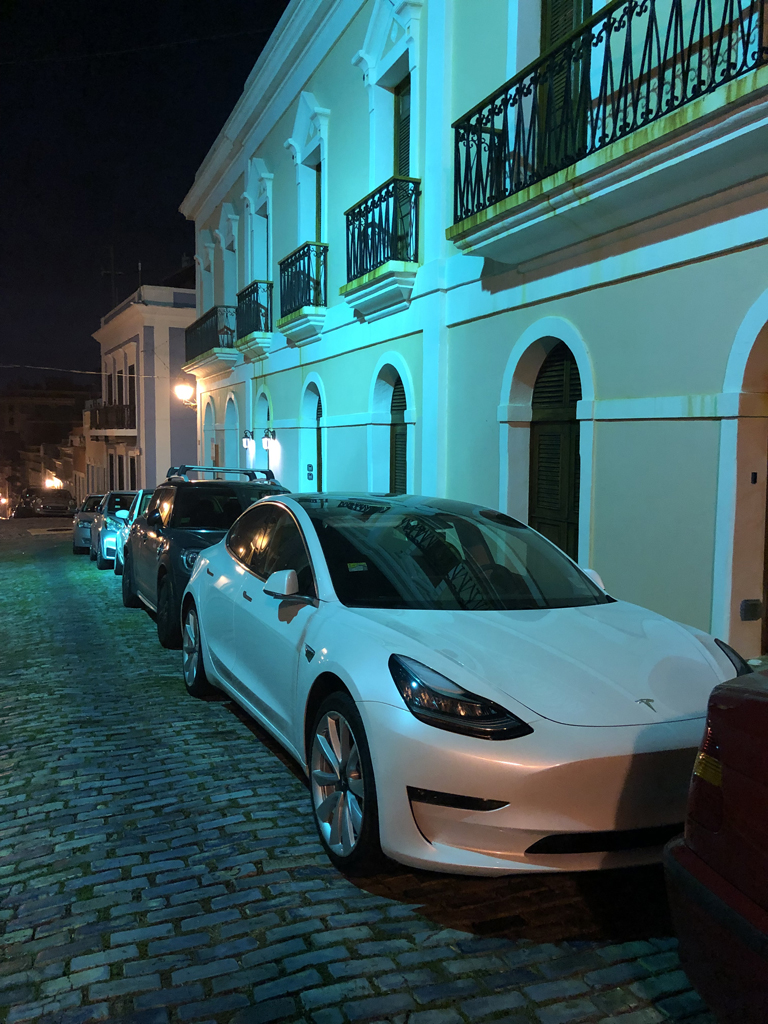 Before getting into this electric car, a few words on Puerto Rico are in order. Old San Juan is a beautiful city on the northeastern coast of Puerto Rico. Top attractions include the centuries-old massive walls and forts built to protect the city by the Spanish, starting in the 1500's.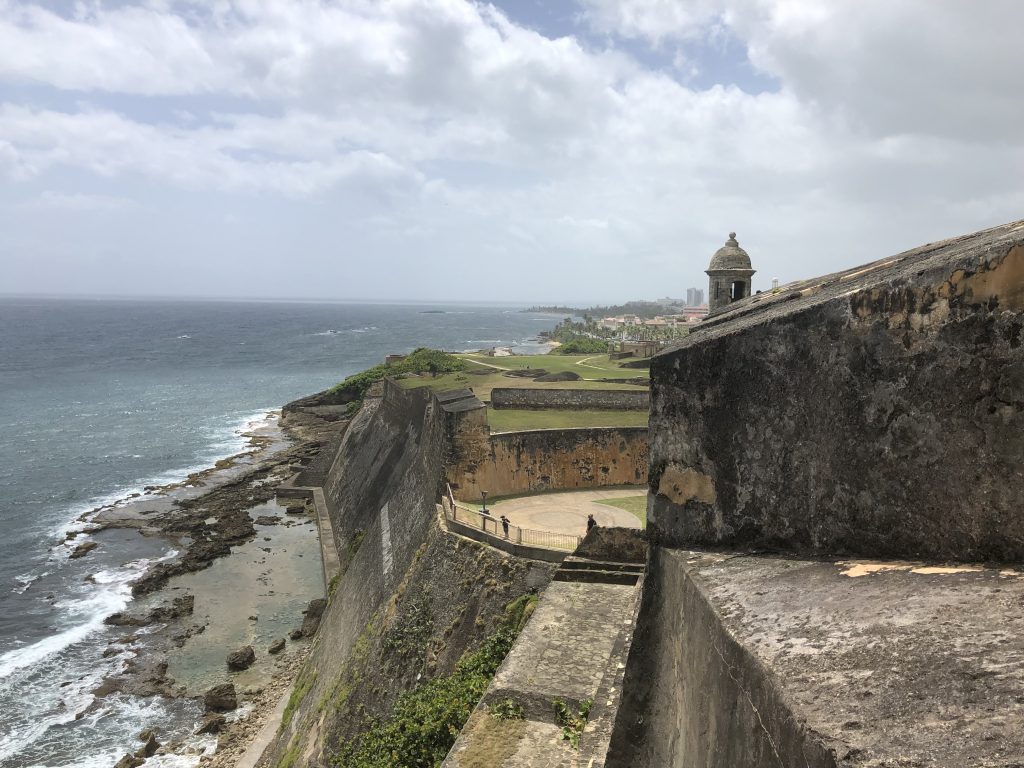 San Juan is one of the oldest European-established cities in the Americas. As a result the streets in the old city are narrow and some are still paved with cobblestones from the Spanish era. This makes for great walking tours. But note that if you are driving a car, the narrow streets and high curbs found in some neighborhoods are perfectly designed for curb rash.

There are of course many places to visit in Puerto Rico outside of San Juan, including a tropical rain forest, beautiful coastline, miles of sandy beaches, and much, much more.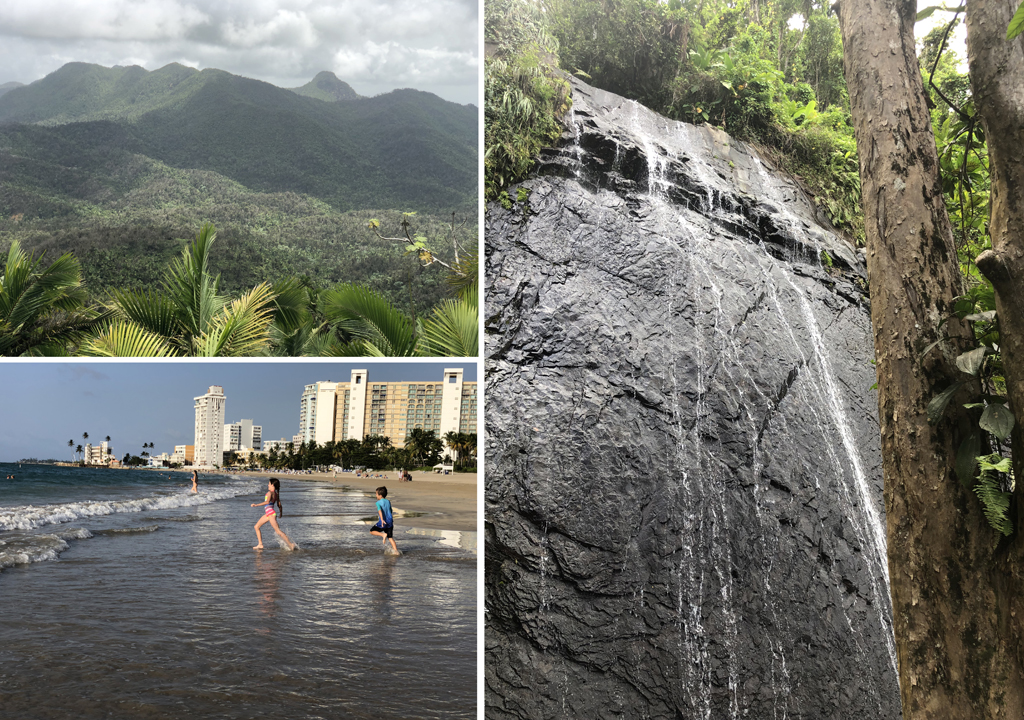 Back to the Model 3 in question. I meet the owner, Ismael, and we chatted briefly about his experiences. He reserved his car as soon as online reservations opened to the public, chose the dual motor configuration, and took delivery of his Model 3 around December 2018. If I understood correctly there was an additional shipping fee of ~$2500 to transport the Model 3 to Puerto Rico. Tesla does not have a delivery center on the island, so Ismael took delivery at the port of entry and drove his new car home.
I didn't see any public charging stations in Old San Juan, and most apartment buildings do not appear to have private garages, so a bit of ingenuity is needed when it comes to charging an EV. Ismael devised a practical solution for curbside charging of his Model 3. He installed a 240V outlet outside of his apartment and ran conduit under the sidewalk. The conduit is large enough so that the mobile connector can easily be pushed through the inlet and out to the curb where he can plug in his car. The inlet has a cover that keeps debris and water out of the conduit when not in use.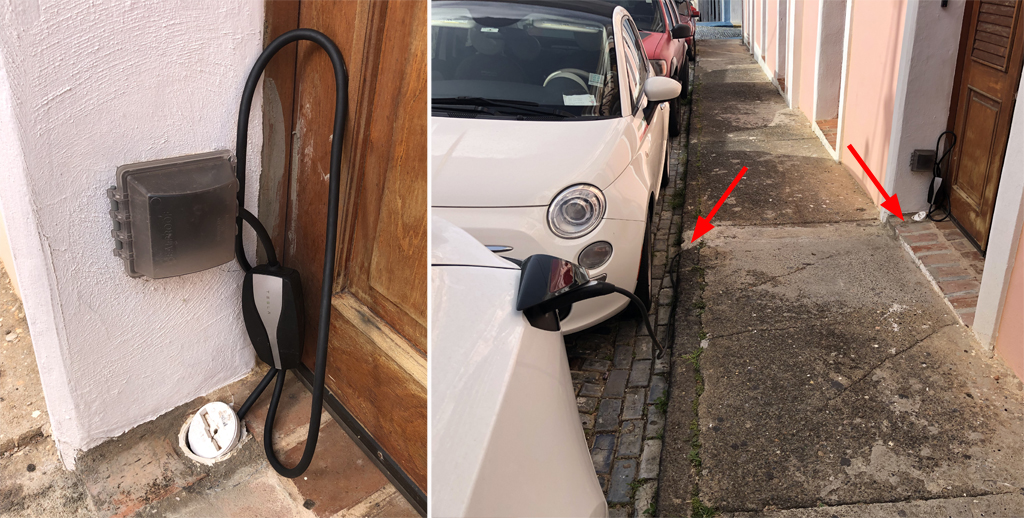 When we visited in June 2019 Plugshare did not list any DC charging stations on the island (2020 Update: there is now a Supercharger, See below). While DC charging is an important part of the transition from gasoline to battery electric vehicles, most owners do not need DC chargers for day to day driving. And on an island like Puerto Rico (~35 miles north-south and 100 miles long east-west) Level 2 charging can do the job.
No Supercharger? No problem. Ismael and his family use their Model 3 for driving from San Juan to places around the island, and with the battery fully charged they can make round-trip journeys to many destinations.
For example, a round-trip excursion from San Juan to Cabo Rojo would be about 350 km / 220 miles (see below). A trip like this is well within the range of a fully charged long range Model 3 with dual motor configuration (~500 km / 310 miles), and leaves buffer range for diversions from the planned route.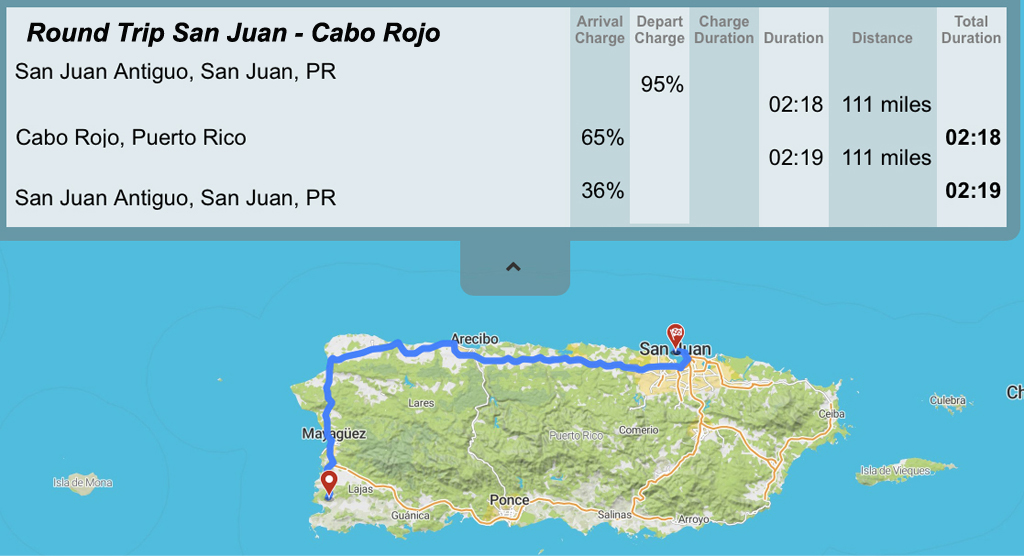 There are a growing number of Level 2 stations around the island that can be used for destination charging. Like many other places around the world, build-out of public charging in Puerto Rico is a work in progress.
But progress is happening. In June 2019 there were no Superchargers in Puerto Rico, and about two dozen Level 2 chargers listed on Plugshare for the San Juan metropolitan area. Just one year later, there is a Supercharger in Guaynabo and some more Level 2 charging stations.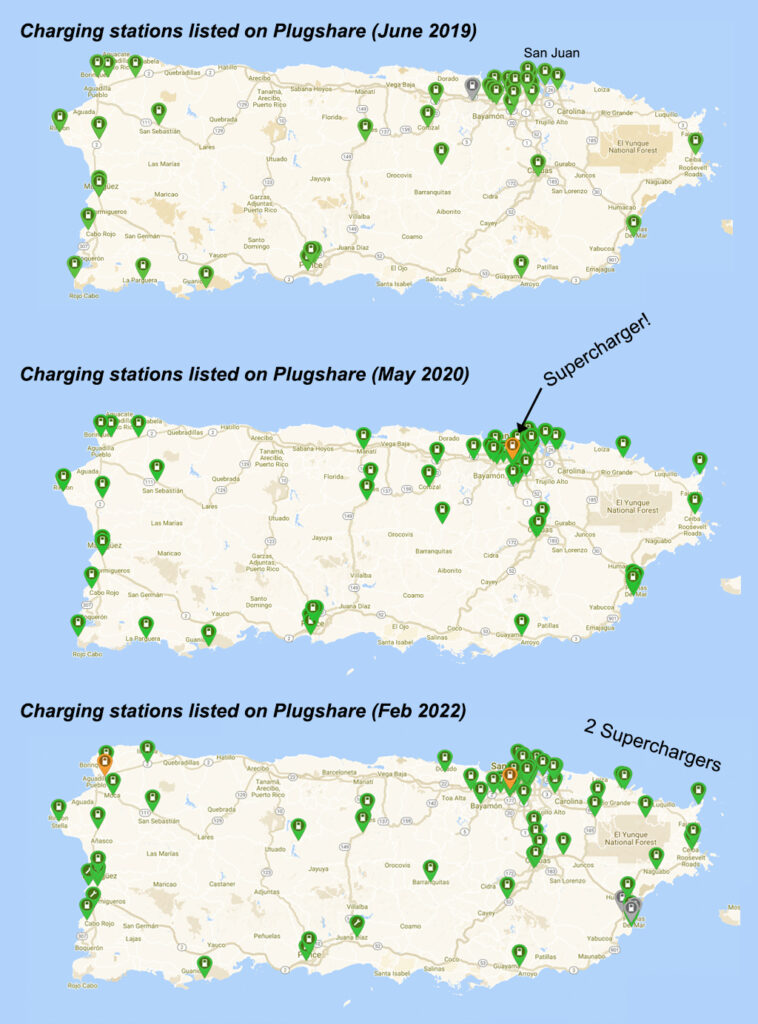 It was really encouraging to see EVs on the road in Puerto Rico – evidence that more and more drivers around the world are committing to more sustainable forms of transportation. This is particularly notable for Puerto Rico, which bore the brunt of forces unleashed by Hurricane Maria. This powerful storm took down Puerto Rico's electric grid, and wreaked catastrophic damage across the island to homes and institutions. The recovery from Maria has made lots of progress – in Old San Juan you wouldn't know there was a major storm in 2017. But outside San Juan signs of damage from Hurricane Maria are still visible in some places, particularly remote locations.
The state of the electrical grid in Puerto Rico, and sources of energy used to generate electricity, are vitally important topics, but that will have to be a discussion for another time. However, during my short visit I noticed a constant offshore wind, good for flying kites at San Felipe del Morro, and potentially for generating electricity.

Final note: there is a thriving arts community in Puerto Rico. We visited two museums and I was really struck by an exhibit of Éktor Rivera's work at the Museo de las Americas. To me the work spoke to our dependence on our planet, how we draw sustenance from the Earth, and the absolute necessity that we care for the Earth in the same way we care for cherished possessions.