June 2021, Virginia. Guest writer Courtney Noctor describes her new Volkswagen ID.4.
First impressions
I picked up my first EV – a Volkswagen ID.4 Pro – several weeks ago and I am obsessed with it. The ID.4 is a cute little crossover SUV that is similar in size to a sedan but very spacious. It has 30 ft3 of storage behind the back seats, and 64 ft3 of storage with the back seats folded down.
My friends and I loaded it up for Memorial Day weekend and drove to the Pamunkey River for some fun; there was room for four of us, our ridiculous amount of luggage, and plenty of room to spare.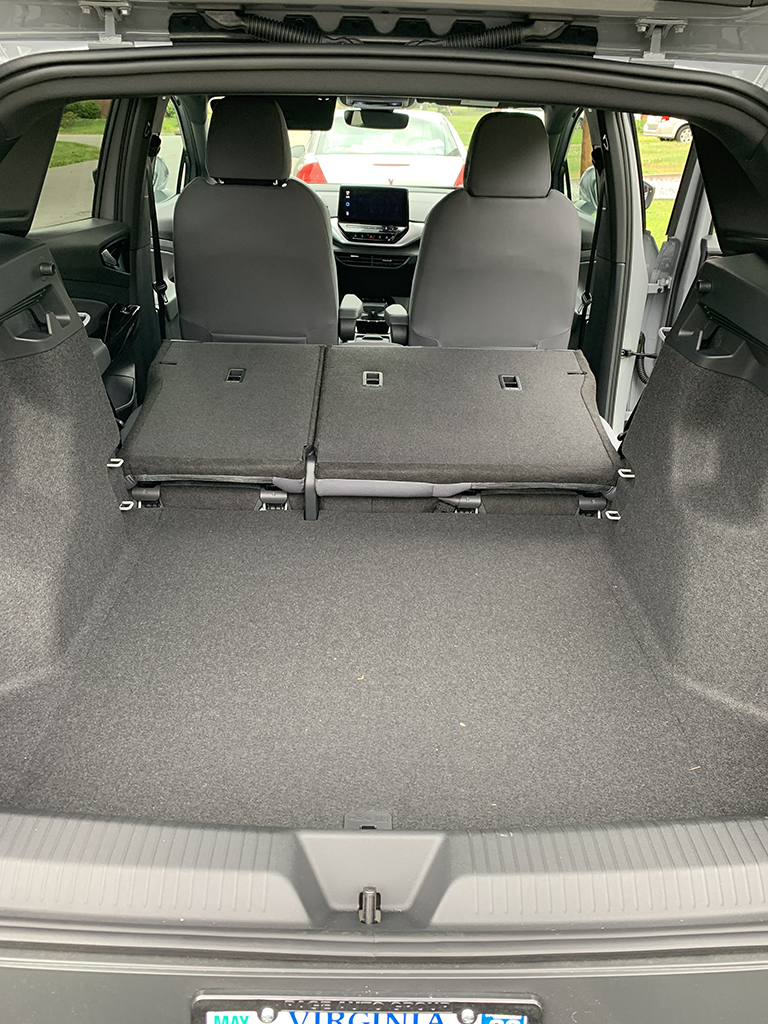 I was driving a 2008 Pontiac before picking up my EV. The interior of the ID.4 is very nice. I like that I sit up higher in the ID.4, and it's much quieter than my last car. Since this is my first brand new car, I've been enjoying the new technology built into the vehicle. I am still learning all of the ID.4's features, but really like the lane assist, navigation screens, and current charge level. My only complaint is that the climate controls come on at a very aggressive level when first turned on, but this is easy enough to reset. One thing I've noticed is that I really enjoy charging my car without having to worry about gasoline dribbling onto my shoes.
How I plan to use my car
My daily commute is 16 miles round trip. I'll be using my car for the work commute and local errands. On occasion I go on short trips for vacations and to visit friends and family. Most of these trips are within a range of 600 miles round trip, so this shouldn't require too many charging stops because of the ID.4's 260 mile range (EPA rating).
How I plan to charge
I do not yet have an outdoor outlet for charging my car overnight at my house. In the long run I plan to set up an outlet for 240V charging, but with the number of charging stations nearby I don't feel the need to run an extension cord out of one of my windows right now. So for the beginning of my journey of owning an electric car, I plan on living the nomad charging life. My car came with three years of free charging on Electrify America chargers and there is an EA charging station only five minutes from my house.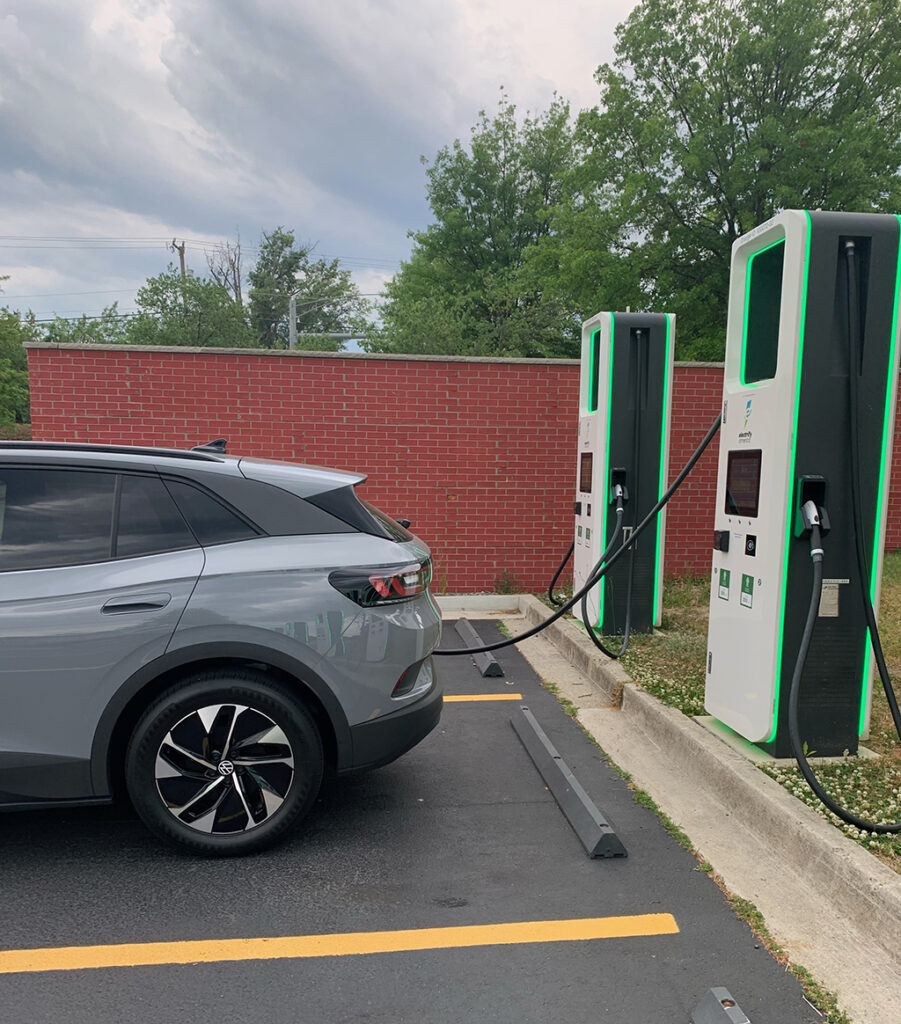 In addition to the nearby EA station, there is a charging station at a Whole Foods near my workplace, so this could provide me the opportunity to charge a bit while grocery shopping. So far charging has been easy, after Memorial Day weekend I was down to 19% SOC and it took 37 minutes to get to 80% at the EA station. I haven't figured out my preferred charging schedule yet, but between the EA station, 5 other CCS chargers in my area, and public Level 2 stations I feel like I'll have no problems charging. The main change from fueling an electric vehicle versus going to a gas pump is that a little more planning is involved to make sure you have the amount of time you need to fill up.
Why I bought an EV
I bought an EV to reduce my carbon footprint. I've been working on reducing my impact on the environment by reducing the amount of trash I produce. Moving to an EV was my next goal and I was able to achieve that with VW's pricing for the ID.4. I really wanted to get the ID.Buzz, but couldn't wait several years to start driving an EV. I choose the ID.4 because it matched my needs for storage space, driving range, and price point. I feel less guilty driving places in my car knowing that I'm releasing far less pollution into the atmosphere with each trip compared to my old Pontiac. I am hopeful that the EV industry will become a circular economy with old EVs being recycled and reused at the end of their life cycle, as well as a cleaner sources for power and environmentally sound sources for all car components and materials.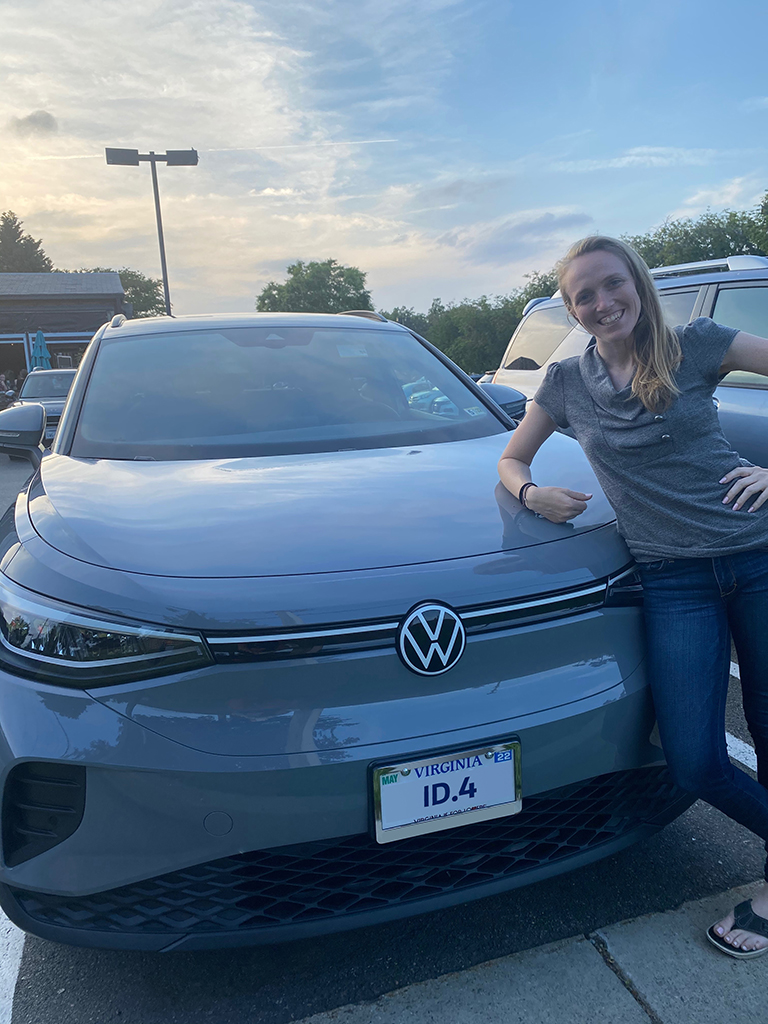 First Road Trip
Last week we took a short drive from the Richmond area to check out Harper's Ferry and visit family in Frederick – about 340 miles for the round trip. I stopped at the EA charging station in Frederick for a quick charge while we ate lunch and got home with 100 miles in the pack. A nice trip in my EV.
In summary, I am happy with my new car and I am excited to have joined the electric car family!