November 2020. California.
This week I checked out Ford's Mustang Mach-E in person at a local dealership in Sacramento. The Mach-E is Ford's all-electric version of the Mustang, and I was excited to see it since the Mustang has been one of my favorite cars for as long as I can remember.
There were no test drives but I got 20 minutes to talk with two Ford representatives and sat in the California Route 1 and Premium models. Take note these were pre-production cars so some design elements may change. In short: The Mustang Mach-E is a good looking electric car with decent range. I look forward to seeing them on the road and I'm really glad that Ford has entered the market of longer range fully electric cars.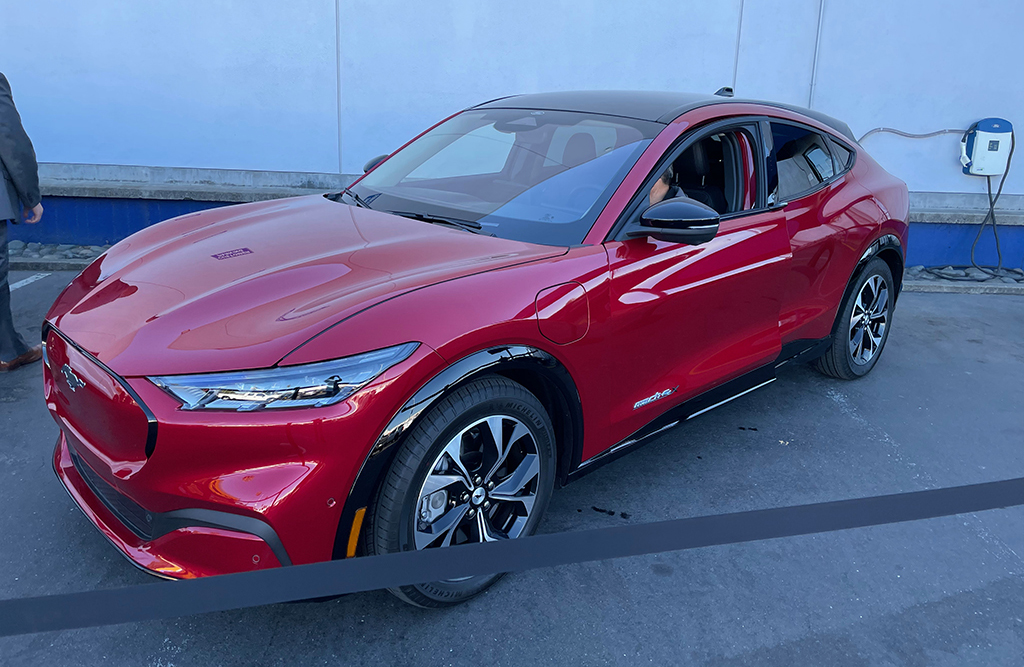 Models
Five models are being offered, four slated for delivery in late 2020. Reservations of the GT are being accepted with delivery that model expected by late Summer 2021.
RWD and AWD versions are available with target ranges of 210 to 300 miles, depending on model (see below). EPA ratings came out November 23 and matched Ford's target range. The battery pack of extended range models has 88 kWh usable, and standard range models have 68 kWh usable. I've read that the total kWh of the extended range pack is 98.8 kWh total, meaning a 10 KWh buffer for longer range models.
MSRP starts at $42,895 for the base model RWD Select, and $60,500 for the GT. The full $7,500 federal rebate is still available for Ford EV purchases. Ford can sell about another 90,000 EVs before their federal rebate starts phasing out. The basic specs for each model listed on Ford's website are summarized here: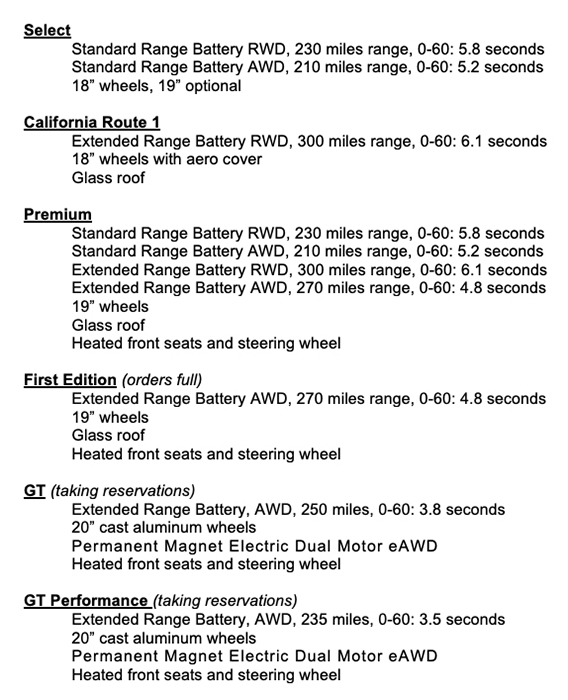 Exterior
The design of the four door Mustang Mach-E has been slightly modified compared to gas-powered versions. This provides a bit more storage in back and brings it a bit closer to the popular crossover / mini-SUV segment.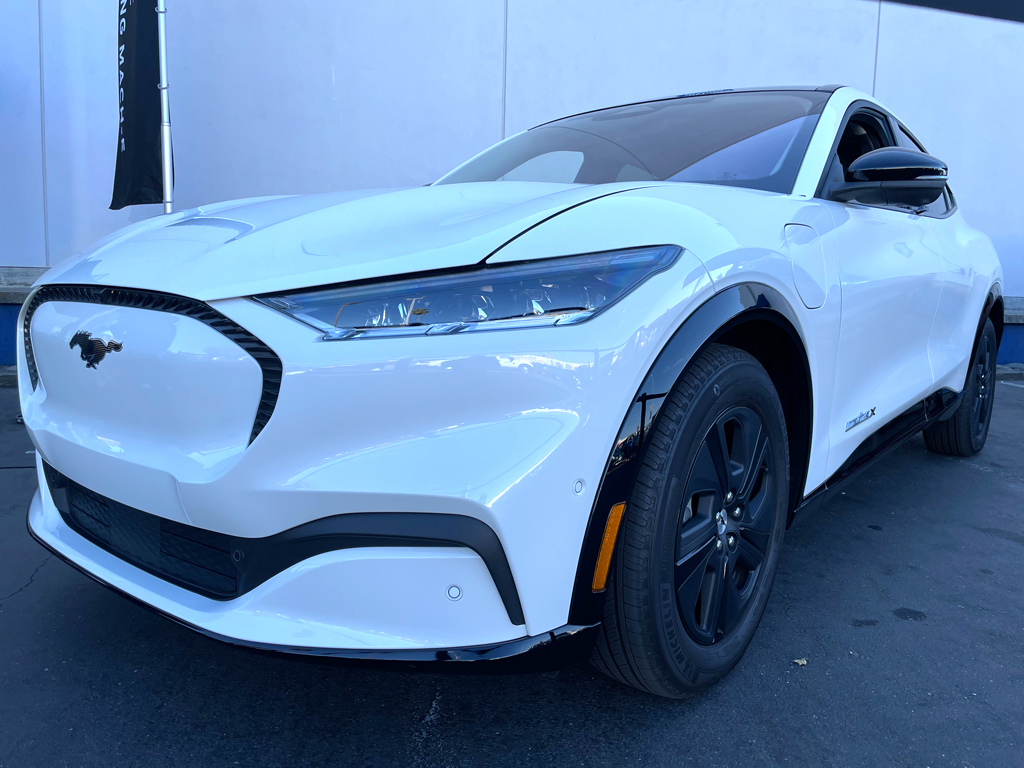 The Mach-E retains the Mustang's iconic tri-bar taillights (as pointed out by Ford on their website), and gets some unique badging such as this California Route 1 emblem.

You can use your phone as a key to access the Mustang Mach-E. Pushing a small button opens the front and back doors. The front door has a small door pull below the button – the design of the door pull has changed and Ford reps weren't sure if this was the production version. The back door does not have a pull, but instead there is rubberized material on the inside edge of the door that you can use to pull the door open.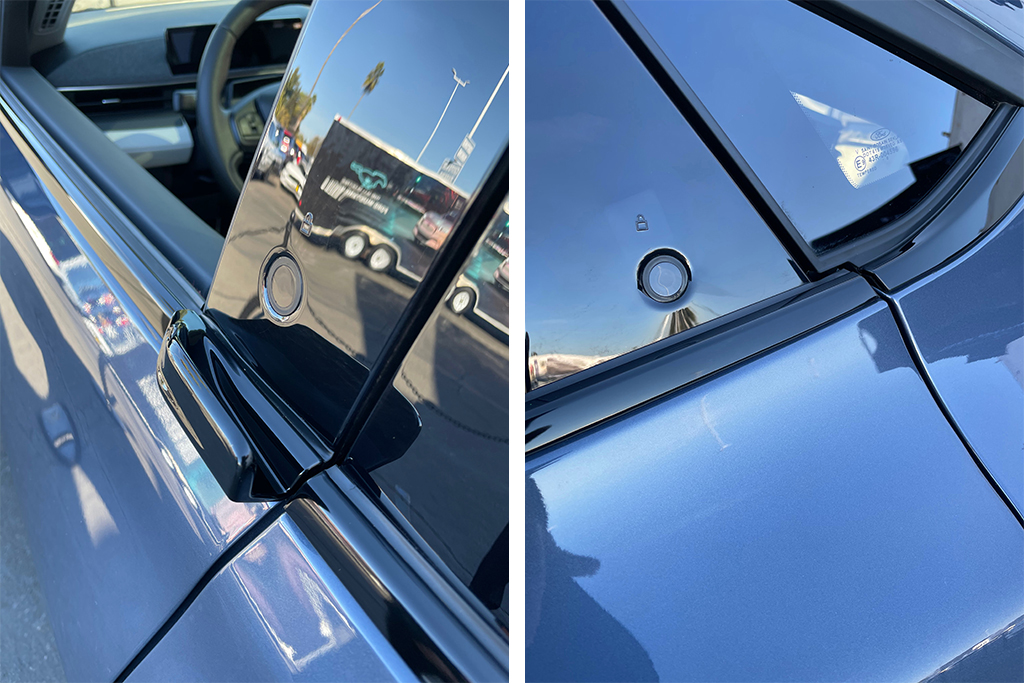 Storage
The rear storage compartment is a decent size: 30 cubic feet with rear seats up, 60 cubic feet of storage space with the rear seats folded down. A cargo cover that will shield items stored in the back from prying eyes is optional on the Select model but comes standard on the 4 higher priced models.

The front trunk will look familiar to anyone who drives a Tesla. It appears like it should fit a carry-on suitcase if the compartment divider was taken out. I was told that most likely the Mach-E will not be sold with the divider, but this setup is being test-marketed for tailgating. The compartment in the center rear of the divider was designed to hold bags of ice and has a drainage hole. The drain will be standard on all models and would allow you to hose out the trunk if you'd been storing muddy gear. It does not have plug.

Interior
The interior is nicely appointed. The driver's seat is comfortable and the rear seats should have enough space for 2 adults, and 3 people if at least one is slightly smaller.
There are a few physical switches for the driver. There's a knob on the dashboard to the left of the steering wheel for turning on the car's lights, and a gear selector knob, parking brake, and emergency blinker switch on the center console.
There are two screens that provide information for the driver. One instrument panel is directly in front of the driver and provides speed, range, gear selected, and odometer. This screen is not touch sensitive.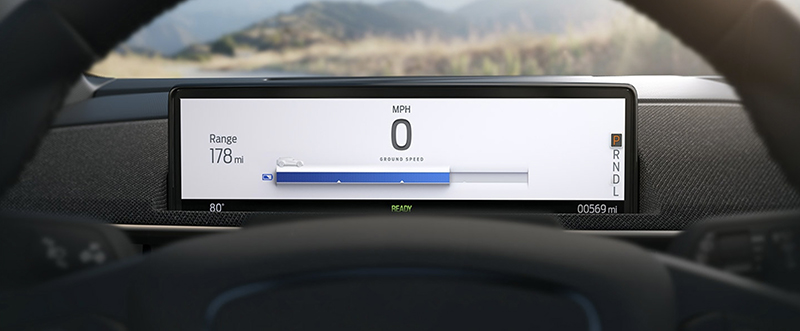 The 15.5 inch center touch screen is used for accessing other driver controls and entertainment options. This screen has a large physical dial at the bottom to adjust volume.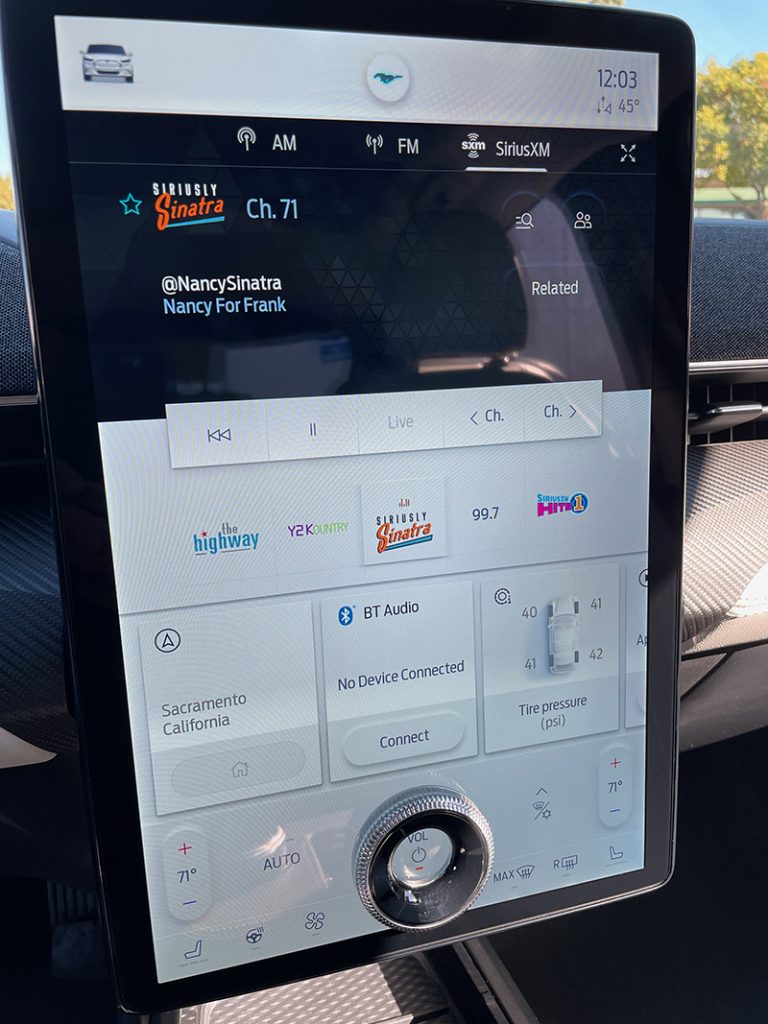 I'd seen pictures of this unusual feature before and assumed the dial would perform other functions depending on whichever menu was pulled up on the screen. But the Ford reps told me the volume switch does volume and nothing else. Some folks may like having a physical volume dial – maybe this is a focus-group tested feature. But in my opinion the dial permanently occupies center screen real estate that could be used for other functions, and it's just unnecessary since you can easily adjust the volume on the steering wheel.
There is a wireless charging pad for one phone in the center console. There are 2 charging ports for standard USB and USB-C up front, and for passengers in the rear seats.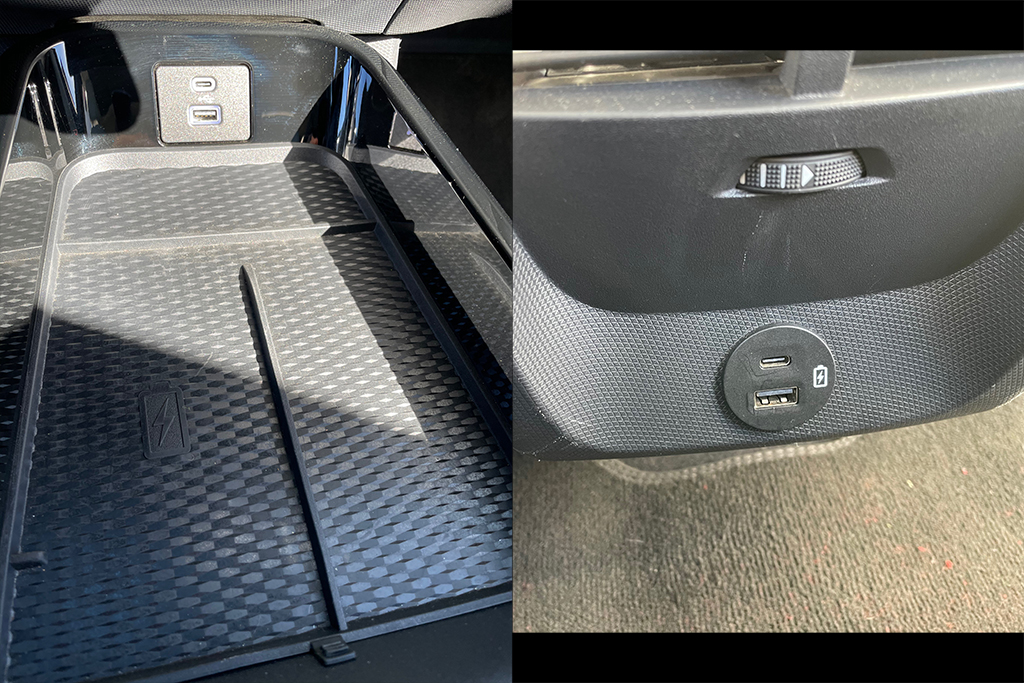 Charging the Battery Pack
In the U.S. the Mustang Mach-E will charge at 120 or 240 Volts on any charging station/charging cord that has a standard J1772 plug connector. The Mach-E will be sold with the Ford Mobile Charging cord, capable of charging at either 120 or 240 Volts with appropriate adapters, and on a 240 Volt circuit can provide up to 30 amps to the car (per the Ford website). The Mobile charging cord was not in the pre-production models. According to the Ford rep the Mach-E will accept up to 48 amps on Level 2 charging. Ford will also sell a 'Ford Connected Home Charger' that can plug into a NEMA 14-50 outlet (240 Volt / 50 Amp), provide 40 Amps to the car, and will be priced at $799.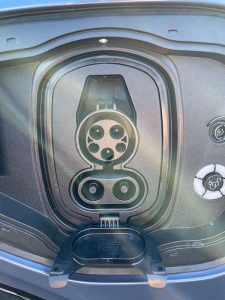 A nationwide DC charging network is essential for longer trips and for mass adoption of EVs. Owners of the Mustang Mach-E will be able to tap into the growing Electrify America network, EVgo, and regional networks that have DC chargers with the CCS plug.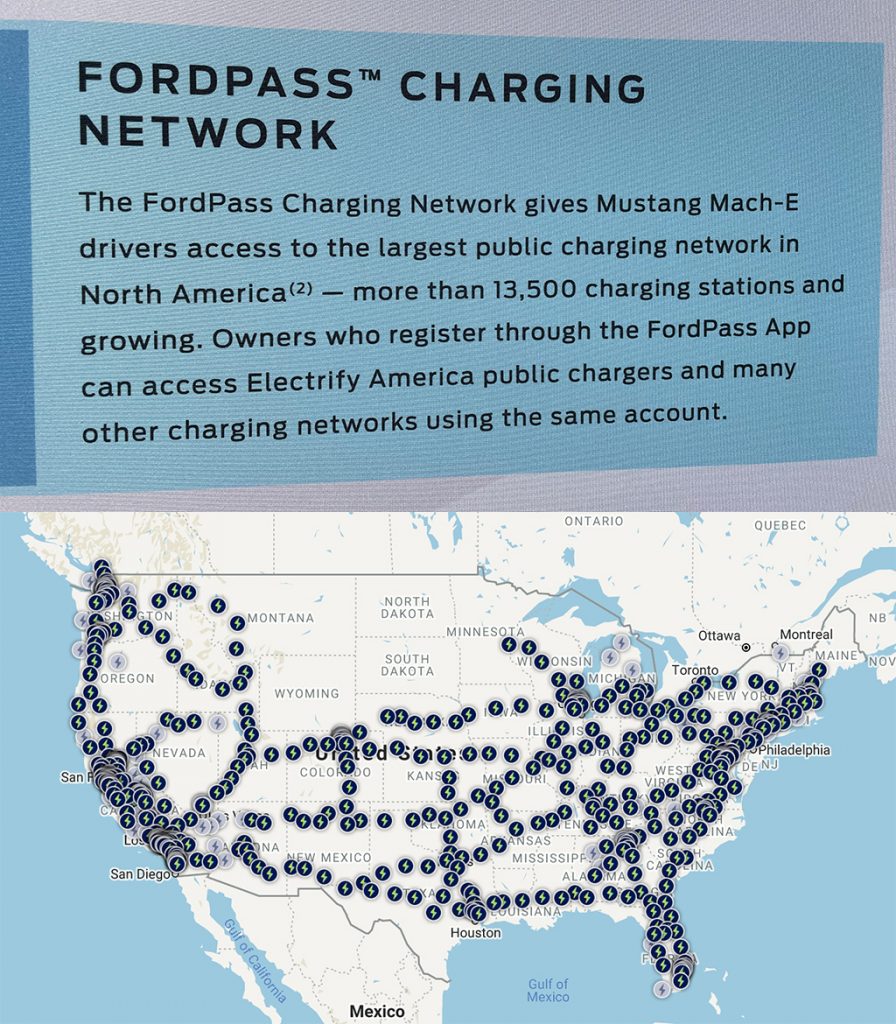 The Electrify America website shows that they have built up a decent DC rapid charging network, with one corridor for east-west cross-country travel established along Route 70. A second charging corridor along Route 40 looks near completion. East-west routes across northern states aren't there yet.
The EA network has some catching up to do compared with Tesla's Supercharger network, but it is growing. They claim 13,500 chargers and the largest public network of rapid DC chargers in the US (with Tesla Superchargers a private network). As evidence of that growth, yesterday I noticed this new EA charging station in my town.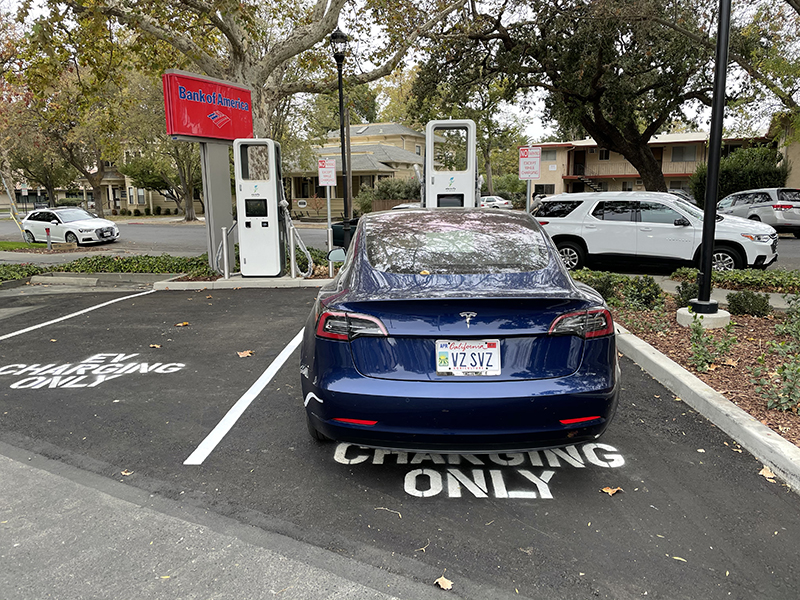 In the Real World
The big question is how will the Mustang Mach-E do in the real world. One of the Ford reps has been driving a California Route 1 model from one dealership to the next. He'd driven the car 1000 miles when I spoke with him and said he likes the solid feel of the car, and that it didn't sit too high like larger SUVs.
I asked him about real world range, energy use, and efficiency. He said he didn't have a good feel for the car's range yet and didn't know how much energy the car had used to drive the 1000 miles. We searched through menus on the center touch screen but were unable to find any details on energy use or driving efficiency. He pointed out that this was a pre-production model, hopefully that information will be available to drivers in production models.
I also asked him about DC charging and he said he did his first DC charging session the night before. We couldn't find charging info on the touch screen in the car, but he found details for that charging session on his phone in the EA app. The Mach-E accepted the maximum 150 kW power from the charger, and took 33 minutes to deliver 43 kWh to the battery pack. He said he started charging at about 30% SOC and stopped at 80% SOC. That's very similar to the amount of energy I get from a Supercharger in 30 minutes in my Model 3.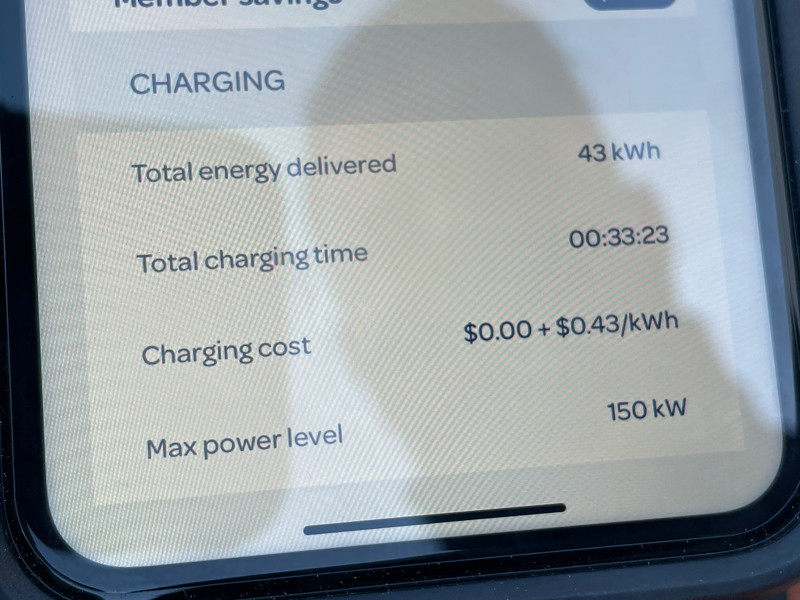 Summary
There's a lot to like about this car in terms of styling and drive train specs. A range of 210 to 300 miles per charge, if this holds up in the real world, is going to meet the needs of many people. 210 miles may be on the low end of range necessary for larger adoption of EVs, but will meet the daily driving needs for the vast majority of folks. 300 miles will get lots of folks where they need to go – as long as DC charging networks continue to grow.
The data the Ford rep shared with me on his DC charging session shows that the Mustang Mach-E should work well on road trips – at least in terms of getting energy into the pack – and the EPA ratings indicate the extended range RWD California Route 1 will be the most efficient of the Mach-E models, and based the EPA rating is projected to get 3.4 miles/kWh (or 293 Wh/mile). That will be respectable if it holds up in the real world. For comparison my wife is averaging 3.7 miles/kWh (270 Wh/mile) in her similarly sized Model Y – giving her a real world range of about 290 miles.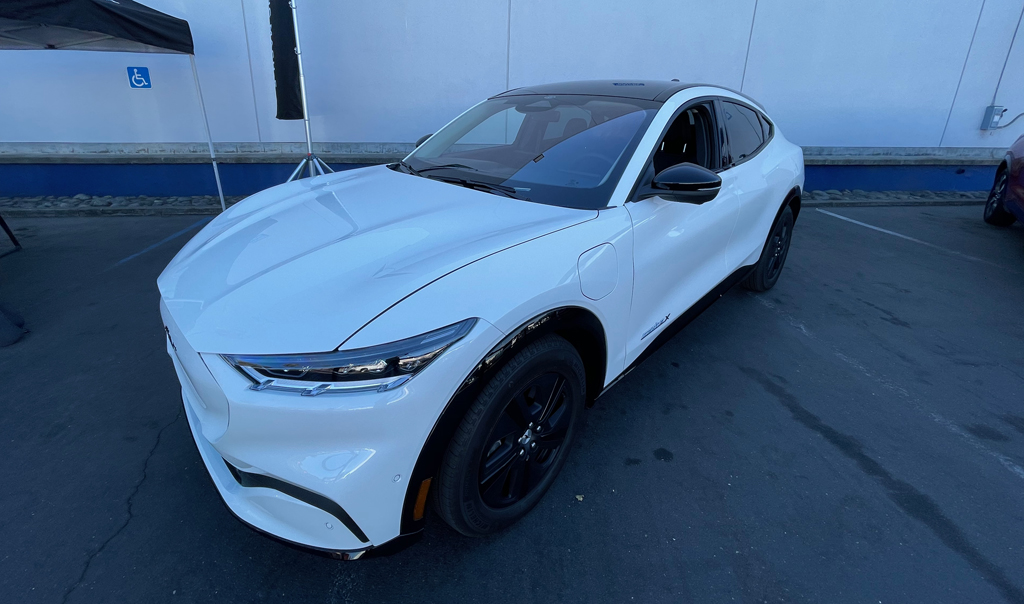 Three things Ford could change:
1) The physical volume dial on the touch screen should go. It's unnecessary since you can adjust the volume on the steering wheel – same as in many cars nowadays – and that large dial permanently occupies space on the screen that could be used for other functions.
2) The CA Route 1 model should have heated seats. I live in California's Central Valley where the winters are mild, and most of the time I only need to turn on the seat heater during my morning commute. Seat heaters use a lot less energy than a cabin heater and extend your range. Also, driving up and down Route 1 used to be one my favorite ways to spend free time on weekends, and it gets cold along the coast, even in August. Yes we can have long warm summers in California, but it also gets chilly so give us the seat heaters!
3) The noise simulator that can make this EV sound like a gas burner is not needed.
I had a number of questions that couldn't be answered without a test-drive. And the Ford reps were not able to answer questions about a range of features including: Thermal management of battery pack; electric motors – the Ford website states that GT models will have a permanent magnet motor… what about the other models?; Do the cars have a heat pump for the cabin; Do all models have hardware for Ford Co-pilot Assist 2.0? And so on. But with deliveries of the Mustang Mach-E on the horizon, we'll soon know more about these details.