October 2015, California.
This article was originally posted on the Transport Evolved website in 2015.
It's been hailed by Toyota as the next big thing in environmentally-conscious transport, contains a $50,000 hydrogen fuel cell stack which must be made by hand at great expense to the Japanese automaker, and has a global production volume of less than 6,000 cars over the next few years.
Already on sale in Japan, the long-awaited 2016 Toyota Mirai Hydrogen Fuel Cell Sedan has just made its official landfall in North America and Europe ahead of the start of sales on both continents later this fall. But is Toyota's hype over its first production hydrogen fuel cell car really worth it?
We've been lucky enough to get behind the wheel to find out for ourselves, courtesy of an initial test drive and chat in California with Toyota's hydrogen fuel cell team. With plenty of time behind the wheel of various hybrid and electric cars, we were keen to find out just how this all-new car compares to the cars that went before.
The Mirai is a 4 door, 4 passenger sedan that is similar in length and wheelbase to the Corolla. The body design is unremarkable with the exception of a large scoop-like grill in the front. The intended market segment of the Mirai seems to be drivers of already fuel-efficient vehicles, and perhaps gadget-savvy early-adopters.

The Mirai is powered by a hydrogen fuel cell that is located under the front seats. The fuel cell is fed by two hydrogen tanks; one located directly under the rear passenger seat, the second located between the rear seat and trunk. The hydrogen tanks are constructed of carbon fiber-reinforced plastic, and together carry 5 kilograms of hydrogen compressed to 10,000 PSI.
In concept, the operation of the Mirai is similar to that of a Toyota Prius hybrid, with the fuel cell replacing the function of the gasoline engine. The fuel cell combines hydrogen from the tanks with oxygen from outside air to produce electricity that is directed to the electric motor that drives the car, with any excess stored in the small 1.6 kWh NiMH traction battery.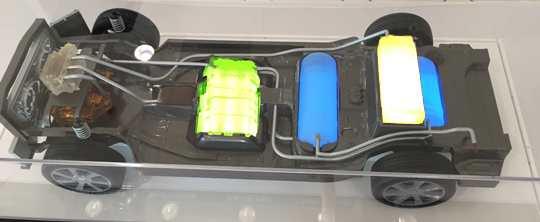 Borrowed from the Toyota Camry Hybrid, the small NiMH battery can drive the 113 kilowatt electric motor on its own for very short distances at low speeds, but in normal operation the fuel cell stack provides the majority of traction power. Just as it does when used in a gasoline hybrid system, the traction battery can provide extra power to supplement the primary fuel source when required.
Like the Toyota Prius, the Mirai has regenerative braking that stores electricity in the battery pack, and a 'B' mode that gently slows the car and regenerates a bit of electricity. Because of the complex drive train, this small sedan weighs in at a hefty 4,080 lbs.

The Mirai has one trim level, and sales staff we spoke to made comparisons with Toyota's luxury brand Lexus in terms of appointment. Seats are covered with a man-made leatherette material rather than using bovine-sourced leather. Both front and back seats are divided by a center console, making the Mirai a four-seat car.
The small gear selector and park button located on the console have the same selections found in the Prius (Drive, Reverse, and 'B' Mode). Two touch sensitive displays control climate, and navigation/audio. A third display sitting below the windshield provides info on driving speed, driving range, and more.
As for space? While the front seats are comfortable and should provide enough space for most drivers, the rear seats are better suited to children or small adults, especially with a taller driver behind the wheel. My impression was that a 6 foot tall driver up front would not leave much leg room for passengers in the rear seat.
Things are similarly cramped when it comes to cargo-carrying capabilities. With a hydrogen fuel tank and hybrid battery pack to squeeze in, we note that the trunk space is much smaller than that of the Toyota Corolla sedan, despite the Mirai being far from diminutive in size.
The EPA rates the driving range of the Mirai at 312 miles and fuel economy at an equivalent of 66 MPG. As in the Prius, the driver of a Mirai can select 'Eco' mode for higher mileage, 'Power' mode for more horsepower, or a default mode which provides something in between. The display on our test drive model showed a range of 206 miles. Our host said the hydrogen tanks were full. He may or may not have been correct. The lower than 300 mile range may have been the result of range estimates based on previous test drivers, who perhaps were testing acceleration of the Mirai, which could have decreased the range estimate.
Onto power and performance. The maximum output of the Mirai power train is listed at 152 hp and 247 ft/lb of torque – similar numbers to that of Toyota's last zero emission vehicle, the all electric Rav4 EV, which was sold in California between 2012 and 2014.
Having spent plenty of time with the Rav4 EV we looked forward to that grin- inducing, constant torque electric motor acceleration that makes children and adults giggle. We selected 'Power' mode, but found that acceleration from a dead stop, or from 30 or 40 MPH lacked the instant torque and acceleration familiar to drivers of electric cars.
In fact, acceleration in the Mirai is average and perhaps even a little on the slow side. While the Mirai does have enough power to drive safely on the freeway, its 0-60 time of 9.0 seconds is slower than that of a 2015 Corolla. Unlike most electric cars, which have a low center of gravity thanks to weighty battery packs low in the chassis, the center of gravity of the 4,080 pound Mirai is higher, exhibiting noticeable lean on cornering. While we're making comparisons to the RAV4 EV and other zero emission cars, we found the Mirai's regenerative 'B-mode' mild in comparison to many electric cars on the market today.
The passenger cabin is insulated to decrease noise, yet our test drive model was louder than expected. The drive train made a distinct noise under acceleration – the Mirai is louder than electric cars on the market today.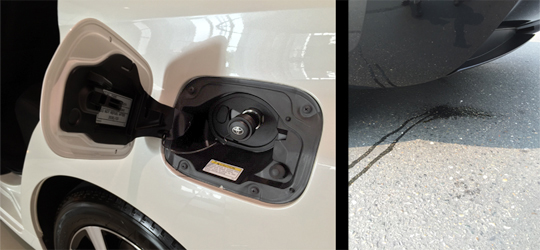 The fuel cell in the Mirai produces about 8 ounces of water for each two miles of driving. To prevent water leaking on the garage floor, Toyota sales staff recommended stopping on the street before reaching home. Pushing a button labeled 'H2O' on the dash turns on a fan that expels water from a pipe in the rear. We were told that the H2O produced by the Mirai is chemically pure, better than drinking water. But when we asked for a cup to try the brownish liquid dripping from the car, staff did not oblige.
In 2015 there were two hydrogen fueling stations in California that could fill the Mirai's hydrogen tanks. (Author Edit: in May 2020 40 stations are listed as open for service in California). Some of the Mirai's 312 mile range may be used driving to fueling stations. In 2015 Toyota staff told us that hydrogen fuel tanker trucks would be deployed throughout the state for the use of Mirai drivers, putting one in mind of in-flight fueling.
Hydrogen fueling stations are still an emerging technology. Drivers of other hydrogen powered vehicles reported problems this year, with some stations closed for extended periods of time. Regarding this problem, the California Air Resources Board stated: "California's hydrogen infrastructure is clearly at a transitional phase, and we recognize this presents challenges for today's customers. Our current hydrogen station network is poised to grow significantly in the coming months as station developers build out projects co-funded by State investments."
In 2015, the hydrogen fueling station in Northern California charged $13.59 per kilogram of hydrogen. (Edit: May 2020 the price averages $13.99). Filling the Mirai's 5 kilogram hydrogen tanks would be over $65 dollars. Given an EPA range of 312 miles, that means a driving cost of 21¢ per mile, more than the average cost of 15¢ per mile for gasoline fueled travel in the U.S., and ~5 times more expensive than the driving cost for plug-in electric cars. In 2015 Toyota offered to defray customer expenses by providing a hydrogen station debit card good for up to 3 years or $15,000. I do not know if that program was continued beyond 2019.
Toyota initially planned to sell the Mirai in California for $57,500. California offers a $5,000 rebate for fuel cell vehicles, double the rebate available for plug-in electric vehicles. To make up for the lack of a federal rebate, Toyota will give $7,500 cash to people who sign on to buy the Mirai during 2015.
Assuming taxes, title and fees of $4,000, the effective price for a Mirai purchased in 2015 would be about $49,000. At the end of the test drive we were asked if we'd be trading in our all electric Toyota Rav4 EV for the Mirai. The answer was no.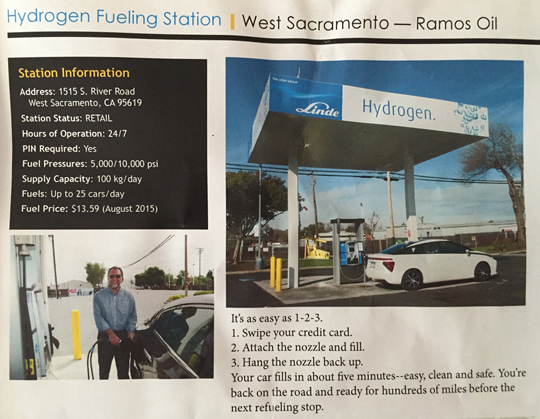 The Mirai has serious competition from plug-in electric and plug-in hybrid cars that are available at lower prices, have faster acceleration, achieve much higher fuel economy and can charge/fuel on existing networks. The 2016 Chevy Volt is available in California at $33,995. With a $7,500 federal rebate and $1,500 California state rebate, the effective price after taxes would be about $28,000. The Volt's electric driving range of 53 miles is enough to cover daily commuting needs for many drivers, and 350+ miles of gasoline fueled travel is available for longer trips. A fully loaded BMW i3 Rex would go for a similar price as the effective price of the Mirai before rebates. The electric driving range of the i3 Rex is 72 miles, with another 81 miles in reserve from the range extending gasoline engine. The Tesla Model S is more expensive than the Mirai, starting at about $67,000 for the 70 kWh battery pack option, including taxes, fees, and rebates. The EPA rated driving range of the all- electric Model S 70 is 240 miles.
(Author Edit, May 2020: and of course our 2018 Model 3 that cost $51k has an EPA rated range of 325 miles).
The Mirai's longer driving range of 312 miles is promoted as an advantage, but that range will be limited to the number of hydrogen stations. In contrast, plug-in cars can be charged on a network of outlets and charging stations that tap into the established electrical grid. Many drivers charge their plug-in cars at home, at work, and at the rapidly expanding number of public charging stations . Furthermore the BMW i3, the Nissan Leaf and other electric cars can be charged rapidly via the growing network of DC quick chargers.
Tesla's Supercharger network has set the bar very high for long-distance zero emission travel. In 2015, owners of the Tesla Model S could drive across the country east-west and north-south using over 211 Supercharger stations for no charge (new stations open on a weekly basis). Worldwide, there were 500 Supercharger locations with over 2,800 Superchargers.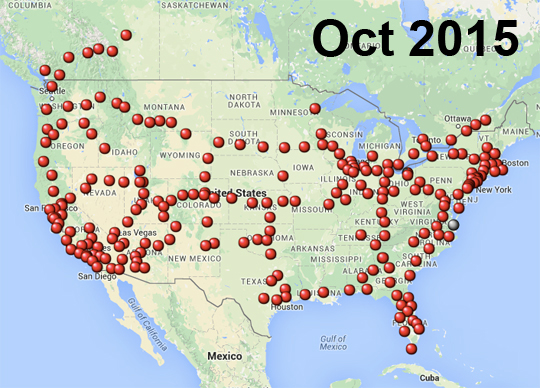 Author Edit: In May 2020 there are over 800 Supercharger stations open, with another 60+ under construction and permits granted for another 80. As in 2015, new Superchargers open on a near weekly basis.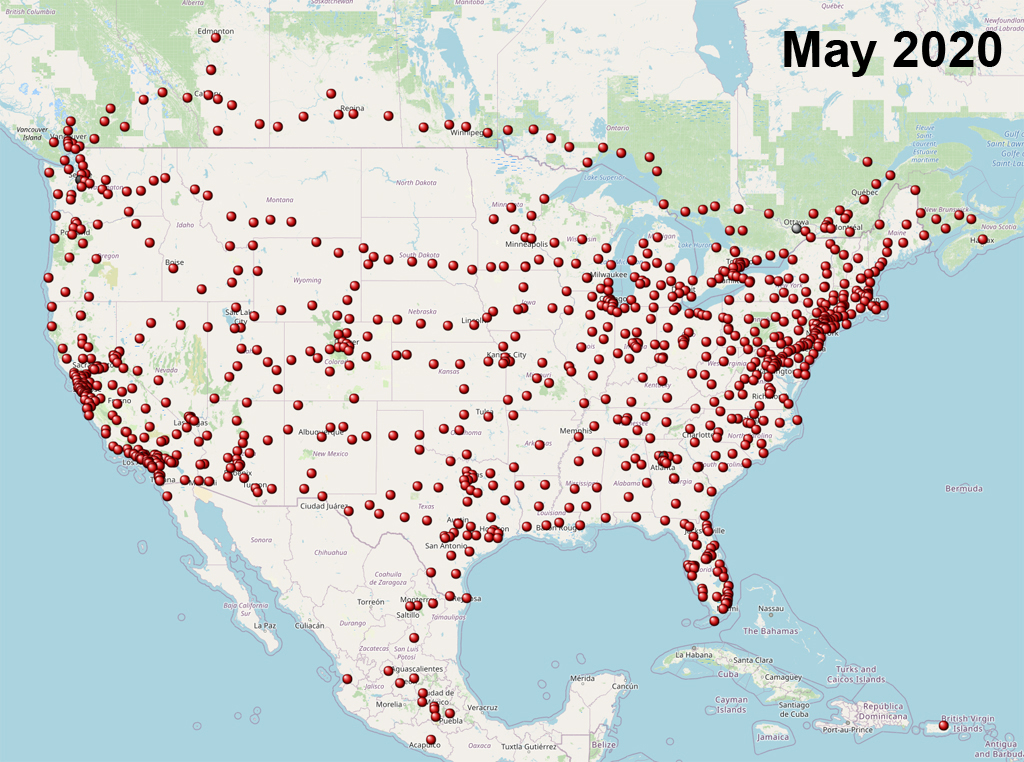 Matching the scope of this worldwide network of electric car chargers, built by just one company, would require enormous investment to enable hydrogen fueled transportation. Toyota is not footing the bill. Instead they are enlisting state and federal agencies to lay down substantial amounts of money so people can fuel their hydrogen fuel cell vehicles.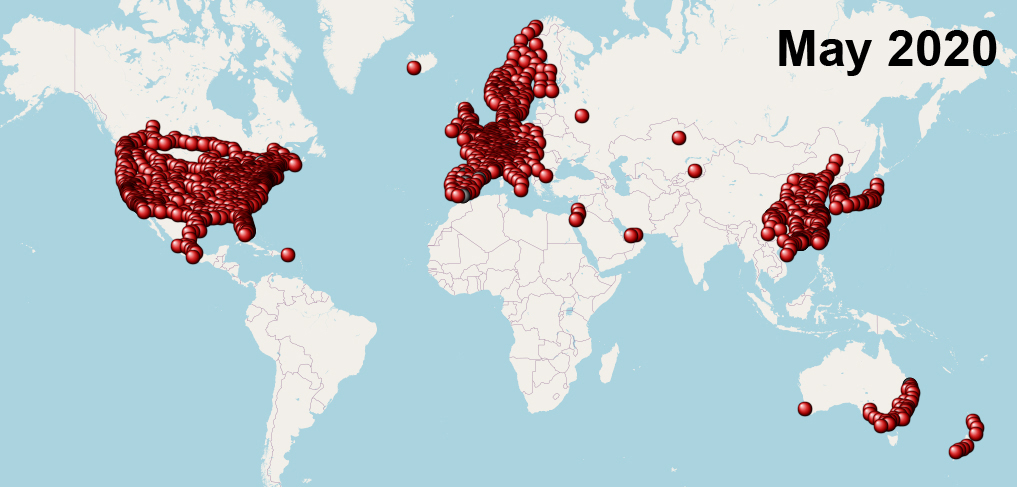 Plug-in electric cars have an MPGe much higher than the Mirai. The very large Tesla Model S 70 kWh version is rated at 101 MPGe, the BMW i3 at 118 MPGe. Yet, the 0-60 acceleration time of the BMW i3 and most other plug-in electric cars is much faster, in the case of the Model S, very much faster.
This author bought a plug-in electric Rav4 EV from Toyota two years ago for $33,000, after taxes, fees and rebates. The Rav4 EV is not a Lexus, but it seats 5 comfortably and has reclining seats front and back. Compared to the Mirai, the Rav4 EV weighs less, has brisk acceleration and an enormous cargo space for shopping trips to big box stores and camping trips . Adding a DC quick charge port to this Rav4 EV allowed us to drive beyond the range of the battery pack by charging at DC quick charging stations for regional travel in California.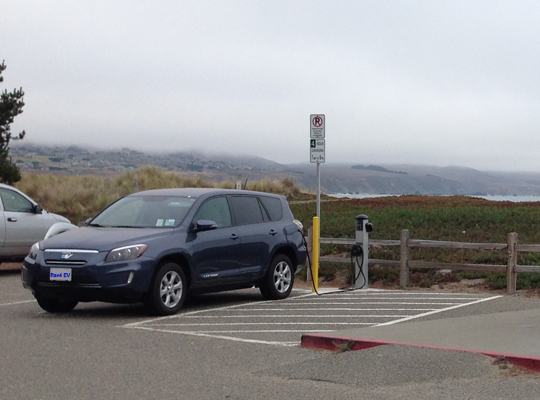 The Toyota Mirai is a well executed vision of the Hydrogen Fuel Cell car with ample range and good amenities if somewhat lackluster performance and space. Where we struggle is in making a good case for how this car fits a family's needs. For round-town driving there are ample zero emission cars available today at a fraction of the price, for longer range needs, there are plug-in hybrids that operate on an established refueling network. With question marks still hanging over the true 'green-ness' of hydrogen compared to a gasoline-hybrid we're left wondering, who is this car for? Did it just miss its opportunity?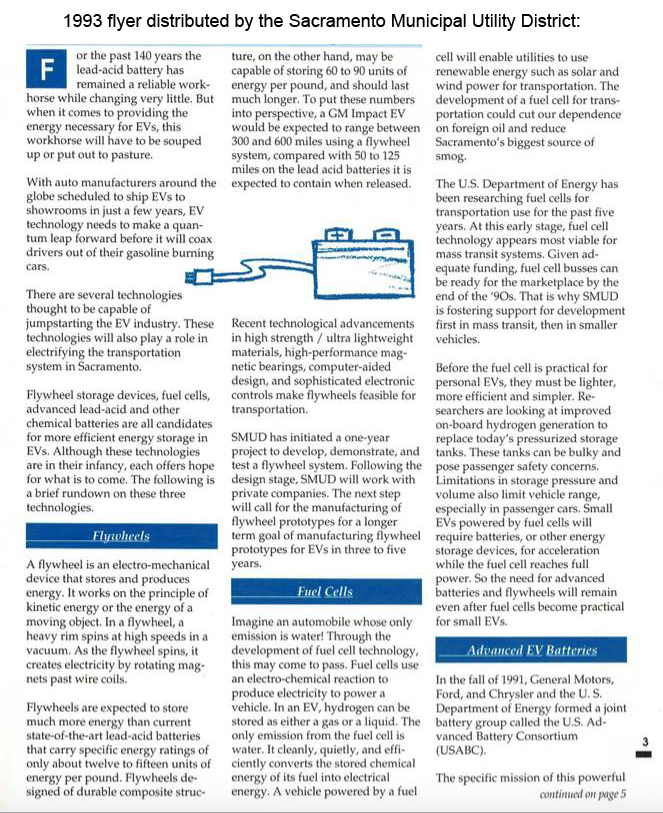 Proponents of fuel cell cars have long promoted the potential to decrease vehicle emissions by using renewable energy to generate hydrogen. For now 95% of hydrogen is generated from natural gas. Infrastructure for large scale manufacture and distribution of hydrogen is not yet ready to support transportation needs. Meanwhile, technological advances have improved battery performance to the point that the challenge for plug-in electric cars may be deciding "how fast do you want to drive? " DC charging has decreased battery charging time , and mass production is reducing costs. The price for solar panels has dropped and several home energy storage solutions now allow one to essentially drive on sunshine collected on the roof of your own house. The percentage of electricity produced by renewable sources increases yearly. As a result, green house gas emissions from battery electric cars decrease every year and an electric car in California is now equivalent to a car that gets 95 MPG . Through these advances plug-in electric cars are now realizing that decades-old promise of reduced emissions from driving cars on renewable energy. Here at Transport Evolved we understand that proponents of alternative energy forms are very passionate about viable solutions for fueling transportation. We hope for the best solution to meet our everyday transportation needs.
Final note: this author believes that hydrogen powered passengers cars made sense as a concept 20 years ago, before the existence of viable battery packs. Seven years of driving the Rav4 EV, and two years experience driving the Model 3 demonstrate that battery electric cars can meet the daily needs of the vast majority of people.